Behind The Membership: Creative Crafting Club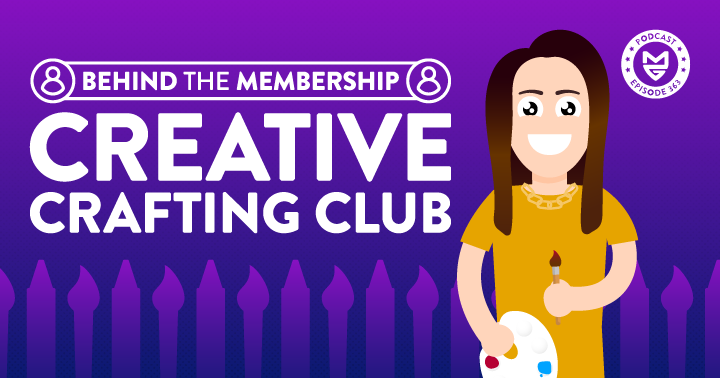 Christelle Janse van Rensburg, Co-Founder of the Creative Crafting Club, is a membership owner whose journey has been a little different from most.
She started off with a franchise model for in-person kids craft clubs in South Africa.
But when the pandemic shut everything down, Christelle and her sister/Co-Founder, Stefanie, were forced to find an online alternative to keep their business going.
Step forward the membership model… 
Since launching their membership Christelle and Stefanie's lives have changed in the best possible ways.
Not only do they love what they do, but they've managed to build a thriving community and find a work-life balance that's right for them, all while growing their membership numbers by 10x in the last year alone.
So how did they do this?
Let's go Behind The Membership to hear from Christelle herself…
Could you explain what the Creative Crafting Club is and who it's for?
My sister and I teach creators how to make money with kids' arts and crafts clubs.
So our members teach arts and crafts either in-person, online or through creative kits.
Just to clarify, these aren't the type of arts and crafts you see on Pinterest. I'm an architect by trade and my sister is an Engineer, so we're curious by nature. And that's why we focus on creating cool crafts that are curiosity-led.
So basically its arts and crafts on steroids. We build rockets that shoot into the air, cars that drive with elastic bands – fun stuff like that. 
We want to give kids the experience of learning skills like creativity, critical thinking, and problem-solving.
Do you teach the teachers, or do you work with kids directly as well?
We've still got our own club in Cape Town where we teach kids. That's where this whole thing started.
But we mostly teach creatives how to start their own clubs now.
You actually have two memberships don't you? 
Yes, the Creative Crafting Club Academy is where all the business stuff happens.
It's a comprehensive roadmap where we teach them things like picking a name for their arts and crafts club, what to put in their kits, or what to teach online and in-person. 
We also give them marketing resources and even step-by-step lesson plans, which is a huge time-saver for our members.
Then the Art Lesson Club is where we offer art lessons as a separate add-on.
A lot of people in our membership don't necessarily want to do just crafting, they want art lessons as well.
So we make it really convenient for them.
We give them printable templates that they can put inside their creative kits, or they can use them as a cheat sheet when they teach. 
So it helps a lot with confidence for those starting out.
Which membership came first?
The Academy came first.
We built our own Academy from the bones of our previous franchise.
We learnt our lessons from that and then launched the club.
What led you to start these memberships in the first place?
I'm an architect as I mentioned and ran an architectural practice for many years, but I didn't enjoy all the long hours.
I always had a big passion for teaching kids and used to run kids' parties in university as well as arts and crafts classes called Mini Architecture.
I'd have a bunch of kids show up at a studio I rented, and we'd build cool stuff like time machines and airplanes out of recycled material.
I had a blast, but this was very much passion driven.
One day, a mom approached me and asked if I wouldn't mind recording a lesson for her so she could host her own class at home.
Then another mom showed up and asked the same question.
So I spoke to my sister about it and she said, 'why don't you franchise this?'
Eventually, we both quit our jobs and franchised to 60 franchises in two years… 
But then the pandemic hit.
We went from a thriving business to a big fat zero income the first month it hit. 
So we put our heads together and considered turning it into an online course.
But the problem was that we knew people would need ongoing support and resources, so we knew a course wasn't right for us.
We also wanted to keep the cost down to make it more accessible. 
The beauty of an arts and crafts club is that there's such a low barrier to entry.
It doesn't cost a lot of money to get started beyond a few basic supplies.
Then we heard about this thing called a membership…
It made sense for us.
It's a model with recurring income, so there's financial stability, more reach, and more impact on others.
It's been a dream come true for us.
Are the memberships open or closed?
The Academy is a closed-door model and the club is evergreen.
We're experimenting with both options and have seen pros and cons on each side.
This is currently working quite well for us.
What do you find works well for you in terms of marketing the membership?
One thing we do is run a challenge twice a year.
The first big milestone that our audience need to achieve is doing a soft launch for their clubs, so we coach them through the process with step-by-step lessons, and it helps them build lots of confidence.
Confidence can be a real dream killer, and so we want to do what we can to help them move past their fears and insecurities.
The next natural step for them would be to join our membership and take the next step to start running their classes or selling their kits.
Previously we did these for free, but now we charge $10 for our launch a club challenge.
When we did this our conversion rate increased from 7% for the free challenge to 34% for the paid one.
So one thing we've learned from that is that people who pay, pay attention.
In January we had 1,340 participants take part in the paid challenge and that resulted in us welcoming just over 450 new members.
Another learning point for us came after we invited our Creative Crafting Club members to join the challenge for free.
During the five days they participated in the challenge and became ambassadors for our membership, telling everyone how awesome it is and answering questions in the group – sometimes before we did – so that was pretty cool for us.
What about retention? How are you keeping members happy and coming back?
We followed what the Membership Academy taught us, which was to have a proper onboarding process to get them comfortable with the training hub and the community.
We also do weekly communication and a monthly celebration ceremony where we share wins and awards. 
It's all about progress, supporting other members and creating momentum. 
We recognize that all our members have their own lives – and completely different challenges as result of that…
For example one of our member's has four children and twelve animals…So she faces a different challenge to someone who runs their club part-time or someone who runs it full-time and has no kids.
We try and tell them that they're never behind.
We have a suggestion box as well so people can submit ideas.
You have a Facebook group too, right? How have you found engagement there?
Our membership is very visual.
People love to share a lot of photos of their classes, the kids they work with, and what they create.
So, we've got a closed Facebook group that really works for our members.
Most of them are already on Facebook and use it to market their own clubs, so it's very active. 
Do you have a team helping you with the membership?
There's Stef and I, then we have three other amazing women on our team.
So we have an artist who works at our club in Cape Town where she teaches.
We also have a Community Manager and a Content Manager.
Do you still run your franchises post covid?
We actually had to de-franchise due to legal reasons and the fact that we moved the business online.
But we have constant discussions with our ex-franchisees and they have become great ambassadors for our membership.
They get access to everything and have the same name as our club so it's very important to us that they're successful as we all trade under the same brand.
They've been incredible throughout.
What's been your biggest challenge since starting your membership?
I would say managing to find a work-life balance initially. 
When building the membership in the early days, it was difficult because I had a one-year-old and Stef lived in Mauritius at the time.
But we were a little obsessed with making the membership work and put a lot of pressure on ourselves to succeed.
I wouldn't change anything if I were to go back except to maybe work on that work-life balance a bit more. 
What's been your favourite thing about running a membership?
The freedom and flexibility, and the financial side of it.
I've got a toddler now, so it's been amazing to be part of his life rather than stuck in an office job all day. 
I think that's been the most empowering and amazing thing I've experienced, and that's had a ripple effect on our members as well.
It's amazing to see how members lives are changing and how people are seeing those benefits themselves. 
What are your goals for the membership in the future?
We are very goal-oriented and have big dreams and ambitions.
Our vision is to empower more creative people around the world to run these curiosity-led creative clubs in their communities.
We're continuously learning from our customers and trying to understand their needs. 
We've expanded to include more member add-ons and adult lesson plans as well, so there's room for growth in the future. 
What one tip would you give someone who's just starting their membership?
Start before you're ready…
You're only going to regret the things you don't do out of fear.
So lean into the future and take that leap.
You can always figure out the rest as you go. 
You only learn once you get started.
We wouldn't have learned that our messaging was slightly off if we did not get started.
I also think it's really important to find clarity around what you're passionate about, what drives you, and the impact that you want to create.
That will help drive you forward. 
Thank You For Listening
We really appreciate you chosing to listen to us and for supporting the podcast. If you enjoyed today's show, please share it using the social media buttons on this page.
We would also be eternally grateful if you would consider taking a minute or two to leave an honest review and rating for the show in iTunes. They're extremely helpful when it comes to reaching our audience and we read each and every one personally!
Finally, don't forget to subscribe to the podcast in iTunes to make sure that you never miss an episode