From Overworked CPA to Full Time Guitar Membership with John Hatcher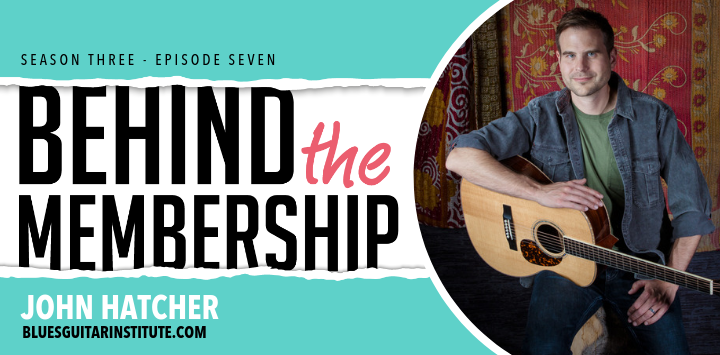 Subscribe to the Podcast Download Transcript
John Hatcher from the Blues Guitar Institute joins Callie for this episode of Behind the Membership.
John was previously a CPA and tax accountant working 60 to 80 hours a week, but since having his membership he has been able to quit his job and now focus full time on his membership site, giving him far more freedom. This is even more impressive when you consider that John's membership only actually costs $9 a month!
In this episode John talks about how he made that career transition, as well as how he manages his time and the challenge of content creation in a video-heavy membership site. John also talks about how he went from not having any community at all in his membership, to struggling to get engagement, to now having a thriving community with members connecting and sharing their own videos as well. And of course lots more too!
"I didn't want to confuse people at all. I wanted this to be very upfront that it's recurring. I think with what I'm teaching, there's a great case for a recurring model. I want somebody to really invest and come back. You're not going to come to a blues guitar lesson and learn everything you need to know in one lesson, and not even in one course."
Listen in to hear about:
How John has gone super niche with his topic and why he's chosen to focus only on running a membership
Why John choose to price his membership at the low rate of just $9pm or $75pa
How John went from teaching blues guitar as a hobby alongside his full-time job, to full time membership business
Why John didn't initially include a community and how he cultivated engagement once it was added
The challenge of running the membership site alongside a full time job
The added complications in content production for a video heavy membership
Creating a members show each month to highlight his members
Putting a weekly lesson on YouTube (he has over 71,000 subscribers!) to attract new members as well as using this as a testing ground for content ideas
Running the membership alone for 4 years and what John is now wanting to start outsourcing
Why he'd recommend not getting too obsessed with finding the right tech
And much more!
Connect with John:
Thank You For Listening
We really appreciate you chosing to listen to us and for supporting the podcast. If you enjoyed today's show, please share it using the social media buttons on this page.
We would also be eternally grateful if you would consider taking a minute or two to leave an honest review and rating for the show in iTunes. They're extremely helpful when it comes to reaching our audience and we read each and every one personally!
Finally, don't forget to subscribe to the podcast in iTunes to make sure that you never miss an episode