The Quest for a Sticky Membership with George Reid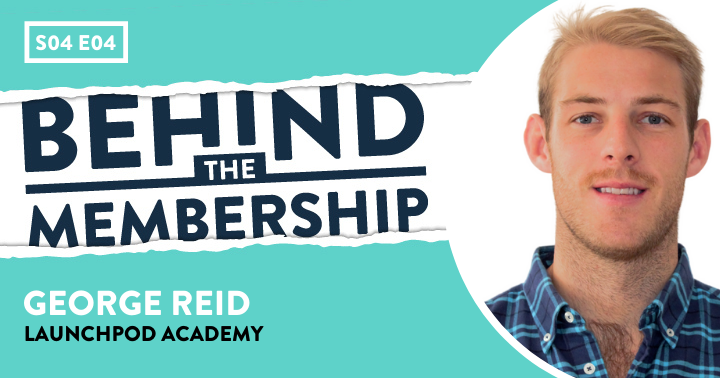 Subscribe to the Podcast Download Transcript
On this episode of Behind the Membership, George Reid is talking all about his membership site for Amazon based businesses, the LaunchPod Academy. 
George started the membership 15 months ago after originally working for Amazon in the UK and then creating an Amazon agency. Over the last year, the membership has become the main focus of his business though, now accounting for 80% of his revenue. 
One of the things George is most passionate about is ensuring he is giving his members the best experience and making his membership as 'sticky' as possible, meaning his retention, even for annual renewals, is great. 
In this episode, we're talking all about how George originally started the membership with his brother but is now flying solo, how he is utilising guest experts for creating content, and some of the new strategies he's trying to improve his retention even further. 
"I think one of the real pleasures I get from it is the understanding and thinking about how I can make the experience better for members… It's not necessarily about just throwing more value in there. Or just going, "Well, you had 20 hours of content, you've now got 60. It's three times as good, so you're going to stay three times as long." I think what I'm slowly starting to realise is, it's more how do people learn? What do people need to make the experience for them better?"
Listen in to hear about:
Why running an agency wasn't for George and how he decided to pivot to a membership model instead

How LaunchPod Academy now accounts for 80% of revenue, with the rest coming from add-on services available to members

The logistical challenges of running a mainly UK based membership site while living in Sydney, Australia

How selling annual memberships via live webinars has been one of the most successful ways of getting new members

The challenge of running a membership with two decision makers, and the impact buying his partner (and brother) out of the membership has had

How finding new ways to make the member experience better is one of George's favourite parts of running a membership and how accountability clubs are his latest experiment

The value of bringing other guest experts in to create content for your membership, even if they might be considered 'competitors'

Why George would love to set up a consumption based membership model in the future
Connect with George:
Thank You For Listening
We really appreciate you chosing to listen to us and for supporting the podcast. If you enjoyed today's show, please share it using the social media buttons on this page.
We would also be eternally grateful if you would consider taking a minute or two to leave an honest review and rating for the show in iTunes. They're extremely helpful when it comes to reaching our audience and we read each and every one personally!
Finally, don't forget to subscribe to the podcast in iTunes to make sure that you never miss an episode