Highs and Lows of a Closed Door Model with Brandon Vogt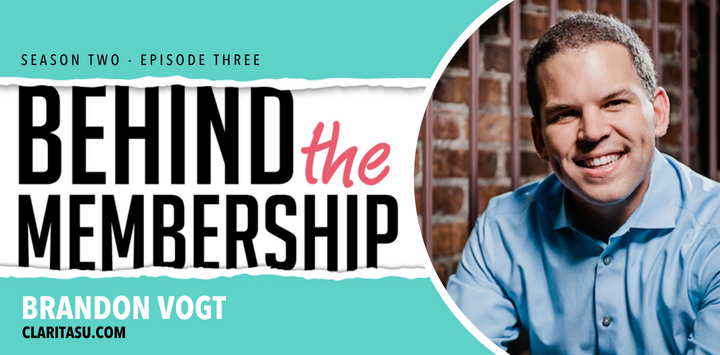 Subscribe to the Podcast Download Transcript
In this episode of behind the membership, I'm talking with Brandon Vogt from Claritas U about how he's achieved success with his membership site for Catholics who want to get clear on their faith.
Brandon has managed to create and run this six figure membership site alongside a full time job and gained over a thousand members with just his first launch, a pretty impressive achievement by anyone's standards.
Here we look at how Brandon uses the launch model to only open his site twice a year and the pros and cons he's found of doing this, including how it impacts his churn and ongoing member numbers.
We also talk premium tiers, engagement, content creation, retention and more!
"I spent a lot of time talking to my email subscribers, people who have bought my books, asking them, what's the big pain point? What's the thing you're struggling with most? You know, if me and you went out to coffee, what sorts of questions would you like to ask me? So that by the time I launched, I was pretty convinced that I'm creating something that I know is going to hit a hot spot."
Listen in to hear:
How he managed to achieve over 1200 members with his first launch
The pros and cons he's found of having a launch cycle membership and why he might not choose that route if he was starting again
How he cut his churn in half and and uses ongoing content to keep members coming back for more
Why Brandon decided to move from books and speaking to a membership site and how it's saving him time and stress
How Brandon created and runs his membership alongside a full time job and with a minimal team
Offering both standard and VIP membership options and how this impacted sign up numbers
How he overcame objections from an audience unfamiliar with membership sites
Why he gave influencers in his niche free accounts and how this created a loyal band of evangelists for the membership
Why he's considering moving to an evergreen membership despite his success with launches
Let us know your biggest takeaways from this episode over in our free Membership Mastermind Facebook Group.
Connect with Brandon:
Thank You For Listening
We really appreciate you chosing to listen to us and for supporting the podcast. If you enjoyed today's show, please share it using the social media buttons on this page.
We would also be eternally grateful if you would consider taking a minute or two to leave an honest review and rating for the show in iTunes. They're extremely helpful when it comes to reaching our audience and we read each and every one personally!
Finally, don't forget to subscribe to the podcast in iTunes to make sure that you never miss an episode