Celebrating the 8th Anniversary of Membership Academy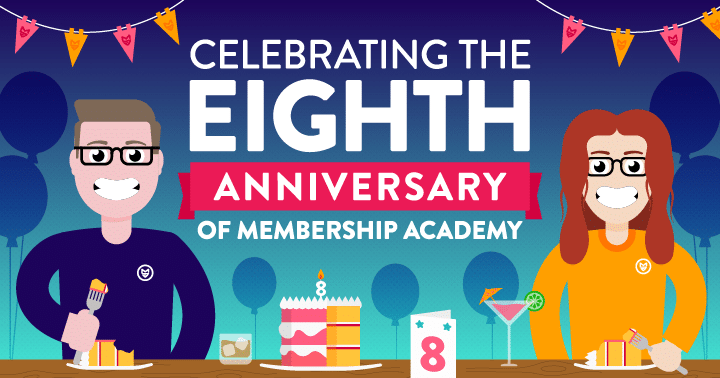 Membership Academy just turned 8 years old!
Listen in as Callie and I discuss the in's and out's of the past 12 months at Membership Academy and look ahead to what's in store for the coming months and beyond.
Go behind the scenes with Callie and I:
Dissecting the most significant change we've ever made to Membership Academy
How we finally solved a problem that's stumped us for almost a decade
The big new addition to the Academy that had people thinking we're crazy
Why we've started coaching after years of turning down requests
Dig further into our journey with Membership Academy so far….
What an amazing journey it's been over the last 8 years…
We've grown so much since day one, and we've got some incredible things in the pipeline that will continue to put our members at the heart of what we do.
As always, we want to thank each and every one of you for your support over the past 8 years – whether you're a podcast listener, Facebook group member, blog reader or one of our highly treasured Academy members (or all of the above) – our sincere thanks for being with us on this journey!
Thank You For Listening
We really appreciate you chosing to listen to us and for supporting the podcast. If you enjoyed today's show, please share it using the social media buttons on this page.
We would also be eternally grateful if you would consider taking a minute or two to leave an honest review and rating for the show in iTunes. They're extremely helpful when it comes to reaching our audience and we read each and every one personally!
Finally, don't forget to subscribe to the podcast in iTunes to make sure that you never miss an episode