More Time, More Freedom, More Income with Warren Mcpherson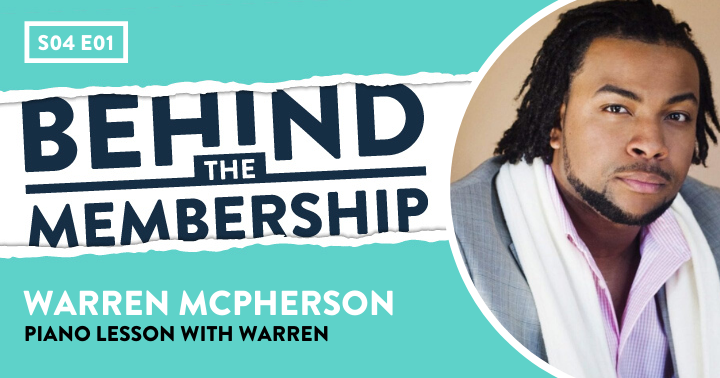 Subscribe to the Podcast Download Transcript
Warren McPherson from Piano Lesson with Warren joins Callie for episode 1 of Behind the Membership Season 4.
Warren's membership focuses entirely on teaching people how to play gospel piano, and he transitioned to a membership model after first teaching 1-2-1 lessons offline and selling low-cost courses.
As you'll hear though, the initial transition wasn't smooth, with Warren quickly realising a successful membership isn't just about putting everything behind a paywall.
In this episode you'll hear how Warren made that course to membership transition and how he is working to combat the challenge of retention, including how making one particular change cut his churn rate by an impressive 8%.
We're also talking about why he wishes he'd grown his team earlier and how he has played the long game when it comes to audience growth, allowing him to now attract 50-100 new members a month just through content marketing.
And even though Warren's membership is still just a couple of years old it has allowed him to work less and his wife to leave her job so that they can both spend more time with their young son. They're even moving to a new state, something that didn't seem like a simple idea for them before the membership.
Hit play above to hear about all this and more!
"I realised that I'm offering a lot more value to thousands of people around the world. I'm really able to take people from point A to point B, which is a fulfilling feeling to know that I can be changing so many lives across the world while only working a few hours a day."
Listen in to hear about:
How having the membership allows Warren to work just 5 hours a day and how he has quit all his other revenue streams, giving him much more freedom and time with his family
Why Warren decided to niche down into teaching just gospel piano in order to increase his success
The transition from teaching in-person lessons to low cost courses to a membership model
How Warren discovered a paywall and a membership are not the same thing, and started to tackle the challenge of retention
Playing the long game with content marketing and growing a YouTube channel with 105,000+ subscribers
How Warren has adjusted to offer three separate pricing tiers, giving people an easy way to get started before they upgrade for more
The challenge of reducing churn, and how implementing gamification reduced his churn by 8%
What the team helping Warren looks like, and how hiring has been instrumental and something he wishes he had done sooner
Connect with Warren:
Thank You For Listening
We really appreciate you chosing to listen to us and for supporting the podcast. If you enjoyed today's show, please share it using the social media buttons on this page.
We would also be eternally grateful if you would consider taking a minute or two to leave an honest review and rating for the show in iTunes. They're extremely helpful when it comes to reaching our audience and we read each and every one personally!
Finally, don't forget to subscribe to the podcast in iTunes to make sure that you never miss an episode