Building a 7 Figure Bass Empire with Scott Devine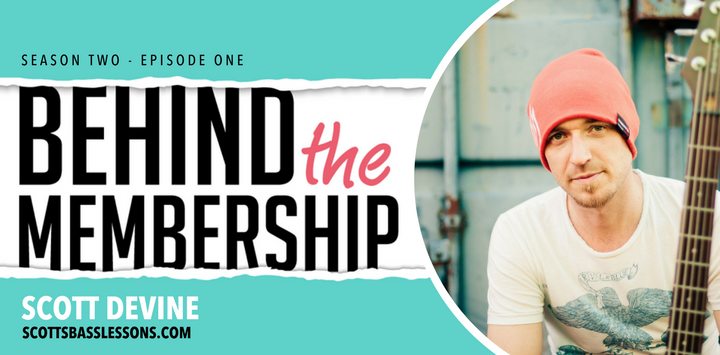 Subscribe to the Podcast Download Transcript
I'm kicking off season two of Behind the Membership with a very special guest, the one and only Scott Devine from Scott's Bass Lessons.
Now, Scott was actually a client of ours for many years, the very last client we stopped working with in fact. And we saw his site go from free YouTube videos and a PayPal donate button to a seven figure membership site in the years that we worked with him.

Scott's Bass Lessons has been running for 6 years now and has attracted over 30,000 members in that time. It's also gone from one-man bad to having a full faculty of world class bass educators. So there's a lot to pack into this episode!

"I've never really had the end goal in mind, which is a big mistake…The only thing I did consider is "I'm on a roll, bigger is better, let's keep pushing it as much as we can." I never really thought it was going to turn into this behemoth school. So it's been cool."
Listen in to hear:
How Scott went from winging it to attracting 30,000 members in just 6 years
Getting started with free YouTube videos and how YouTube has been a main source of members – with over 500,000 subscribers to his channel
How SBL became the Netflix of bass education and dominated the market with an all-star guest faculty providing weekly live content

Offering annual only memberships for less than $200 and what happened when he recently added a monthly option

What happened when they changed the format of videos they were producing and why professional marketing videos just didn't cut it

Going from a one-man band to a thriving team and learning to become a manager along the way
What he'd change and focus on if he was starting all over again

And much much more!
Let us know your biggest takeaways from this episode over in our free Membership Mastermind Facebook Group.
Connect with Scott:
Referenced Links:
Thank You For Listening
We really appreciate you chosing to listen to us and for supporting the podcast. If you enjoyed today's show, please share it using the social media buttons on this page.
We would also be eternally grateful if you would consider taking a minute or two to leave an honest review and rating for the show in iTunes. They're extremely helpful when it comes to reaching our audience and we read each and every one personally!
Finally, don't forget to subscribe to the podcast in iTunes to make sure that you never miss an episode