Creating a Custom Web App for Your Members with Marisha Mets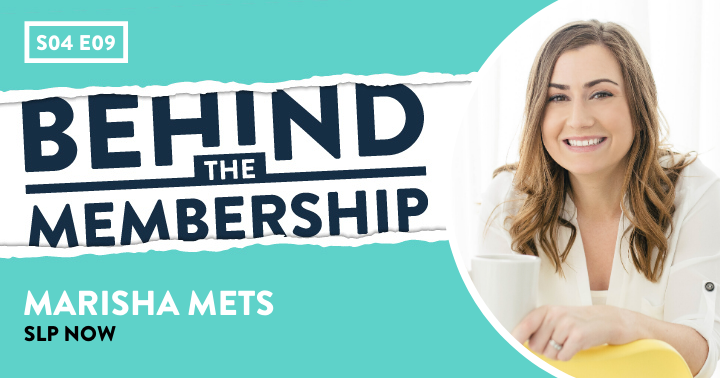 Subscribe to the Podcast Download Transcript
Marisha Mets from SLP Now, a membership for speech language practitioners, is this week's guest on Behind the Membership. 
SLP Now has been running for over four years and over that time has evolved from a simple membership to a full web app offering thousands of practitioners teaching resources and even their own CRM and case tools.
In this episode Marisha talks all about how she went from creating resources for her own use to launching a hugely successful membership and the challenges she's had along the way, including learning how to manage her time effectively and finding the right developers to create her app.
We also talk about the benefits of starting simple, and how a membership has helped give Marisha more freedom and flexibility, particularly when faced with health challenges. Plus how running a twice yearly online summit works well for attracting new members, and how she utilises tools like Net Promoter Scores and Intercom to get feedback from members and provide additional support. 
Plus, of course, lots more!
"With the different health issues I've had, it's been amazing to be able to run the membership and have the flexibility to take a slower week if I need to. I definitely put in, like in the very beginning, I would work 100-hour weeks. That wasn't uncommon when I clocked that many hours. So it's just cool that I feel like I put in the time and the work then and so I kind of get to reap the benefits of it now and just have more flexibility and freedom."
Listen in to hear about:
Why Marisha's membership developed from her own need for more resources and tools to support her work as a speech language practitioner

How Marisha started with a simple membership and then reinvested the income to create a custom web app for her members

The challenges and benefits of creating a custom app, including finding the right development team

Simplifying the content production process to better serve members and reduce overwhelm

How Marisha's free online summits attract 1000s of potential members into the SLP Now audience

Utilising Net Promoter Scores to get feedback from members and boost retention

How Marisha uses her marketing to highlight how much time her membership will save people

The benefits of a membership site business when faced with health challenges
Connect with Marisha:
Thank You For Listening
We really appreciate you chosing to listen to us and for supporting the podcast. If you enjoyed today's show, please share it using the social media buttons on this page.
We would also be eternally grateful if you would consider taking a minute or two to leave an honest review and rating for the show in iTunes. They're extremely helpful when it comes to reaching our audience and we read each and every one personally!
Finally, don't forget to subscribe to the podcast in iTunes to make sure that you never miss an episode