We're HUGE fans of podcasting…
Not only are we avid listeners, but we also host our own show, which for us has been a catalyst to our success.
In truth, having a podcast comes with a wide range of benefits that go way beyond building brand authority or connecting with your audience…
Which are two pretty awesome benefits in their own right if you ask us?! 
But when utilised correctly, a podcast can become a powerful marketing tool in your membership marketing arsenal.
Whether you're just looking for ways to make your show a little more strategic…
Or trying to figure out your content strategy…
There are many ways you can use your podcast to promote your membership…
And here are six of the best…  
1. Be your own sponsor
Out of the various ways to monetize a podcast, getting sponsorships is usually at the top of that list…
Usually at two or three points during an episode you'll hear the host plugging a sponsor's product. 
But here's the thing, if you run a membership site, rather than using it to promote someone else's brand, why not use it to promote your own membership?
Still not convinced?
Libsyn has released data claiming that 5000 downloads per episode within a 30 to 45 day period is the ball park range that most advertisers are looking for when it comes to deciding which shows to sponsor.
And they say that only 10.5% of all podcasts hosted on their service reach that number of downloads within the designated time period.
That's quite a small amount! 
We crunched some numbers with Midroll to get an idea of how much you would likely earn in sponsorship revenue if you were getting 5000 downloads per episode. 
So let's say you're running one ad per episode and releasing one episode every week…
That's 52 episodes per year…
If you manage to get up to 5000 downloads with those numbers, it'd earn you about $1500 to $3000 per year. 
For people just getting started, that probably sounds like a pretty sweet deal… 
But, in all honesty, it's not a lot of money for the level of popularity that 5000 downloads per episode earns you.
You could generate more sales for your membership by promoting it on your show! 
2. Include organic plugs into the actual episode content
Organic plugs are quite different from actual ads.
If you always bang on about your membership and use every chance you get to promote it, listeners will catch on, and it's not a great look…
No one wants to listen to a 15-minute-long sales pitch every time they tune in to your podcast.
But the chances are that you're going to be talking about topics related to your membership anyway…
So that gives you the perfect opportunity to organically chip in a few points about your membership, with just a few simple mentions related to the topic.
Don't overdo it though…
Keep it natural and organic saying things like…
"This question is one we often get asked inside Membership Academy" 
"Our members are currently having a conversation in our forum on this topic"
It will help keep your membership top of mind and raise awareness.
3. Repurpose audio from your membership content
First things first, don't look repurposing content as giving it away for free.
You're right in thinking that in essence you are…
But you're also, more importantly, giving non-members a chance to have a taste of some of the offerings inside your membership…
And that can generate sales!
So, let's say you've got a course that consists of 20 lessons…
It's not going to diminish the value of that course if you pull out three of those lessons, strip the audio, and put it out there as three separate podcast episodes. 
As long as each lesson has some standalone value, then taking out of the context of the course raises awareness and whets people's appetites.
So, if they want to dig deeper, you've got that next step to offer them i.e. your membership.
4. Have a podcast listener promotion
This is where you give your podcast listeners a special offer, discount or a trial.
Now when it comes memberships, it can get a little bit dicey if your giving money off subscriptions…  
If a member finds out that they're paying twice as much as the next person for exactly the same stuff – especially if the person getting the big discount joined after they did – they're not going to be happy…
And you can't blame them for that, can you?!
That being said, you can still play around with some promotional ideas.
For instance, you could do things like giving people two months for the price of one, which is essentially just a 30-day trial packaged in a different way. 
Or, if you don't normally have a free trial available, you can offer that just to podcast listeners. 
The great thing about making this promotion only available for podcast listeners is that it gives a little more justification for you to talk about your membership on your show. 
Why? Well, you're not just throwing out a generic promo, you're telling people about something that is very specific to them.
And it's a thank you to them for subscribing to your podcast.
5. Find opportunities to feature actual members on your show
Memberships offer the perfect ecosystem for experts and people with unique knowledge to hop onboard to share their knowledge.
So, let's say you've got a typical interview-type show where you feature experts every now and then.
If you know experts that also happen to be members, why not bring them on the show?
The fact that some of your members are established enough to be known authorities in your field is a good look for you.
But don't stop there.
If there are people in your membership applying the tactics and strategies that you're teaching them, and getting results, then get them on your show too.
It's called the "teacher's pet" approach, and it works wonders.
We do this ourself with our Behind The Membership podcast.
6. Look for opportunities to provide member-only bonus content
There are a number of ways you can use downloadable resources, checklists, or template file scripts to entice people in. 
But why not go one step further and produce some member-only content and announce that on your podcast? 
For instance, if you're doing a marketing podcast, and the topic is "Essential Emails That You Need to Send Your List", you could write out some content for emails that are only available to your members. 
You could even go as far as creating a private podcast for your members and mention it on your show…
Or give your members exclusive access to your podcast episodes ahead of wider release…
You could also give members an extended podcast episodes if that works for you!
Creating bonus resources helps you to highlight the difference between paying members and non-members. 
That sort of stuff makes non-members curious about the perks they're not getting and may encourage them to sign up to your membership to receive them.
Podcasting is an awesome promotional tool for your membership…
And it's up to you to make the most if it!
So if you have a podcast or are thinking about launching one, the pointers given above should help you promote your membership in a natural, non-salesy way…
And help it become an essential part of your membership marketing strategy.
Ready to learn more about attracting members through podcasting? Then you're in luck, we have the perfect course for you inside Membership Academy.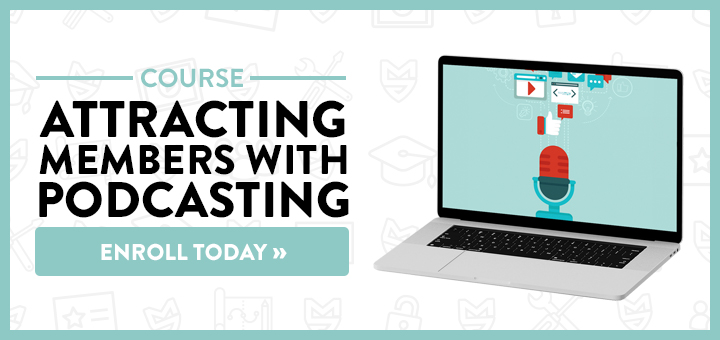 Thank You For Listening
We really appreciate you chosing to listen to us and for supporting the podcast. If you enjoyed today's show, please share it using the social media buttons on this page.
We would also be eternally grateful if you would consider taking a minute or two to leave an honest review and rating for the show in iTunes. They're extremely helpful when it comes to reaching our audience and we read each and every one personally!
Finally, don't forget to subscribe to the podcast in iTunes to make sure that you never miss an episode