Changing Your Business Trajectory with Craig Cannings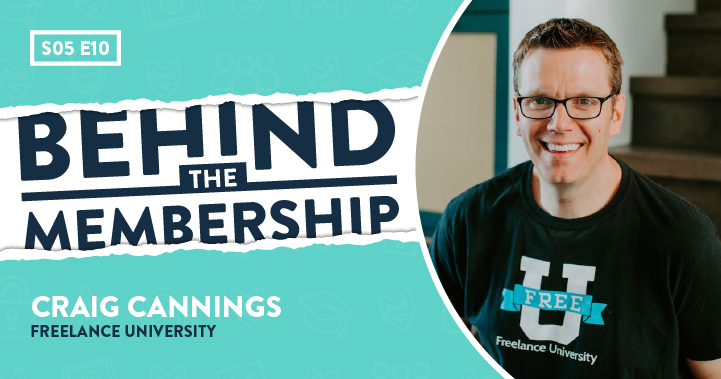 Subscribe to the Podcast Download Transcript
In the final episode of season five of Behind The Membership, Craig Cannings, co-founder of Freelance University, joins us to share the story of how he and his wife Kelly transformed their business after switching to the membership model. 
Craig tells us what inspired them to go down the membership route after selling a la carte courses for so long, why they made the decision to adopt the closed-door enrolment model and how they've found a way to stabilize growth in-between launches. 
Craig also talks about what it's like running a membership with his wife, the unique model they use to pay their team members, the changes they made to the business during the global pandemic to better serve their audience and how they use badges and certifications to aid member retention… Plus much much more. 
"It's like predictable cash flow. Now we're at a place where I can predict month to month, based on my churn rate, where we're going to be and how we're growing. I never had that control in the old model"
About Craig: 
Craig is the co-founder and Chief Learning Officer of Freelance University, the #1 learning hub for Freelancers to level up their skills and increase their income opportunities. Since 2008, Craig has been delivering high-impact online training to 1000s of students in over 75 countries. He has been freelancing successfully since 2003 and has designed a proven plan for launching a thriving Freelance business in 30 days or less.
Listen in to hear about:
How Freelance University started off as an a la carte course site to teach internet marketing and why Craig and his wife Kelly made the move to the membership model. 

The approach that Craig used to successfully transition customers who had previously bought courses from him into the membership. 

The freelance economy boom that's happening right now as a result of the pandemic. 

The challenges of running a membership with a closed-door enrolment window and how they've found a way to stabilize growth in-between launches. 

Why Craig and Kelly decided to open the doors fully for 6 months at the beginning of the pandemic.

How transitioning to the membership model has given them stability and control over the future of their income. 

Running a business with your other half – how Craig and Kelly manage the membership together working from home. 

The unique model they've adopted to paying their team members and how it's linked to member retention and the overall growth of the membership. 

How they incentivize members with badges and certifications. 

What he's learned from hosting their first virtual summit and the impact it has had on the growth of the membership.
Connect with Craig:
Thank You For Listening
We really appreciate you chosing to listen to us and for supporting the podcast. If you enjoyed today's show, please share it using the social media buttons on this page.
We would also be eternally grateful if you would consider taking a minute or two to leave an honest review and rating for the show in iTunes. They're extremely helpful when it comes to reaching our audience and we read each and every one personally!
Finally, don't forget to subscribe to the podcast in iTunes to make sure that you never miss an episode