Behind The Membership: Makers Momentum Club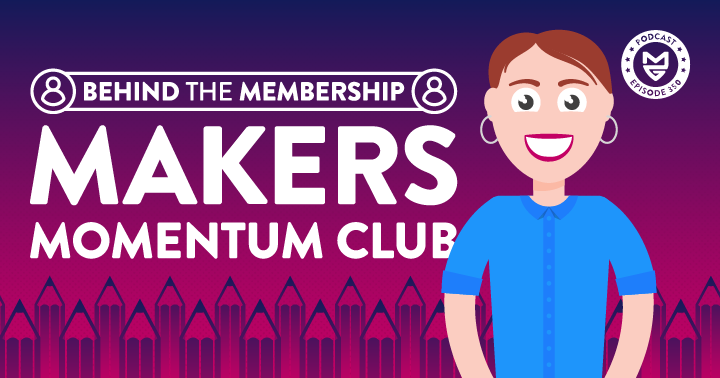 For most people, running into multiple challenges when managing a membership business means it's time to pack up and call it a day.
Well, Nicola Taylor of the Makers Momentum Club isn't most people…
Her journey has its humble beginnings on Facebook, starting out as an add-on for The Makers Yearbook and evolving into a full-fledged membership.
As we go Behind The Membership with Nicola, she shares the challenges she's faced changing her business model, the effects the pandemic has had on her and member base…
And how a significant increase in member engagement can be a double edged sword!
Bottom line, she's proof that when the product is good, it really doesn't matter how many challenges you face, as long as you forge ahead.
Let's hear more from Nicola herself… 
Could you give us an overview of what the Makers Momentum Club is, and who it's for?
Makers Momentum Club is a business membership for artists, makers, and handmade business owners.
We've got a diverse group of members ranging from traditional 2D painters and photographers to illustrators and jewellers.
Then there are also members who you might not consider to be makers…
People like bakers, authors and so on.
But, what they all have in common is that they create concepts, turn them into physical or digital products, and then sell that to the public.
Our target market is people in their first five years of business.
So, the membership focuses on getting everybody to implement business fundamentals that people often skip when they start a business informally.
We've been running for about five years now, and we've been through a lot of different iterations…
So that's where we are right now.
What inspired you to start a membership site in the first place?
I always say that mine was an accidental membership…
Makers Momentum Club initially started as a free Facebook group that was an add-on to another product that I sell called The Makers Yearbook.
It's a diary and planner that helps artists and handmade business owners set goals and manage their working habits throughout the year.
In the original version of The Makers Yearbook, we'd have a monthly challenge centered around things that people could use to grow their business.
It was such a hit that by the second year, I thought it was time to do the challenge together in a Facebook group.
As people asked for more, we added in a full membership site, educational content, and live Q&A calls.
Although I've been a membership owner for five years, I don't feel like I had a fully-fledged membership until a year or two ago because I was still going with what people were asking me for.
Did you get any pushback when you went from free to charging for a membership?
Yes, it's been one of the significant difficulties I've had.
What we initially did was make it a free part of The Makers Yearbook because it was only supposed to be a community with minimal input from me.
But then it became a paid add-on to the yearbook, and that was when we got some pushback, which I handled by simply being upfront.
So, I let members know that it was evolving into an entirely different product than it was in the first place…
And of course, I was happy to provide that, but not for free.
I've made many mistakes in terms of how I packaged the membership.
The first was structuring it so that people would only get the chance to add on Makers Momentum Club as they bought The Makers Yearbook annually.
So, we were essentially a closed membership, one with no automatic renewal, so members had to sign up again when their subscription lapsed.
And people got a bit confused as to what they were buying – just the yearbook or the membership as well – it got quite difficult to manage.
So we went from free to paid add-on then suddenly members have to start from scratch at the end of the twelve months…
And some people didn't want to have to sign up again or thought they had when they hadn't so they were both challenges to overcome.
Now, we've got to the point where Maker's Momentum Club is finally completely separate from The Makers Yearbook paid for on a monthly and annual basis.
That has significantly reduced the number of customer service enquiries we get…
And just the amount of work explaining the product to people over and over again.
What made you persevere and keep tweaking the model until you found the perfect fit?
I think it was because there was always demand for what I was doing.
It's easier to forge ahead when you're not constantly trying to sell and resell something.
Also, I was helping people because that's what I'm drawn to do.
Navigating through all the hiccups made me feel like I was solving a problem – and in many cases, a problem I caused for myself – rather than fighting a battle against something that wasn't going to be successful.
I could see there was a need for my membership and I was being asked for it, so I never felt like giving it up, I felt like I simply needed to work out the right way to position and sell the membership.
It was definitely going to work as a business, but for me personally, I had to make changes to make it more enjoyable to run.
What's the biggest challenge you've had aside from finding the right business model?
For me, the biggest challenge is right now and the state of things globally.
It's been two years since the beginning of the pandemic and the world has changed drastically.
Meanwhile, I'm teaching a model of online business that depends on open trade worldwide and that is changing and becoming more difficult and Covid has changed so many things for so many people.
While I'm facing all of this turbulence in my own business – trying to ship the yearbook around the world, navigate hugely increased shipping costs and all of the taxes and import duties and regulations brought about by Brexit – my members are navigating all of that as well.
It makes me feel like we're at a point where my members are looking to me for answers and there's no good answer for any of those problems.
That's not to say that it won't get easier…
However, it's not easy to hear there's no answer when you're in a membership and looking to somebody for help and they're just as confused.
There's very little I can say to reassure my members and that's a difficult position to be in as a membership owner.
But, we will try to do what we can do within these constraints.
What impact did Covid have on the growth of your membership, if any?
We had an initial growth in members when people were on furlough and then that tapered off.
So we got an influx of members but also a huge increase in engagement, which I found quite difficult to manage.
That sounds like a good thing…
But at the time I was running the membership by myself and it was manageable when we had up to 15% of members actively engaged…
But when that shot up to 50% of members all needing my attention, it became quite overwhelming and I realized my business wasn't set up for that.
So for me, the pandemic changed the way I want to run my business…
I reached burn out and knew some things had to change…
So I've hired a VA and am outsourcing some tasks to other suppliers.
I've spent a lot of time putting systems and processes in place to ensure that this means the business runs as smoothly as possible…
And isn't 100% reliant on me to do everything.
What have you done to attract new members over the years?
Because the membership started as an add-on to the yearbook, the sales of the yearbook have been the primary driver of members into the membership.
That created problems in itself in the membership, because we'd have a large number of people join in January which would create big energy, but also created overwhelm for some members.
We also used advertising as a form of marketing, upselling the membership with the yearbook.
Organic marketing, however, has been a weakness and is something we're working on with the creation of a new funnel.
What are you doing to keep members coming back month after month?
One of the main drivers for retention is my community.
We have a Facebook group for our community, and I've been a bit militant about the atmosphere and the vibe.
Arguably, some of my methods may have slightly hindered engagement in some way, but the results speak volumes.
For the most part, I feel that we're competing against communities where members log on to complain or voice their concerns…
But the thing with those communities is that there's not a lot of action.
I want people to make money so that they can have options and opportunities from the things that they create.
My community is built on the premise that it's powerful to have a group of people working towards the same thing.
But I also realize that power could be diverted towards things that aren't as constructive.
So, I've worked really hard to create an active, can-do vibe.
What impact has running a membership had on your life and business?
I absolutely love running my membership…
One of the challenges for me at the beginning was imposter syndrome.
What started out as a Facebook group slowly evolved into a platform where people trust me as an authority source.
But once I realized that I could make a genuine difference to people, it became easier to carry on and even occasionally become obsessed with running the membership.
There are also times though when it's definitely had a negative impact on my life.
But helping my members has only ever had a positive impact on me and I absolutely love doing it.
I get a huge amount of fulfillment from watching my members go from not believing in themselves to realizing it's not as difficult to get things done.
What's your one tip for anyone thinking of starting a membership?
Don't get into it if you don't love it.
You have to love it and to genuinely want to help your members and spend time with them.
But at the same time, you need to have some boundaries for your own wellbeing.
So, don't jump in thinking it'll be simple and easy, because it's definitely not.
However, there are rewards along the way that keep encouraging you to do it.
Learn more about Nicola over at…
Thank You For Listening
We really appreciate you chosing to listen to us and for supporting the podcast. If you enjoyed today's show, please share it using the social media buttons on this page.
We would also be eternally grateful if you would consider taking a minute or two to leave an honest review and rating for the show in iTunes. They're extremely helpful when it comes to reaching our audience and we read each and every one personally!
Finally, don't forget to subscribe to the podcast in iTunes to make sure that you never miss an episode