Avoiding Burnout When Running a Membership Site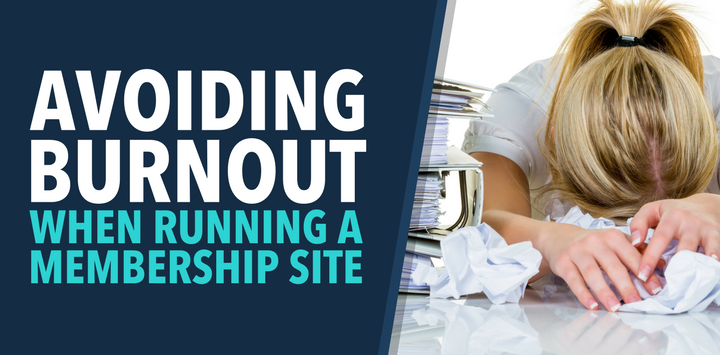 Subscribe to the Podcast Download Transcript
It's very easy to fall into bad habits as a membership site owner when it comes to over-working and putting too much pressure on yourself.
This often leads to burnout, which in turn adversely affects your membership site.
In this episode of The Membership Guys Podcast, I give my tips on how you can avoid burning out when running a membership site.
Episode Summary
Why over-burdening yourself is not only bad for you, but for your members too
The importance of context, and understanding where your membership fits in the grand scheme of things
How to set and manage member expectations
What areas of your business you should develop in order to avoid burning yourself out
Key Quotes
"If you get to that point where you actually hate getting up in the morning and having to do all this stuff for your membership site, then that's going to be reflected in the way in which you communicate to your community, in the effort that you put into promoting it, growing it and so on. So if your membership site becomes a burden because it's burning you out, then that is a very quick way to send your site into a spiral where eventually, you're going to give up on it, you're going to throw in the towel, or it's just going to go downhill."
"Of course we have a commitment to deliver to our members, but if, for example, a course that you're releasing into your membership site is two days late, nobody dies if that happens, okay? We're not doctors, we're not surgeons, we're not firemen, we're not military personnel. Our job as a membership site owner doesn't have life or death consequences, so if you need to take an afternoon off, if you're just not finding your groove when it comes to actually putting in the work for your site, or diving into your community, it's okay."
"Nobody hands out prizes for people who work the most hours in a day. If you're working 12, 14, 15, 16 hour days, then you need to look at that because it's not about working the longest, it's not about working the most, it's about working the smartest. You need to work smarter, not longer, not harder."
Related Resources about Running a Membership Site
Thank You For Listening
We really appreciate you chosing to listen to us and for supporting the podcast. If you enjoyed today's show, please share it using the social media buttons on this page.
We would also be eternally grateful if you would consider taking a minute or two to leave an honest review and rating for the show in iTunes. They're extremely helpful when it comes to reaching our audience and we read each and every one personally!
Finally, don't forget to subscribe to the podcast in iTunes to make sure that you never miss an episode