Succeeding with a Small Niche with Lisa Leander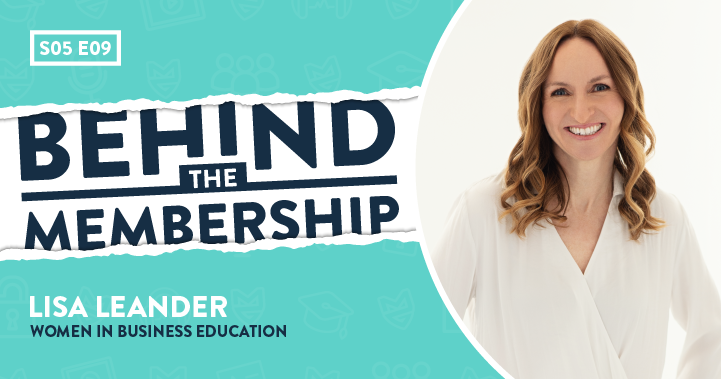 Subscribe to the Podcast Download Transcript
Our guest on this penultimate episode of season five of Behind The Membership is Lisa Leander, founder of Women in Business Education. 
Lisa's membership story is not a typical one. What started off as a planned side hustle targeting a very specific niche audience (possibly the smallest we've ever seen with only a few hundred people in the world in the market), quickly resulted in Lisa quitting her job and managing the membership full-time due to the pandemic.
During this episode, she shares how she's tapping into her 10 years of experience as a Director of a membership organization to build the business as quickly and efficiently as possible, why she made the decision to invest in building a team from the very beginning and how Lisa's personalized approach to recruiting new members has had up to a 70% conversion rate.
She also talks about why she only delivers live content to her members, how her site is structured to cater for different segments of her members to give them a specialized peer experience and her plans to grow her niche further later this year. 
"Memberships are not about making money overnight. It's about consistent growth, right? My model is not about making money this year, it's about making sure that all my members return next year."
About Lisa: 
Lisa Leander is an international development and management expert with eighteen years experience managing higher education initiatives in 22 different countries. Prior to leading WiBE, she was a Senior Advisor to the Global Business School Network where she previously spent a decade working to improve management and entrepreneurship education globally. During the day you might find her consulting for U.S. multinational companies navigating complex market opportunities in the Middle East, creating complex art creations with her two daughters or attempting to train a high energy German Shepherd.
Listen in to hear about:
Lisa's membership journey so far. How her original plan to manage Women in Business Education as a side hustle quickly changed due to the pandemic, forcing her to quit her job to focus on the membership full-time, launching while homeschooling two children. 

The very small niche audience that Lisa is targeting, launching with a potential customer base of 200 to 300. 

How she was able to leverage her 10 years of experience as a Membership Director to launch quickly and grow fast. 

Her unique approach to delivering content to her members in real time, creating bespoke sessions based on their needs. 

How Lisa has grown her membership purely through personal outreach and word of mouth rather than more traditional methods of marketing.  

Why Lisa made the decision from the outset to invest in building a team to help her launch and grow the membership quickly, leveraging financial support for entrepreneurs in her area and the people around her.  

The structure of Women in Business Education. How it's actually three memberships in one, with each segment of Lisa's member base being able to access their own peer group and content relevant to them. 

How Lisa adopts a very personalised approach to recruiting new members using LinkedIn which achieves a 50% to 70% conversion rate. 

Lisa's plans to grow her niche further in the fall of 2021, opening the membership up to wider faculty in education and her goals for the long term future. 
Connect with Lisa:
Thank You For Listening
We really appreciate you chosing to listen to us and for supporting the podcast. If you enjoyed today's show, please share it using the social media buttons on this page.
We would also be eternally grateful if you would consider taking a minute or two to leave an honest review and rating for the show in iTunes. They're extremely helpful when it comes to reaching our audience and we read each and every one personally!
Finally, don't forget to subscribe to the podcast in iTunes to make sure that you never miss an episode