From Hobby to 100+ Members a Month with Anna Geiger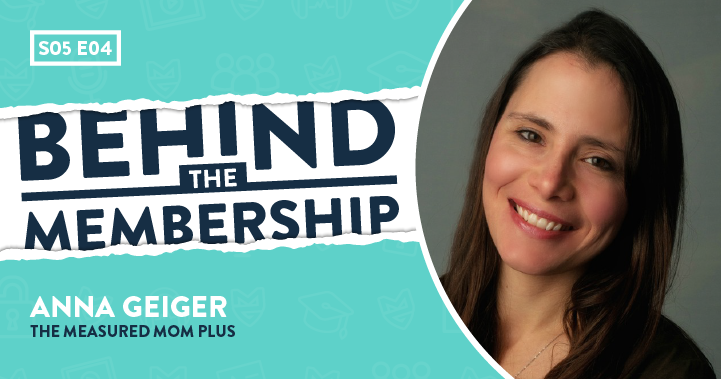 Subscribe to the Podcast Download Transcript
Meet Anna Geiger – mom of 6 and owner of The Measured Mom Plus, an online membership that offers resources, printables and training to pre k-third grade educators. 
In this episode of Behind The Membership, Anna joins us to share the story of how she has turned her hobby into a thriving business. 
What started as a blog sharing content with family and friends while living abroad has become, over the space of 8 years, an online shop and membership that attracts millions of site visits per month and hundreds of thousands of subscribers to her mailing list.
In this episode Anna talks about how she's built her audience, why she made the decision not to sell any of her products until two years after her blog went live and what inspired her to launch her membership just under 2 years ago. 
She also shares how her site attracts over 100 members each month with little to no marketing, what she loves most about being a membership owner and the challenges she faces targeting teachers… Plus much more! 
"Think about how you can get help from the beginning. Make a plan for how someone is going to help you not let this take over your life. And maybe give yourself a timeline. So, the first thing I would do is get somebody to help you with customer service, because that is not something you need to be doing, and that can be very stressful. And then I would consider who can help you create content and who can help you have a system. Those are the things I think that I would go back and change if I could."
About Anna:
Anna Geiger, M.Ed., is a former teacher and mom of six. 
She has been sharing education resources since 2013 on her website, The Measured Mom. In 2019 she began her membership site, The Measured Mom Plus, which shares education resources for Pre k-third grade educators.
Listen in to hear about:
Anna's journey to launching her membership: How her business started as a hobby to scratch her creative itch whilst at home with her young children and evolved to what it is today. 

Why Anna made the decision to give her products away for free for the first two years after launching her blog. 

What inspired Anna to move from making her income via monetizing her site through advertising  and selling online products to the membership model. 

How Anna built her audience from a pool of family and friends to millions of site visits per month and hundreds of thousands of subscribers on her mailing list.

The positive impact hiring a team of moms who are also teachers has had on her processes, content creation and time. 

How

The Measured Mom Plus

attracts 100+ new members per month with little to no promotion. 

The challenges Anna faces managing a content driven membership – reducing churn, pricing strategy and seasonal peaks and troughs of the education industry.
Connect with Anna:
Thank You For Listening
We really appreciate you chosing to listen to us and for supporting the podcast. If you enjoyed today's show, please share it using the social media buttons on this page.
We would also be eternally grateful if you would consider taking a minute or two to leave an honest review and rating for the show in iTunes. They're extremely helpful when it comes to reaching our audience and we read each and every one personally!
Finally, don't forget to subscribe to the podcast in iTunes to make sure that you never miss an episode