The Impact of AI on The Membership Site Industry: Trends and Predictions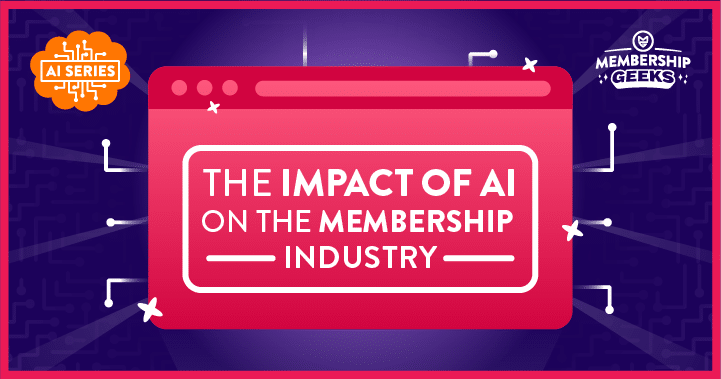 Are you using AI within your membership?
Artificial intelligence has been around for a while…
But since ChatGPT exploded onto the scene at the end of 2022, you can't look anywhere without seeing some reference to the latest tools on the market.
The AI industry is predicted to reach $1.8 billion by 2030
So, whether you love it or hate it, it seems like it's here to stay.
In this article, we'll reveal how membership owners are currently using AI…
And what will the impact of AI is likely to be on the membership industry as a whole.
Let's dive in…
How Membership Owners Are Currently Using AI
In our AI blog series, we've been highlighting the ways in which membership owners can leverage AI-powered tools for business growth.
For instance, using chatbots to enhance membership engagement and speed up customer service responses.
Or utilising tools to make managing and maintaining your membership site much easier.
There are also AI-powered chatbots like Wonderchat.io that instantly turn your membership site and content into a private knowledge base.
The great thing with tools like Wonder, are that they are super easy to set up, even for those who aren't tech savvy.
Simply share the link to your content with the AI and customize the chatbot to reflect the tone of your brand: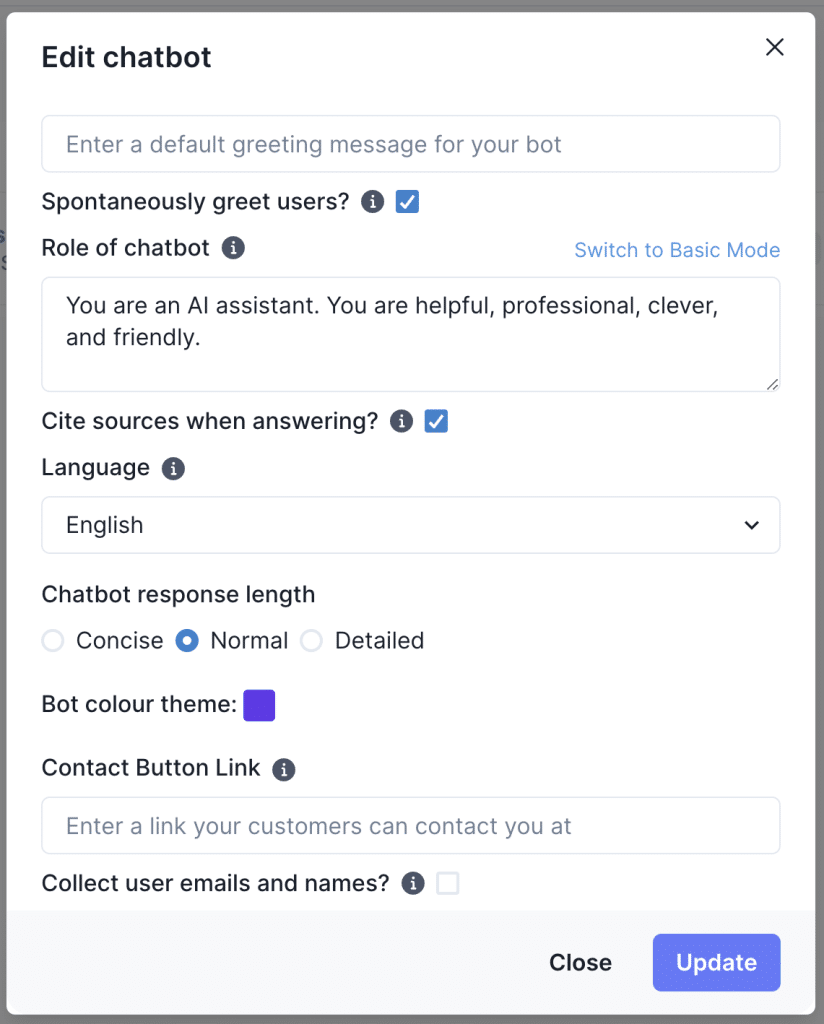 Wait for 5 minutes until the AI has learned your information and you're ready to implement it onto your website so that people can converse with it.
Wonderchat.io makes your content more accessible, enabling users to retrieve information quickly.
Let's say that someone visited our website wanting to discover how to increase membership sales…
They could simply type their query into the chatbot and it'll provide an answer with links to our most relevant content: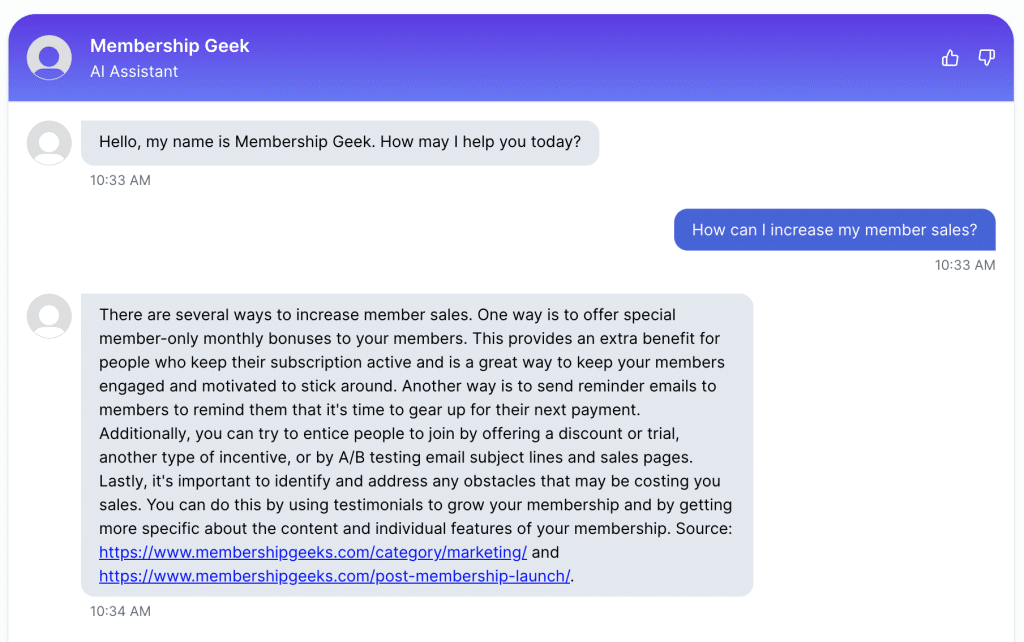 You can collect feedback from people who are using the chatbot to improve output, as well as train the AI to generate specific types of responses.
While Wonderchat.io doesn't currently support video content, you could generate a transcript of your videos with a tool like Fireflies AI and publish this as a pdf so the AI can link to it.
But, if you have a vast amount of blog posts or extensive training guides, this tool is an affordable solution to ensuring your written content is more accessible.
In fact, helping to make your content more accessible is one of the best uses of AI for membership site owners.
Tools like Descript and Castmagic can help with making things like providing transcripts or captions of your audio and video content a breeze, enabling you to better cater to different members needs.
While tools like Dubverse.ai or Sonix.ai can enable you to more easily provide your membership content in other languages, either via subtitles, dubbing or text – something that up until now has been costly to do.
AI is making it simpler, faster and more cost effective to provide your content in more formats than ever before. And this can only be a good thing for membership sites.
Many of our members inside our own membership, Membership Academy, are using AI tools to brainstorm ideas, save time, and boost productivity…
And one of the main tools they're implementing into their content creation workflows is ChatGPT.

We've also got members using Midjourney to create web graphics, such as images for blog posts or courses.

Plus we've got members inside Membership Academy who are integrating AI into their training workshops, such as using AI tools for language learning…

Overall, our membershippers are feeling positive about the use of AI tools, especially when it comes to completing tasks faster and improving the effectiveness of their processes and strategies.
However, some are naturally cautious, particularly when it comes to generating factual information since ChatGPT can provide inaccuracies and false information. You need to know enough to know when the information returned to you is incorrect.
That said, AI is great for bouncing ideas off, enhancing content where you already have prior knowledge, and helping to explain complex topics to your audience.
Future AI Predictions
While we don't have a crystal ball, there are a few things that seem inevitable…
We're likely to see more memberships pop up based around AI tools, whether that's learning how they work, implementing them within a business, or using them for a hobby.
In fact we already have members building memberships based around AI tools, including teaching people how to use tools like ChatGPT, Dall-E and Midjourney.
And, of course, as AI tools develop and improve, membership site owners will continue to use them to enhance all areas of their business.
Outside of running memberships, there are some changes that may impact how membership owners market their businesses…
Google search changes
Google is introducing generative AI into search, aiming to enhance user experiences with a greater level of personalization.
This means when you're looking for a specific answer, their AI will generate a response alongside content recommendations for further information.
Here's what Google's Search Generative Experience will look like: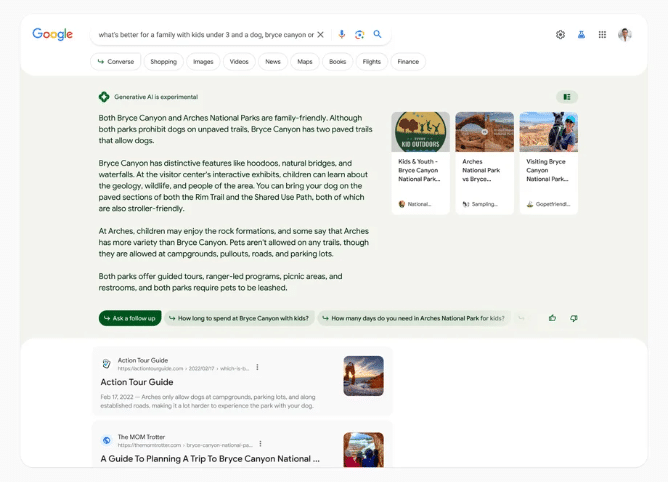 How does this impact membership site owners?
Well, if you've been creating content that's ranking high in Google Search results, and getting many of your membership leads and sales as a result, then there could be challenges ahead.
Introducing AI into the mix is one of the biggest updates in years…
Which could mean a reduction in search traffic for sites that are currently doing well.
After all, for some specific queries like "how long does it take to learn a language?", the user may receive all the information they require from an AI response…
But, for more general searches like 'free resources for learning Spanish', AI can only provide suggestions, so a user is far more likely to click through to actual website content.
At present, we can only speculate how things will turn out.
But, it's a good reminder to not put all your eggs into one basket when it comes to building a business…
So, if you haven't already started repurposing your content for multiple platforms like social media, YouTube or podcasts, now might be the perfect time to get started.
It's also a good time to begin building a personal brand…
Building a personal brand may become more important than ever before, especially in the age of AI when people can generate content at the click of a button.
This abundance of content may result in increased competition for audience attention and engagement.
And if AI-powered recommendation systems shape the content people are exposed to, it potentially narrows down their options, making it more difficult for emerging businesses to gain visibility.
But, it's not all bad news…
Personal branding will be the difference maker
What AI cannot replicate is human connection – that's where your personal brand comes in.
A personal brand allows you to showcase your individuality, experiences, values, and perspectives so that you can connect with people on a deeper level.
When you do this across social media, your website, and other avenues like speaking engagements, or networking events, people begin to recognize your expertise and want to learn from you…
And this is where your membership can really grow.
Speaking of networking – having a strong personal brand attracts like-minded individuals.
When people resonate with your brand and what you stand for, they're more likely to reach out and form mutually beneficial relationships…
These connections can lead to beneficial collaborations, such as guest speaking or partnerships on someone else's platform – another effective way to grow your membership!
The introduction of Chat GPT plugins
OpenAI recently announced the arrival of ChatGPT plugins – tools designed to help users get more functionality out of their current software.
Plugins provide access to more information through enhanced web browsing and third parties like Klarna, Expedia, and Zapier, as well as code interpreter plugins that enable ChatGPT to perform data analysis and solve problems.
Here are some of the third-party plugins currently being developed:

For membership site owners, this could provide a vast range of opportunities:
Being able to quickly analyze data from member feedback
Making unbiased data-driven decisions rather than relying on personal opinions
Promptly identifying early warning signs that members are about to cancel
Potentially assessing data from community discussions to determine what assistance members require the most
Producing more trending content for marketing and learning purposes
Using AI to engage members by asking more relevant questions within the member community
Improving personalization based on member history and interactions
The traditional membership site could be completely revolutionized with AI technology…
However, it's important to consider specific use cases where implementing AI will be most valuable to improving your membership…
And the overall accuracy in results – with AI still in its infancy, continual human monitoring will be required to ensure you're receiving reliable results that enhance all areas of your membership.
To Conclude
With AI-powered tools, membership site owners can focus on delivering value to members while automation takes care of time-consuming tasks, such as generating content ideas and streamlining membership management.
However, maintaining a human touch remains vital for member engagement, satisfaction, and accuracy.
While the evolution of AI may present some challenges, the ability to adapt and leverage the right tools for your needs is key to growing your membership site, whether you're in the initial planning stages or aiming to attract (and retain) more members.