Fitting a Membership to Your Lifestyle with Chris Marr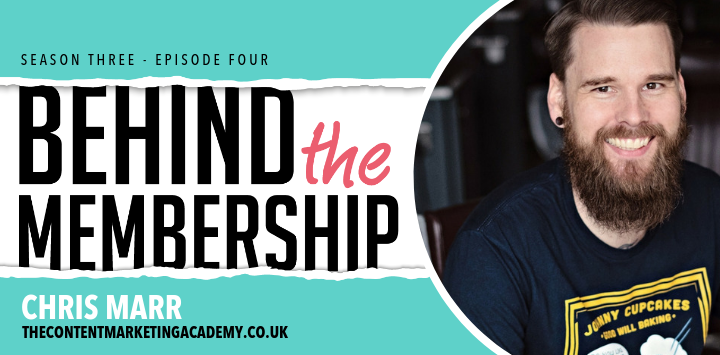 Subscribe to the Podcast Download Transcript
Chris Marr from the Content Marketing Academy (also known as CMA) joins Callie for this episode of Behind the Membership.
Chris launched his membership in 2015 after running a six month in person masterclass and it's now a major focus of his business. Here, he talks about the importance of customer experience in creating a community culture, using free in-person workshops as a way to attract new members and how he has recently launched a very low cost price tier to help those who can't afford his full membership fee yet.
They also talk marketing challenges, how Chris is successfully using Slack for his members community and how the membership has enabled Chris to create the lifestyle that he wants, as he's undergone the transition from flying solo to being a father of four and family man.
"The single biggest challenge is being able to take a strategy, build that strategy, implement that strategy, stick to that strategy, have the patience to see if it works or not and then being able to change that when it doesn't, and not be distracted with all the other things in the meantime."
Listen in to hear about:
How the CMA membership evolved as a follow on from in-person workshops
Why Chris has chosen to introduce a very low cost option for those with lower incomes and how this was received
How they use free workshops as a source of new leads for the membership
The challenge of finding the right sales and marketing strategy for consistent membership sales
How moving from a closed door approach to always open transformed the membership
Getting members from content marketing and why consistency is key
Why Chris is currently focusing on his local area, despite having an international membership
Sending physical welcome packs to new members to increase new member engagement and retention
Creating an environment and culture that is primed for engagement including weekly calls, private coaching and more
Why Chris chose to use Slack for his membership community and how that has worked
The power of being able to fit a membership to your lifestyle and better adapt to changes
How Chris manages the membership in only 3-4 days a week and the other team members involved in the process
Connect with Chris:
Thank You For Listening
We really appreciate you chosing to listen to us and for supporting the podcast. If you enjoyed today's show, please share it using the social media buttons on this page.
We would also be eternally grateful if you would consider taking a minute or two to leave an honest review and rating for the show in iTunes. They're extremely helpful when it comes to reaching our audience and we read each and every one personally!
Finally, don't forget to subscribe to the podcast in iTunes to make sure that you never miss an episode