Behind The Membership: IT Rockstars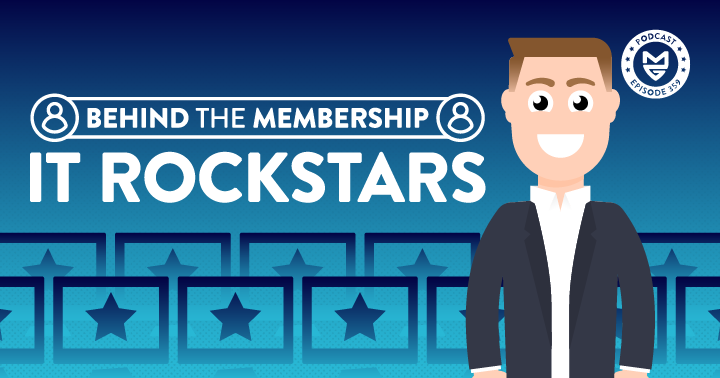 With so many memberships out there, standing out from the crowd takes a bit more elbow grease these days.
However, IT professional and author Scott Millar has managed to put quite the unique spin on his.
He's the founder of IT Rockstars, a membership that helps IT companies to transform their marketing…
Join us as we go Behind The Membership with Scott to hear more about his journey, including why he decided to cap the number of members per location, what made him decide to pivot his membership, the awesome onboarding process he has to help retain members…
Plus how he manages to successfully run his membership alongside a full-time job and having a young family.
Could you give us an overview of your membership and who it's for?
So it's called IT Rockstars and it wasn't actually a membership when I first started it.
As someone who used to work at an IT company – and presently runs my own IT company – I have first-hand knowledge of a few of their pain points.
And one of the things they fail at is marketing their business.
I started IT Rockstars to provide marketing material for IT businesses, also referred to as Managed Service Providers (MSPs).
So the membership helps transform how IT businesses market themselves.
In terms of the market there are probably 7000 MSPs in the UK and over 100,000 MSPs globally…
And all of them are scrambling to recover from the effects of the pandemic.
So we supported all of these businesses that went into that work-from-home environment that they're now coming out of.
They've all got spare cash and I'm here to help them utilize it and get even more of it.
You mentioned that it didn't start off as a membership, tell us more about that.
My background is in engineering, though I solely provided my skills to the IT industry.
After looking around, I noticed that there was very little room for career progression, so I transitioned into sales.
That's where the real challenge started, because I actually had to come out of the server room and speak to people in the real world.
The issue wasn't so much about explaining the technology solutions we could offer, it was more about finding the right audience in the first place.
A couple of years down the line, I left the sales role and decided I wanted to follow my passion which was Search Engine Optimization (SEO).
I decided to start up an SEO agency for MSPs.
But after speaking to someone in the space, I realized my vision would be more suited to a subscription or membership model and that's when IT Rockstars was born.
So how long ago did you launch your membership?
I set up IT Rockstars in January 2019.
I had built up an audience prior to that so I had a good solid foundation to launch.
I'd written a book called 'Bear Attack SEO for Managed Service Providers' and I leveraged that audience with the membership.
Does the membership still focus on SEO?
We've since pivoted away from SEO mainly because it's only one factor of marketing that MSPs can leverage.
It's one of those things that takes a while to generate results and is a lot of work.
However, it remains one of our splinter courses.
These days, we're more about giving our members quick wins by enabling them to transform their businesses from a marketing perspective.
What do you provide your members with every month? 
We give them white label content that they can use and we lock it down by local area.
So here in the UK we cap members per council borough and in the U.S. we limit the number of people per county.
So that means one IT company per location can sign up to our membership.
They get content that's written in a way that helps them position themselves technology leaders in their local market place.
So things like articles, blog posts, videos and templates for newsletters… 
We also have a content pack which contains a Roadmap on implement the content in the right way to grow their businesses.
What made you decide to put a cap on your membership?
There are two elements to it…
The first being that when you're providing marketing material to IT businesses operating in a local marketplace, you don't really another IT company handing out the same material.
So there's no clash there… 
The second reason is actually quite simple, it's for the purpose of scarcity.
This way, it's easier to dominate certain locations so none of our competitors can get in.
We have a location checker on our website to help us keep numbers per area limited.
If your postcode or zipcode is taken then you're put onto a wait list for when it next becomes available.
Let's explore how you're managing both a full-time job and the membership.
The great thing, in this case, is that they complement each other…
I'm working in IT, so I can keep in touch with what the problems are from a hands-on perspective.
That makes it a lot easier to translate that content for our members.
But its very much a juggling act between my 9-5 and then evenings and weekends for IT Rockstars.
I have leveraged certain things online that make this much easier.
Also, my wife and a couple of people help run the day-to-day in the business.
What I found early on with my membership is that I had to be very aware of what I was good at and what I was terrible at, so I could make sure anything I struggled with was outsourced to someone else.
We have two content creators, my wife does the admin and bookkeeping and we have graphic designers on board too.
That's how I've managed up to this point. 
What's been the highlight of having your membership for you?
The biggest thing for us is that my wife has been able to leave her employment to work on the membership with me and raise our little girl.
We've done it on our terms in terms of working it alongside childcare and so far its worked well.
The thing I love about the membership model is the scalability of it…
When you're employed in a job, there's really only so far you can go, but with a membership site you can take it as far as like.
Is the plan for you to transition to working on the membership full-time?
I think I'd like to do both  and keep my finger on the pulse with job as well as run IT Rockstars…
Maybe not working in my job full-time…
But definitely in some capacity, as it really is helpful.
The organisation I work for is amazing so I'm keen to stay there.
I think one thing that will happen is that I'll set up another membership as I have an idea I'd like to pursue.
How do you market the membership and get new sales?
There are a number of ways we do that, but mostly, we use elements of SEO to rank some of our content.
Also, the books I've written around the subject matter attract people, and we partner up with other vendors in the space.
We also keep a keen eye on how people are coming into the membership and try to ensure that we keep those numbers rising.
I'm a massive fan of retargeting on Facebook, Instagram, and LinkedIn as well.
What are you doing for member retention?
So there are a number of things we do…
When someone joins, we have an onboarding sequence and I get a little alert on my phone from an app called Bonjoro and send them a personalised video message welcoming them into the membership.
We also arrange an onboarding call with them as soon as they make the purchase so we can talk to them and get a feel for their business.
Once that's done we send them a physical welcome pack in the mail…
That contains books I've written, a checklist on what to do for the next 30 days inside the membership.
Is there any advice that you would give someone who's thinking about starting a membership?
What's become apparent to me is how easy it is to get lost in the tech aspect of setting up your membership.
So, my biggest tip is to get a sales page up and then see what your target market actually thinks about it.
Will anyone click the "Join us" membership button?
Cover that front first before getting lost in all the technical stuff.
I'd love to know what the future looks like for IT Rockstars…
Right off the boat, I'd love to get to 1000 members, that's the ultimate goal for me.
But I think some of the other goals I have are for our members.
I want to make it easier for them to acquire new business.
I know that there's a lot more we can do to help them and transform their businesses and how they attract customers.
Thank You For Listening
We really appreciate you chosing to listen to us and for supporting the podcast. If you enjoyed today's show, please share it using the social media buttons on this page.
We would also be eternally grateful if you would consider taking a minute or two to leave an honest review and rating for the show in iTunes. They're extremely helpful when it comes to reaching our audience and we read each and every one personally!
Finally, don't forget to subscribe to the podcast in iTunes to make sure that you never miss an episode