From Founder Member to Membership Manager with Ali McGee Kelly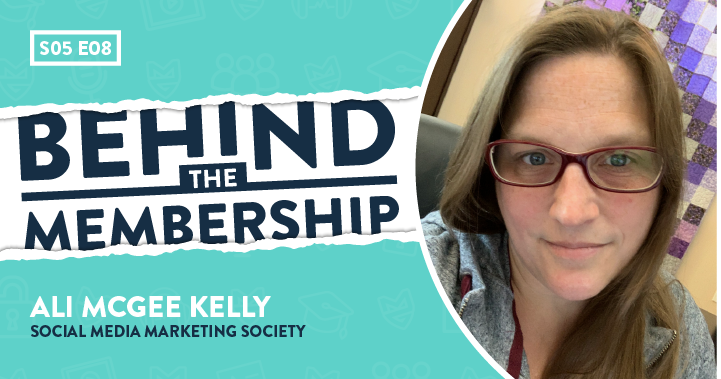 Subscribe to the Podcast Download Transcript
Our guest on this episode of Behind the Membership offers an interesting and slightly different perspective on memberships… 
Unlike our other guests, Ali McGee Kelly doesn't actually own her own membership, instead she manages The Social Media Marketing Society, a membership owned by one of the world's biggest social media marketing blogs, Social Media Examiner.
In this episode Ali shares what it's like to manage a membership as part of a wider team for a larger business, the changes the company has been forced to make as a result of the global pandemic and the Society's unique approach to recruiting guest experts.
She also reveals some changes that have been made behind the scenes to enhance member experience, why the Society has decided to adopt the open door model after previously being closed door, and how Ali and her team manage content within the membership to ensure it stays relevant in an industry that changes almost daily. 
"The interesting thing that I think makes us a little different than a lot of other memberships is, we do not come to the table claiming to be the expert in any one thing ourselves. And this is the same across all of our products with Social Media Examiner. We are acquirers of talent."
About Ali:  
Ali McGee Kelly is the manager for the Social Media Marketing Society with Social Media Examiner. For the past several years, she has pursued an expertise in social media marketing to help businesses capitalize on this relatively new marketing resource. Her passion for making social media work for businesses is evidenced by my MBA thesis where she benchmarked the use of Social Media for small businesses in Central Kentucky.
Listen in to hear about:
What made Ali want to move from a founding member of the Society running her own business into the role of membership manager. 

What it's like managing a membership for someone else and working alongside other teams across a wider business, such as sales and marketing. 

How Ali and the team keep on top of content within the membership to ensure it stays up to date and in line with the constant changes within social media marketing. 

The extensive work that goes on behind the scenes within the Society to recruit and onboard guest experts to deliver bespoke training sessions for their members. 

How Social Media Examiner was forced to make some significant changes to the entire business during the global pandemic and what this means for the future sustainability of the membership.

Why Ali and her team made the decision to switch from the closed-door membership model to open and new tactics they're using to consistently bring in new members.

How some big changes in technology used by the Society have been made to improve their member experience.
Connect with Ali:
Thank You For Listening
We really appreciate you chosing to listen to us and for supporting the podcast. If you enjoyed today's show, please share it using the social media buttons on this page.
We would also be eternally grateful if you would consider taking a minute or two to leave an honest review and rating for the show in iTunes. They're extremely helpful when it comes to reaching our audience and we read each and every one personally!
Finally, don't forget to subscribe to the podcast in iTunes to make sure that you never miss an episode