The Ultimate Guide To Membership Site Success: 40 Proven Tips To Grow Your Business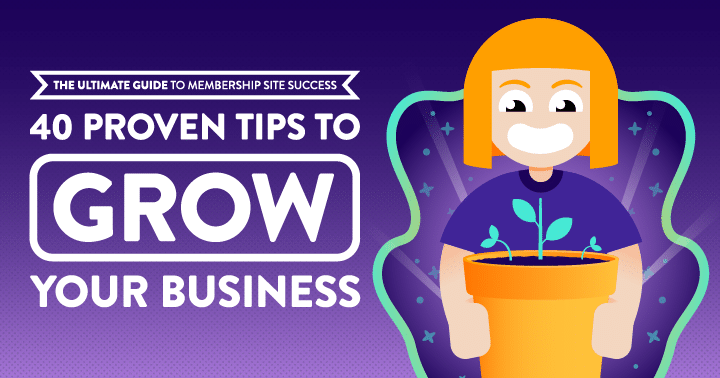 From the initial planning to launching and scaling your membership site, it can often feel like there are many pieces of a puzzle that you're trying to fit together.
Running and maintaining a successful membership is no easy feat…
So, to help you on your business journey…
And to celebrate Mike's birthday (a.k.a the big 4-0)…
We're sharing some of our very best strategies for every step of the way…
Let's delve into 40 of our expert tips to help you plan, launch and grow your membership site.
1. Deliver ongoing value
When it comes to planning what you're going to offer, it's important to know that you need to offer ongoing value.
The value of your membership is what's going to make people stick around…
And this means you need to meet, and go beyond, people's expectations…
Whether that's your content, community, or resources – you need to ensure your members are getting exceptional value for their money, both in the short term and the long term.
And that all starts from the first time they enter your membership, which leads us nicely on to…
2. Have an effective onboarding strategy
Your onboarding should set your members up for the exceptional experience they're going to receive.
The first 4 weeks are crucial for making a great impression – and this all starts with your onboarding.
That means:
Giving people a warm welcome through email and video
Showing people how to get started with your membership content
Guiding your members through your membership site with a walkthrough video
Shining a spotlight on the content that will help them to reach a quick win
If you want to go the extra mile, you could even send some form of welcome gift…
Deliver value from the first moment your members enter your site and reassure them that they're in the best place to reach their goals.
3. Include community as part of your onboarding
When planning your onboarding process, make sure that you signpost your community.
We always say that people come for the content but stay for the community…
So include an introduction section on your forum so new members can introduce themselves…
And guide your new members to it.
4. Give people a roadmap to avoid overwhelm
In Membership Academy, we use a roadmap, giving people a step-by-step process to help make our content digestible.
This also prevents overwhelm – after all, if someone logs into your site and sees lots of content but doesn't know where to start, it can cause confusion – and when this happens, people aren't going to want to dig in.
Make it easier to help people stay on track to reaching their goals by providing a roadmap or guidance on what to consume when.
You can check out our free Membership Roadmap: Starter Edition download for an idea of what this might look like.
5. Use multiple content formats
Multiple content formats like text, video, and audio can boost content consumption, especially if your members are busy…
Or if you have lots of content to get through.
When you're planning your content, consider offering audio downloads so people can consume on the go…
As well as offering training videos and general text transcripts so that people can use the format they prefer.
6. Use gamification to encourage engagement
Including gamification gives people an incentive to engage with your content and your community.
Essentially, this is a way to reward people for consuming your content, such as giving badges, points, or member ranks.
In other words, those who consume more content are able to rank higher…
You could then feature these people in a special email, blog interview, or social media series to create FOMO (the fear of missing out) and encourage others to engage in the community too!
7. Have clear community guidelines
Set out clear community guidelines and rules for your members to follow…
This will maintain harmony inside your membership, as well as in other areas like your Facebook group.
Set out rules for promotional links, affiliate links, and any off-topic subjects – and make them clear by pinning them to the top of your community pages.
8. Make your pricing clear
When you're planning your sales page with your pricing, make sure you clearly communicate it to prevent future roadblocks.
If your pricing is confusing, it can prevent people from signing up…
So, if you're offering something like tiers, then make it clear as to what people get for their money and how long they get access to that.
9. Never market your membership on price alone
When mapping out your membership marketing, it's important to never market on your price alone.
Your membership should ideally sell some type of solution that helps people to solve their problems…
This gives people an instant reason to sign up.
Whether your membership is related to business, health, relationships, hobbies, or something else…
Your membership should offer excellent value and not just a great price.
If the focal point is your price, you're going to struggle to attract the right people – those who want to be part of your community and stay long-term. 
So, in your marketing, communicate how you can help your audience rather than solely the price of it.
10. Understand the member lifecycle
The member lifecycle is the journey that people go through from being strangers to raving fans to canceling to coming back to your membership.
Knowing the 5 stages of the member lifecycle will help you to understand how people move down your sales funnel.
And get a plan in place for every step of the way so that you can achieve optimal success.
11. Avoid being held back by perfectionism
Perfectionism is often where many people get stuck when planning their membership site, especially when it comes to tech and plugins…
And when you get stuck, it leads to paralysis where you struggle to move forward and make progress on your membership business.
The truth is that there is no such thing as the best tech or plugin as it all depends on your personal needs…
We recommend reading our Membership Plugin Comparison Guide if you're feeling overwhelmed by the options on offer.
12. Brand positioning will help you to stand out
Branding your membership will help you to stand out from the crowd, and leave a lasting impression on your audience.
Branding includes the 3 P's – principles, packaging, and positioning…
We've got a Brand Strategy for Memberships course inside Membership Academy that teaches easy and practical steps on how to brand your membership business.
13. Set practical goals
Setting realistic, achievable goals for your membership business helps to steer you in the right direction for sales and revenue.
We use the CO-STAR process to help develop a practical plan for achieving business goals.
Read all about this method here to start setting actionable goals for your membership.
14. Beta test your membership
Before you fully launch your membership, consider beta testing.
Beta testing enables you to test out your membership and get valuable feedback on aspects like usability and any missed features.
So you can iron out any problems before you launch…
And gain valuable testimonials and social proof for your sales page to increase your credibility.
You can also kickstart your community, ready to welcome new members through your doors – a win-win for your membership.
15. Get feedback from people who haven't joined
Knowing why people didn't click the 'join now' button is valuable feedback.
Be transparent and ask your email list or social followers why they haven't joined.
This can expose gaps in your marketing, and help you to identify what you need to work on.
You'll also learn the language that people are using to explain their buying decisions – something that you can use on your sales page to speak to your audience. 
16. Remarket your membership to 'almost buyers'
Track people who visit your sales page by placing a Facebook or Google pixel.
By doing this, you can remarket your membership to those who have shown interest.
It's also a good idea to remarket to abandoned checkout users too since these people were this close to joining – you could even offer a small discount or bonus to sweeten the deal and get them through the doors.
17. Make it easy for people to cancel
One mistake we see many people make is that they make it difficult for their members to cancel.
Hiding the cancel button only leads to frustration…
And people are more likely to come back if they have a good experience – from start to finish.
So, make it easy for people to cancel, and to rejoin.
18. Create an exit survey
Create an exit survey to discover why your members leave.
People leave for all kinds of reasons, such as finance or timing –
But if people are leaving for another reason, then you'll receive valuable feedback and can instantly fix these issues to improve your membership experience.
19. Use questionnaires to improve your member experience
Maintaining, and improving, your member experience is a continual process…
And knowing how your members feel about their experience will allow you to do this effectively.
Gain member feedback by using regular questionnaires.
This can be a few simple questions in an email as part of your onboarding process…
Or, a random email every now and then to ask people what they need help with the most.
This can pinpoint ideas for new content and give you other ideas for how to make your membership even better.
20. Offer good customer service
Good customer service is paramount for elevating your member experience…
Whether you've got members needing extra support, or people from your audience asking questions about your membership.
Providing timely responses makes people feel acknowledged, but it doesn't mean that you need to be at your laptop day and night answering queries…
You can set boundaries and expectations by clearly signposting the right channels for contacting you, as well as the hours that you're available.
21. Get involved
Even if you have moderators, showing up in your community deepens the personal connection that you have with your members…
It shows that you care about them and want to help them reach their goals.
So, give people a little more personal attention to make them feel even more connected to you and your community.
22. Use member round-up emails to increase engagement
Round-up emails that shine a spotlight on your members are a great way to boost engagement.
For instance, a simple weekly email that celebrates your members' wins, no matter how big or small shows how people are interacting in your community – it encourages members to participate without you having to nag them..
You get to reinforce the value of being a member of your community while helping your members to discover new or updated content that they didn't know about.
23. Hone in on your organic marketing
Your organic marketing shouldn't slow down after you've launched…
You still need to be putting out blog posts, podcasts, emails, and social media posts to create brand awareness and establish yourself as an expert within your field.
Your organic marketing is going to help you grow your audience and get more new members once your initial launch is over so you don't need to rely on paid ads.
You can easily repurpose your content – for example, one podcast episode can be turned into a blog post, email, and several social posts…
This is a great time-saver, and it helps to keep your name at the forefront of your audience's mind.
24. Guest on other people's content
Collaborating with other people within your niche is one of the easiest ways to grow your audience…
Collaborations come in the form of podcast interviews, guest blog posts, speaking events, and even promotional partnerships.
People get to see you delivering value which boosts trust…
And if you tie a collaboration in with a membership offer like a free trial, you can potentially get new members through the door.
25. Make sure you have a welcome email series for new subscribers
A welcome series is typically 4 to 6 emails that help to introduce yourself, build trust, and move people down your sales funnel.
This automated series begins to nurture the relationship you have with your email subscriber with the aim to get them through the doors of your membership.
Essentially, this series includes an introduction to who you are, your membership, case studies/testimonials from members you've helped, and an email packed with extra value.
We talk more about emails in this blog post where you'll find more on what to say in an introduction email and how to follow up with a pitch.
26. Take people behind the scenes of your membership
Showing people what goes on behind the scenes of your membership…
Whether it's what you get up to on a daily basis or a tour of your training…
Shows people what they're missing out on by not being part of your membership.
It's an easy but effective way to show what you offer, how you deliver your training, and what type of community you have.
Consider pulling back the curtain on your membership with Instagram Stories, email content, or blog content – show what you and your members are getting up to – and, how joining your membership will make a beneficial difference to someone's life.
27. Add a personal touch
Forming a personal connection with your members makes it more likely for them to stick around…
You don't have to spend hours one-on-one, but you can do simple things like sending a short personal video to welcome new members, getting on camera with live coaching sessions, or using an in-app messaging system like Intercom so that your members can privately contact you. 
28. Track your KPIs
Before you start scaling, you need to know some important numbers…
The main numbers or key performance indicators you should know include turnover and profit, web traffic, conversion rates, retention and churn, customer lifetime value, and customer acquisition cost.
It's also a good idea to know your engagement rate too..
These metrics will give you an overview of how your membership is performing, and how you can grow…
But don't worry if this seems overwhelming – we go into more detail in our Membership KPIs post.
29. Use social proof to get new members
Getting video testimonials and quotes that share your member's quick wins and results is an easy way to tap into social proof.
It shows people the value you're offering and that's great encouragement for someone to join your membership.
Just make sure you put them on your sales pages, in your organic marketing, and on your website.
30. Offer monthly members a chance to upgrade
An easy way to increase revenue is to offer your existing members the chance to upgrade their membership…
So, if they're on a monthly subscription, give them the opportunity to upgrade to an annual membership.
You could even add a little discount to give them an incentive to do so.
31. Email more
Emailing people more often doesn't mean that they're going to hit the unsubscribe button.
More often than not, membership owners don't email their list enough
People want to hear from you so share valuable stories and insights, experiment with A/B testing to see what works and what doesn't, and use a tagging system to segment your subscribers so you can determine who gets sent specific types of content.
32. Don't be afraid to ask for the sale
Sometimes the best way to make more sales is to simply ask for them.
Communicate the value of your offer – and how it can help them to reach their goals.
Show people how to join and make it an easy decision for them.
33. Run an offer or promo to attract new members
We'll let you into a secret – while we don't typically offer discounts for our membership, we do run regular promotions to attract new members.
Sometimes, people need that extra little push to get them over the line, and offering a sweetener in the form of a bonus offer or something time sensitive can be the way to do it.
A good promotion can also recapture lapsed members and inactive leads, as well as engage existing members…
So, consider the types of promos you want to run – it could be for email subscribers only, or for an additional service you provide.
But remember – discounts are only one form of promotion, and the one that you should use least when it comes to your membership.
34. Retaining members is as important as attracting new members
Retaining members is essential if you want to scale your membership.
When your members are engaged, getting results, and seeing progress – and they're sticking around month after month – it's going to fuel membership growth…
Your happy members are going to spread the word and attract new members – the blueprint for a strategy called the Membership Marketing Flywheel.
This is your best marketing asset so don't overlook the power of membership retention.
35. Don't be afraid to increase the price of your membership
You may be reluctant to increase your pricing – after all, it may cause friction if not approached correctly…
But, there comes a time when you may need to up the price of your membership…
The best way to do this is to ensure your current members are locked in at their current price…
And to let your audience know that you'll be raising your pricing on a set date, giving them a chance to join before it goes up.
In fact, a promotion built around your price going up is often one of the best promotions you will run as a membership owner!
Alternatively, you can offer tiered pricing to provide varying value at differing price points.
So, you may have a basic price but offer extra coaching calls or support for a higher fee – this can trigger people to purchase your higher subscription to get maximum value from you.
36. Consider having an affiliate program
Having an affiliate program promotes your membership without you having to do any of the heavy lifting.
Other people promote your membership, and when someone joins through their unique link, they receive a small amount of money back as a thank you.
We're fans of having a member-only affiliate program since these are the best people to promote your membership – they know what's on offer and the value you're providing.
However, you may also want to invite certain people to be an affiliate for you, especially those who can generate a large number of suitable leads.
37. Build additional revenue channels
Implementing additional revenue streams is another way to scale your business.
These should be products or services that complement your membership…
For example, we offer private 1-1 coaching days and have hosted live events like masterminds and conferences.
You could offer extra training or coaching to better serve your audience, especially those that may be looking for extra access to you.
38. Outsource and grow a team
There comes a point as a business owner when you realize that you can only come so far and do so much on your own.
As you scale your membership, you'll need to start focusing on growth strategies, meaning you'll need to outsource some tasks to others, such as running your community, creating content, or doing admin tasks.
Building a team can be daunting, but when you've got the budget for it, and you know your exact needs, it'll take your membership to the next level.
39. Streamline your workflows
Streamlining your workflows, from content production to time-consuming admin tasks makes you more productive…
Memberships take a lot of work, so getting your tasks in order has a positive impact on the daily running of your business…
For instance, you can use apps to assist with customer service, repurpose content for various platforms, and make use of live training to reduce the time spent on planning and recording tutorials.
You can also bring in guest experts to create content for you which is another brilliant time saver.
40. Take a break
Finally, it's important to take a break every now and then.
We recently ticked Rome off the bucket list to celebrate Mike's birthday and guess what – our membership didn't fall apart…
It can be difficult to take time out when you're in the trenches running your own business…
But running a membership (or any business for that matter) is a tough gig – you need time out to prevent yourself from burning out – so don't be afraid to step away every now and then!
Want extra support and expert advice?
We hope these tips are helpful no matter what stage of the membership journey you're on. 
If you're searching for an easier way to grow a profitable, meaningful membership site, then join us inside Membership Academy.
Here, you'll find all the practical, in-depth training you need to ensure your business reaches its full potential.
Get complete clarity on growing your membership business and join Membership Academy today.