Dealing With the Ugly Side of Running a Membership Website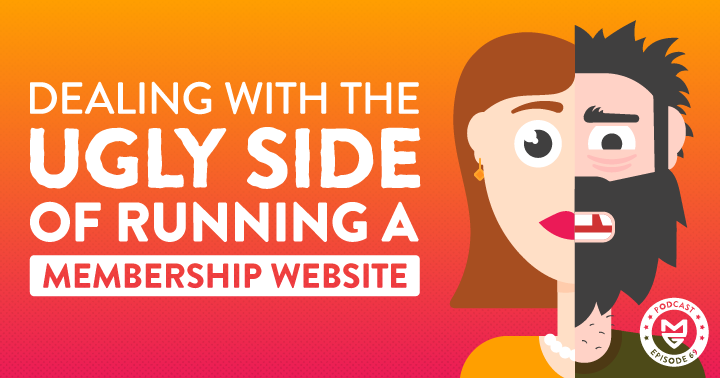 Subscribe to the Podcast Download Transcript
Running a membership website is a fulfilling and rewarding experience…
But as with anything when it comes to business there is an ugly side.
Having worked with memberships of all shapes and sizes in different markets for a number of years…
We've seen it all… 
And when it comes to our own membership, we've experienced some unpleasant things first hand…
And that's what we're going to explore in this blog… 
How to deal with with the ugly side of running a membership website when it comes to:
Copycats
Piracy
Chargebacks and Payment disputes
So let's dive right in…
1. Dealing with copycats
They say imitation is the highest form of flattery…
And that may be true…
But there's always going to be those people who take things a few steps too far by outright stealing your content.
When it comes to memberships this can look different depending on the nature of your site.
For instance, we run a membership site about membership sites…
So it's expected that people will draw inspiration from the material we provide… 
In fact, we encourage it in some areas such as sales pages or sales copy structures…
After all, we are a living case study of how to run a membership for our members…  
However, there are instances where people have blatantly mirrored our structure, key points, and concepts, then recycled it to pass as their own.
Unfortunately, this is something that's often accommodated since these copycats are "kind" enough to refrain from copying content verbatim…
But plagiarism equally applies to duplicated concepts and ideas as well as actual word-for-word content.
They don't put the work in to map out a plan, create outlines, and come up with unique ways of presenting content, so it's copying…
Don't let it slide!
Unfortunately, there's no clear-cut way of dealing with copycats…
And it can be hard to know what to do when someone steals your membership content...
Because the thing is…
Anytime you put your work out there, you're at risk of having it copied…
The trick is to stay vigilant and take the necessary actions when the situation calls for it. 
Yes you can accept people will draw inspiration from your work…
That's a huge compliment… 
But it's important to also recognize when a line has been crossed.
2. Piracy
This is every content creator's living hell…
And a legitimate fear as far as membership sites are concerned. 
But before hammering down, it's worth mentioning that the fear of piracy is no reason to suffocate your website with restrictions and safeguards that end up affecting your members.
For the most part, the threat of piracy, particularly for niche-based membership sites, is probably far less likely than you think…
But when you do find out that your content has been pirated, it's important to: 
Track down and contact the website in question: Seeing as their business model heavily relies on not being called out for stealing content, they're often compliant to requests to take down stolen content.

 

Contact the web hosting company: If you can't find a way to contact them, then the next port of call is to get in touch with the company that provides their web hosting. Since hosting illegal files is against the terms and conditions of pretty much every reputable website hosting company out there, so you're sure to make some impact from that end.
Ask your web developer to check it out: This is one of the many perks of having a tech-inclined person at your disposal. You could simply ask them to find out who's hosting the website.

 
When it comes to issues like plagiarism, again, there is no 100% way of stopping it from happening…
If Hollywood can't stop piracy of their movies then you and I have no chance of stamping it out…
And if someone out there wants your content badly enough, they will find a way to get their hands on it.
Take solace in the fact that most of the people who downloaded your pirated content would have never joined your membership in the first place…
So there's little to no business lost there.
3. Chargebacks and payment disputes
If you're new to the world of memberships, this is one to keep an eye out for….
We all have to deal with payment disputes at some point…
Here's what this typically looks like…
Let's say you have this paying member who's accessed your site for a few weeks.
Along the way, they may decide to dispute the charge through a payment processing company like PayPal or Stripe.
In essence, they're simply saying that they shouldn't have been charged and would like to get their money back…
While some of these cases come from actual members attempting to take advantage of the system, the rest are a result of fraud…
Perhaps a member's credit card has been stolen or their PayPal has been hacked or card used without permission.
Either way, the best way to handle disputes effectively is to always be prepared.
Ensure that you have sidetracking or other record-keeping methods to demonstrate that members have received what they paid for.
At the end of the day, it's not so much about the money, but the fact that these disputes can potentially sully your standing with payment processing providers…
And down the line, that could have long-lasting effects on different aspects of your business.
Food for Thought…
No matter how you paint it, these ugly aspects of running a membership can be a major inconvenience…
But if you experience piracy, payment disputes or even an unrepentant copycat, take solace in this universal truth…
Lazy never lasts! 
If a person is too lazy to come up with their own ideas or to use the appropriate challenge to seek a refund…
Then they're too lazy to amount to anything with the content they steal from you.
What they don't understand is that it's not the unique features of your membership or your blog posts that make you successful.
If you give someone who can't draw a straight line a paintbrush and canvas, even with the most precise instructions, they won't be able to create a Van Gogh.
In essence, what makes you successful is your innate ability to leverage your content to create something unique for your members.
Thank You For Listening
We really appreciate you chosing to listen to us and for supporting the podcast. If you enjoyed today's show, please share it using the social media buttons on this page.
We would also be eternally grateful if you would consider taking a minute or two to leave an honest review and rating for the show in iTunes. They're extremely helpful when it comes to reaching our audience and we read each and every one personally!
Finally, don't forget to subscribe to the podcast in iTunes to make sure that you never miss an episode