The 5 Key Stages of the Member Lifecycle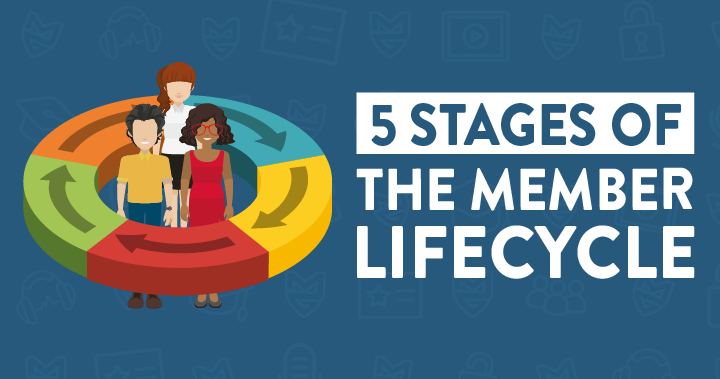 Memberships are a marathon, not a sprint.
Unlike other products where the sale is the end of the journey, with memberships it's just the beginning.
That "journey" – the Member Lifecycle – typically breaks down into 5 key stages:
Acquisition
Onboarding
Engagement
Retention
Reactivation
In this article, we're looking at each of these 5 stages and what they mean for you as a membership website owner.
Stage One: Acquisition
Turning cold traffic and leads into members.
This stage is all about getting the word out there, building your brand and getting eyeballs on your content and your business.
Lead generation will typically play a large part at this stage – capturing the details of your target market and nurturing those leads, moving them down your sales funnel towards becoming a member of your site.
As most membership sites are largely centered around some sort of content, then it stands to reason that content marketing will be one of the main focuses of your acquisition strategy.
Your positioning and the way in which you leverage content throughout your funnel will determine how successful you are.
Stage Two: Onboarding
Getting your members off the to best start, in order to increase the chance they'll stick around long term.
The early stages of the member journey are critical to the long-term success of your membership site.
Member onboarding aims to ease your new members in, helping them to figure out how to use and navigate your site and starting their membership experience on a positive note.
Here you will aim to expose new members to your best content, help them to get some early wins, and begin to encourage the sort of behaviour that will form habits and get your members hooked on your product.
This is the first true "test" of your membership offering in the eyes of a new member.
And it's one you need to pass.
Stage Three: Engagement
Keeping people engaged, involved, and giving them a reason to continue being paying members.
The more engaged your members are, the more chance there is that they're using your site the way you intended and they're getting positive results.
If your members are seeing a return on their investment in your membership site, and it's clear to them that there's value in being a member, then they're going to be more likely to stick around for months and years to come.
Ensuring that your content, your community and all other facets of your membership offering are engaging is crucial for prolonging the member lifecycle.
Stage Four: Retention
Taking steps to hold on to your members and avoid cancellations.
As much as the prospect of members eventually leaving your site may be something you don't want to face up to, it's something we simply have to accept as par for the course as membership site owners.
Often, members will leave for reasons beyond our control.
And while we may be inclined to take every cancellation as a personal slight, more often than not the people leaving actually want to stick around, but are subject to circumstances that make doing so impossible.
Understanding the reasons why people leave your membership site, and putting strategies in place to minimize the number of people slipping out through the back door (and ensuring you don't alienate the ones who do leave) is a key part of running a successful membership site.
Stage Five: Reactivation
Re-engaging lapsed or cancelled members with a view to having them return to the fold.
Assuming you haven't burned your bridges with outgoing members, then the fact that someone has cancelled doesn't mean that the journey is over.
Sometimes people just need to step away temporarily; and sometimes the old adage "you don't know what you've got til it's gone" kicks in too.
A portion of your lapsed and cancelled members will be prime for "reactivation" further down the road; so it's wise to have a strategy for winning those members back.
Part of this stage overlaps with the strategies and tactics you'll be employing in the Acquisition stage – bringing the Member Lifecycle full circle.
Do you have a plan in place for all 5 stages of the Member Lifecycle?
Thank You For Listening
We really appreciate you chosing to listen to us and for supporting the podcast. If you enjoyed today's show, please share it using the social media buttons on this page.
We would also be eternally grateful if you would consider taking a minute or two to leave an honest review and rating for the show in iTunes. They're extremely helpful when it comes to reaching our audience and we read each and every one personally!
Finally, don't forget to subscribe to the podcast in iTunes to make sure that you never miss an episode