Promoting Your Membership Site with an Affiliate Program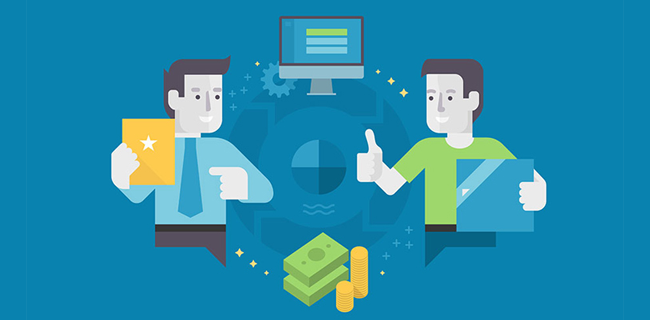 When looking at different ways to promote your membership site, an affiliate program can be a pretty appealing option. Afterall, it's one of the few marketing channels where you don't have to spend any money until you're actually making money!
If you're not sure what we mean by an affiliate program, then this is when other people promote your membership site for you, in return for financial compensation (known as a commission) if someone purchases using their referral link.
It's basically the digital equivalent of having your very own sales team going out into the world and driving leads and traffic to your website for you. 
Which makes it a pretty sweet option for membership site owners who are looking for consistent ways to get new members.
So, in this post we're going to take a look at some of the key things you should consider when planning an affiliate program for your membership site.
Why Have an Affiliate Program?
Well, to put it bluntly, it can be a pretty great way of getting new members for your site without you doing all the heavy lifting yourself.
However, if we break that down further, then there are actually a number of reasons why it can be a good idea for you to have affiliates:
It promotes brand awareness – other people talking about your site will put you and your brand in front of a lot more people than if you're doing all the promotion yourself.
It can increase website traffic and leads – done right, an affiliate program will increase the number of people visiting your website and entering your sales funnel.
It should increase sales – if your sales page or sales funnel are good, then the increased leads will result in increased sales and a boost in members for your site.
It creates an 'army' of advocates – hearing your site is good from somebody else is much more powerful than hearing it from you yourself!
It's one of the most cost effective marketing options there is – you only pay when a sale is made, so you're not taking any risks with your money or spending more than you might get back.
You can completely tailor it to your needs – it's up to you how you run your affiliate program, there's no hard and fast rules, so you can do what works best for you and your site.
Sounds good, right?
It's important to remember though that setting up an affiliate program isn't a quick and easy path to riches. It's a long term strategy that can take time to bear fruit.
To keep things balanced, here's some reasons you might not want to have an affiliate program:
It requires an ongoing commitment – like membership sites themselves, affiliate programs are a marathon not a sprint.
It may not be suitable for your audience or product – if you know that people need to have had personal interaction with you before they buy, then an affiliate program might not be your best choice.
Affiliate management  – depending on the size of your affiliate program and how you choose to run it, dealing with affiliates and the running of the program can become time consuming.
It means an additional tech system to set-up and maintain – this isn't necessarily an issue, but it's worth bearing in mind if you're not a fan of tech.
Generally the pros out weigh the cons, but it is worth making sure an affiliate program is right for you before you spend time and energy creating one.
Who Can Become An Affiliate?
One of the first things to consider when setting up your affiliate program is how you will recruit your affiliates. Your program could be:
Members only – only people who are members of your site can become affiliates for it.
Public  – anyone who wants to can become an affiliate.
Invite only – you hand select a few people to become affiliates for you.
I'm personally a fan of the members only option for membership sites and this is what we actually use for the Membership Academy. This approach increases the likelihood of attracting new members who are a good fit for your site, as your affiliates have experienced your site themselves so are better placed to describe your site accurately and know who it is best suited for.
However, each option has pros and cons and which you choose is entirely up to you.
If you decide on a public affiliate program then you are likely going to want to have things like an affiliate 'sales page' on your website that tells people of the benefits of your program and what they are promoting. You'll also need to decide if the program is truly open to anyone (i.e they sign up and are automatically given an account) or whether you have right of refusal (i.e. they sign up and you have to manually approve the application).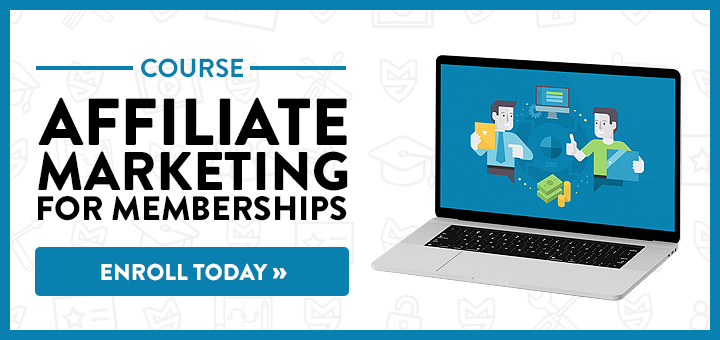 What Commission Should Be Given?
The commission rate that you decide to give to your affiliates can be an important factor in the success of your program (both for your affiliates and you).
Some things you should consider when deciding on your commission rate:
Will you use a flat fee or a percentage?
Will you pay recurring commissions or one-off only?
Do you want to offer 1 or 2 commission tiers?
Will your commissions increase over time at all?
Do any competitors have affiliate programs?
You can effectively set whatever commission rate you would like, but it needs to be attractive enough to affiliates to make it worth their time promoting your site, but still provide a good ROI (return on investment, or profit) for you.
The commission for membership affiliates is typically lower than is often recommended for digital products or courses, where you may find 50% or more suggested. It's important to remember that the recurring model is different to selling a one-off product when deciding on your rate – you will be doing ongoing work to keep that member each month, whilst the affiliates work is done after the initial sale. So, giving something like 25% on a recurring basis is more typical for a membership.
Of course if you're only paying commission on the first payment rather than on a recurring basis for the lifetime of the membership, or you're using a flat fee structure, then you may want to consider a higher commission level.

Where Will Your Affiliate Program Live?
When it comes to actually setting up your affiliate program there are several different options that you could choose:
Affiliate Plugin – if you have a WordPress site then you can use an affiliate plugin. This means that everything will be kept on your site and you have total control over everything, but it may not be as powerful as a dedicated affiliate system.
Affiliate Platform – this is a third-party software which means your affiliate data will be kept off your website. These may have more features than affiliate plugins, but you will typically have less customisability and flexibility in things like branding.
Affiliate Marketplace – if you're running a public program then you might want to consider a third-party marketplace like Clickbank. These have the added bonus of being able to recruit affiliates for you, and will typically also reduce management as they pay your affiliates for you.
Some things to consider when choosing your affiliate system:
What options integrate with your membership plugin?
What commission options do you need?
Do you want to have a customisable affiliate area?
Can you upload your own creatives and resources for your affiliates?
Do you need to account for refunds?
What are the initial and ongoing fees involved?
Affiliate Plugins We Like:
AffiliateRoyale (note if you already have MemberPress this affiliate plugin comes with it so you don't need to purchase it separately)
Non WordPress Affiliate Options:
Other Things to Consider:
Once you've decided who your affiliates will be, how much you will pay them and what system you are going to use to run the affiliate program, then you may also want to think about how you can increase the chances of success for your affiliates.
Keeping your affiliates motivated is actually the key to a good affiliate program as, believe it or not, someone signing up to be an affiliate doesn't actually guarantee that they are going to promote you or send lots of traffic and leads your way! Lots of people join affiliate programs and then never actually do anything with their affiliate links.
Your job is to make it worth their while to actually share your site.
Some things that you can do:
Add 'Creatives' to your affiliate area. This could be graphics for people to use on their own website, draft emails for people to use or even pre-written tweets.
Make it easy for the affiliate to share their link. Sending an email to an affiliate? Include their link in it. Creating graphics? Ensure all they need to do is just copy and paste.
Keep in touch. Don't just leave your affiliates to it. Send regular emails reminding them about your site and the benefits to being an affiliate.
Run affiliate promotions. Affiliate promotions can really incentivise people to get sharing their links!
What you choose to do once someone is signed up to be an affiliate will, to some extent, depend on the kind of affiliate program that you're running, and the most effort will be needed for public programs.
Overall though, affiliate programs can be a great addition to any membership sites marketing strategy, providing benefits beyond just increasing member signups.
But it's also important to remember that affiliate marketing is not the key to a flood of overnight sales! It's an ongoing process and a long term marketing tactic.