3 Reasons Not to Take Member Retention for Granted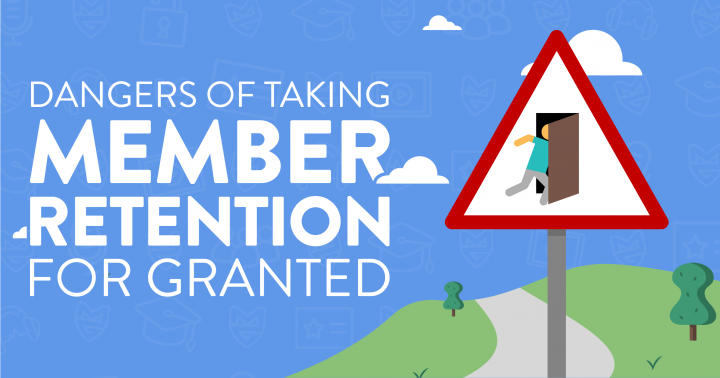 Paying members equal happy members… right?
Not necessarily… 
It's very easy to assume that just because someone continues to pay for their membership, that they're engaged in your site and fully satisfied with their experience…
But unfortunately that's not always the case…
Members can choose to stick around for many reasons…
And not always because they're happy!
If they're paying the monthly subscription fee but not actually interacting with you or consuming your content, this could be a sign of apathy or indifference towards their membership.
And that's not the way you want them to feel about your site. 
So what can you do to prevent this?
One simple thing…
Not take member retention for granted.
Here are three reasons why…
1. There might not be a better solution on the market… yet
I know this one may sound a bit harsh but hear me out….
In many cases, members stick with the same membership because there's nothing else like it, or better on the market.
Somebody like this may not even like your membership product….
They might dislike your community or the system that comes with the membership…
But they don't leave.
They keep their membership active because they think it'll do the job until something better comes along.
Even though they don't like your product, they can't deny that it satisfies a need, so they continue paying for it.
In other words, they're members begrudgingly.
The risk of having people like this in your membership is that as soon as an alternative option pops up, they'll flock towards it.
To stop this from happening, you need to look for ways to add consistent value to your membership so that your members are happy and aren't tempted to look for something better.
One way to do this is to open an ongoing dialog with your members.
Ask for their feedback and make sure that you're always aware of how your members are interacting with your site.
Obviously, you can't make everyone happy…
That's impossible…
But you can work on thinking of creative ways to improve your membership experience so you make it as enjoyable and valuable as possible.
2. People may not realize that they're paying you
This happens all the time…
If the monthly cost to subscribe to your membership is $20 or $30, it might be easy for members to miss those payments going out of their account.
When this happens, it can often be because someone joined the membership but never got around to actually using it…
Or canceling it.
Perhaps you fly so far under their radar that it never crosses their mind to cancel…
Or maybe they're aware they're paying, but its such a minimal amount that it never catches their attention long enough for them to take the action to cancel.
If they chose to pay their monthly fee via PayPal, the name of your membership might not appear on their bank statement as a transaction…
It might just say something like 'PayPal,' and they don't think to check it out and see where that payment is actually going.
Of course, they could have just forgotten that they ever signed up to join your membership in the first place.
The problem here is that when people realize they've been paying for your membership without using it, they may blame you for that even though it's not necessarily your fault.
This is why it's so important that you don't assume everyone who is a paying member of your membership is happy about it…
And you put things in place to try to pre-empt and prevent member cancellations, as this will spur members like this into action at an earlier stage.
3. People may not realize that they're not getting value
In my interview with Robbie Kellman Baxter, author of the bestselling book, 'The Membership Economy,'  we talked about how AOL was once the 'big player' in the Internet world…
Back in the late 90s to early 2000s, if you had access to the internet then AOL was probably your provider.
At the time, accessing the internet via AOL wasn't exactly cheap.
So, when better value alternatives came to the market, most of us jumped ship and joined a different internet provider.
Before AOL had many competitors, there was no real way of knowing that users weren't getting much value from the service.
Well, it's the same with your membership.
If your members find a better value solution elsewhere, they may feel cheated.
If you're not providing a lot of value to your members and you secretly hope that nobody will notice and keep on paying you, you're setting yourself up for a major downfall.
An example of how this might go is if your training materials or processes are dated…
Or, maybe the resources you provide with your membership can be found elsewhere… for free.
Maybe you were aware of this and decided to keep that knowledge to yourself to try and keep the members around for longer.
Of course, I'm not saying that this is something you would do by any means…
But, it's important to be aware of this.
Don't take your members for granted!
These are just some of the reasons you shouldn't take seemingly loyal members for granted…
And why you need to continuously deliver massive value to your members.
One of the biggest mistakes I see membership site owners make is assuming that just because somebody is paying for their membership, that means they're in it for the long haul.
That is just not the case.
If you have members who continue to pay for their membership without actually engaging or leveraging the resources you provide within your membership…
You need to think about how you can increase engagement within your site.
Look into new ways to spark dialog between you and your members…
And always make sure you've got your finger on the pulse when it comes to the inner workings of your community.
Ask yourself:
Are members enjoying the experience?
Are people engaging within the community I've created?
What can I do to improve their experience?
Think about your answers to each of these questions and always look for ways to deliver the best possible experience for your members!
Thank You For Listening
We really appreciate you chosing to listen to us and for supporting the podcast. If you enjoyed today's show, please share it using the social media buttons on this page.
We would also be eternally grateful if you would consider taking a minute or two to leave an honest review and rating for the show in iTunes. They're extremely helpful when it comes to reaching our audience and we read each and every one personally!
Finally, don't forget to subscribe to the podcast in iTunes to make sure that you never miss an episode