4 Simple But Effective Ways to Deliver Massive Value to Your Members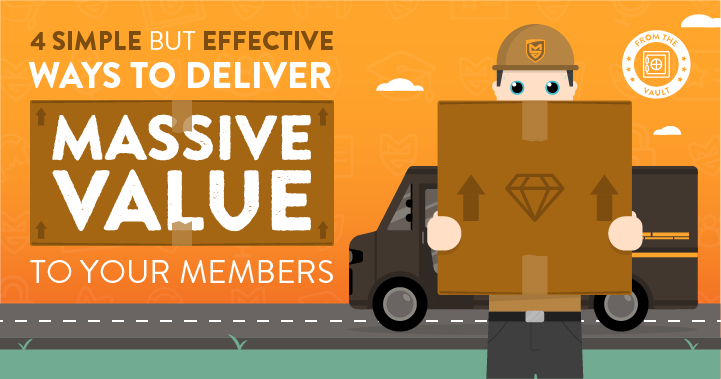 Membership sites are a value exchange…
When a member makes the decision to enter your community and pay you on an ongoing basis…
It's important that you hold up your end of the bargain and consistently deliver.
In other words, you need to give members a reason to stick around…
And very often this comes in the form of creating content and being present every day in your forum or Facebook group …
These are the primary means of providing that value…
But there are other simple tactics you can utilize that ensure you deliver massive value to your members…
Ones that don't rely on you constantly creating premium content.
Let's find out what they are…
1. Give your members a quick win
The objective of most membership sites is to solve a big problem for subscribers…
It could be to master a skill, a technology, or maybe a musical instrument…
And that's great!
But do you support members with the smaller, more specific challenges they may be facing?
Ones that may not be on your radar because they typically wouldn't justify the creation of a three-hour-long course…
Or maybe you're not even be aware of them…
But each of these small challenges are actually opportunities for you to offer your members a quick win.
You may think that they're too small of an issue for your site to help members tackle…
But if you can prove that you can solve a small problem, your members will be more likely to trust you to solve their bigger challenges…
And this higher level of trust means more engagement and a greater perception of value from your members.
For example, inside Membership Academy, we have an entire content library dedicated to "quick wins".
These are 15 to 30-minute-long tutorials that zero in on a very specific topic, like "How to add a survey into your MemberPress cancellation process?"
Obviously, this is not a big enough subject that would require an entire course…
And it isn't relevant enough to justify the time and effort to create a course like this from scratch…
But it's still worth creating something…
And while that specific tutorial may have only assisted a small percentage of our member base…
It was quick to produce, and provided huge value for those who watched it because it solved a particular problem they had.
We helped them get one step closer to completing a task or fix a nagging issue they've had for months…
That's what our 'Quick Wins' library is for…
And why it's one of the most popular features on our site.
It can be beneficial to your members as well.
Think about your member base and step aside from the big, obvious problem that your membership aims to solve.
What are the little, minor irritations and roadblocks that your members get stuck on?
Give them something to watch or an activity to enable them to cross these things off their list.
If you're struggling to identify these minor problems your members are experiencing…
Simply ask them! 
Provide quick wins to those small but significant problems, and your members will be grateful.
2. Feature your members on your platform
If you're doing any form of content marketing, try to find ways to incorporate your members in your podcast, blog, Facebook Livestream, etc.
If you interview experts on your podcast, is there a way to tap into your member base to highlight them on your show?
If your member base doesn't have the experience or background of your typical expert guests…
You could create a special series of episodes called "Member Spotlight".
In this style of episode, your members get to share their story, have a conversation about their background, and talk about how they're involved in your membership.
It's a win-win scenario.
Your member gets access to a wider audience, and you, in return, get the social proof that organically promotes your membership.
Similarly, this example can be used in other formats like speaking gigs at your live event, or special member profiles and case studies on your blog.
Be curious and look for ways in which a member can contribute to your platform.
This will be another huge value-add of them being part of your community.
3. Give members priority access to your products and services
We're big fans of the idea of always giving your members preferential treatment over any other people in your audience…
After all, they deserve it for being in your community…right? 
That's why it's important you give them priority access to anything you're doing…
So if you have a live event or workshop coming up, your members should be first in line to get tickets at a discounted rate…
If you're releasing a new book, your members could have access to a sample, get a reduced pre-order rate, or get the book itself before it's released to the public.
In the past, we've hosted masterminds and workshops that were never opened up to the public because every spot was taken by our members…
So we never went beyond promoting it to our membership. 
But then of course we got the extra marketing win by posting on social and saying…
"We had planned today on opening registration for our workshop, however, we always give our members first dibs and they sold out the event!"
It helped to generate keen interest in our membership by creating a sense of exclusivity.
Always make sure that your members are on the top of your list when it comes to preferential treatment…
They should always be at the front of the line and get the best rates, if feasible, compared to the general public.
This strategy creates an extra stream of value to your members and helps to build on the exclusive nature of your membership as part of your marketing.
4. Connect members with each other
Sometimes it can be challenging to find the right person to fill a need in your business or your personal life…
Members could be looking for an accountability or practice partner, supplier, or mentor…
And as the leader of your membership community, you're the one who has a broad view of who your members are because you have those private one-on-one conversations.
In the early days, you'll have stronger connections with the early-adopter members…
You'll know more about them, their skillsets, and personalities.
Use this position as a benefit for your members by identifying opportunities where they can help each other out. 
Your role is to join these parties together – either privately or publicly – on your community forum.
Another way to connect members with each other is within your forum itself…
If there are questions posted that other members can answer – let them…
You don't have to answer them all… 
Simply tag the member or members who are well placed to answer them…
This is this a great way to encourage discussion in your community!
If you have a Facebook group or if you're using community forum software like xenForo or IP.Board, then you can tag other members who can answer specific questions.
For example, if someone has a question about Facebook ads, you may know someone (or several people) who has experience with that particular topic…
Tag those members and get them involved (especially if you don't know the answer).
If someone is looking to hire a Facebook ads specialist, or is in a particular industry or geographic area, introduce people to each other and facilitate these common areas of interest between members.
A Community Manager can be a great solution if you don't have the time or ability to be a connector within your membership site.
They can step in, monitor the forums, and seek opportunities to connect members when possible.
Being a connector and filling that role for your members is an invaluable benefit that your members will not easily find anywhere else.
Ultimately, bringing people together is largely what your membership site is for. 
The more value you offer your members the better experience they have…
And the more likely they are to stick around! 
These ideas really are the low hanging fruit in terms of leveraging opportunities to help out your members…
Without putting hours and hours of extra time into your business.
Hopefully, after reading this, you're inspired to take action and implement one – or maybe more – of these suggestions into your membership.
Doing so will not only add massive value to your members…
It help you build trust, deliver the best possible member experience and create a thriving community.
It's a win win situation for both you and your members!
Thank You For Listening
We really appreciate you chosing to listen to us and for supporting the podcast. If you enjoyed today's show, please share it using the social media buttons on this page.
We would also be eternally grateful if you would consider taking a minute or two to leave an honest review and rating for the show in iTunes. They're extremely helpful when it comes to reaching our audience and we read each and every one personally!
Finally, don't forget to subscribe to the podcast in iTunes to make sure that you never miss an episode