6 Ways to Breathe New Life into Older Membership Content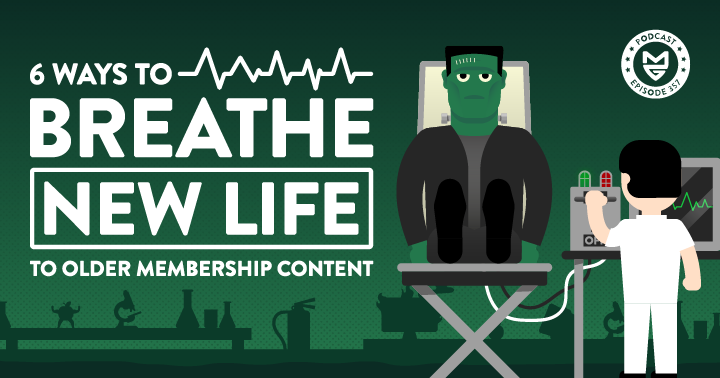 If you've been in the membership game for a few years, the chances are that some of the content you created early on in your journey is starting to age.
But does that mean it's lost its value?
Not necessarily.
Sure, some information will eventually fall out of fashion or even become inaccurate.
But you'd be surprised at the number of people who have a lot of gold sitting at the bottom of their archives…
And that's something you don't want to go to waste!
You see, not every topic changes…
Some subjects you created content on years ago could still be relevant today.
So, rather than watching your library grow bigger by the day, maybe it's time to revisit your older content and put it to good use.
You never know, you might even gain some new members while you're at it!
Here are 6 things you can do to breathe new life into your older membership content…
1. Partially update your content
You've already done the groundwork as far as your membership content is concerned…
So, this method simply involves touching up the areas in your content that you don't think has aged well.
It could be that the video quality is a bit dicey…
Maybe some of the main tips and techniques you shared are now outdated…
Or you need to include new tactics that either weren't relevant or an option when you initially created the content, but are really valuable now to your members.
You could even update some of your slides or audio if the quality isn't reflective of more current content…
Or simply add some new resources to existing content like transcripts or updated workbooks.
Whatever you choose to do, this is a chance to bring your content up to date so it remains useful to your members. 
If your content's core message is still as factual and relevant as the day you published it, it's definitely worth doing a partial update.
All you need is a little panel beating, and you'll be well on your way to delivering old content with a nice, new spin on it.
2. Do a "watch along"
We first saw Chris Brogan doing this and we love the idea… 
This is where you take an existing course, workshop or webinar that you've previously delivered in the past, and live stream it to your members.
So if you've got an old video that's still brimming with value, then you can turn this into a "watch along" with your members.
Where you all rewatch the content together, live, at a scheduled time.
It's not new membership content, but it's a great way to bring it back to people's attention…
And an excellent tactic for encouraging members to consume your content. 
The beauty of this is that you can actually be part of the watch along too…
You can be in the chat room answering questions, clarifying things and adding a bit of fun with your commentary…
You could even expand on the original piece of content to add more value to your members! 
Think of it as a rewatch with live commentary from you as the 'director'.
3. Feature older content in your weekly members' digest
This is a really simple thing to do…
But we can't stress enough how valuable a weekly digest is for the overall growth of your membership.
Admittedly, it gets a bit difficult to churn out new content for it, week-in-week-out…
But this is where your old content can come in handy, especially if you've got an archive full of it.
Even if you've got a few projects lined up, you can still use the digest as a platform to highlight some of the material you've piled up over the years.
You can also bring out older content to highlight particular times…
For example, if you've got content about vacation spots, start churning it out as summer approaches.
There's also the option of segmenting it, so your members can appreciate it regardless of where they are in their membership journey.
4. Recommend what membership content to watch next
After members have consumed a piece of content inside your site, they'll most likely have one question…
"What do I do now?"
It's really important that you find ways to answer this because once people start asking it, you often find that members struggle with so many options available…
And if they can't find an obvious answer or are given a clear direction then they may decide to cancel their subscription altogether. 
To avoid that worst-case scenario outcome, once someone is done with a piece of membership content, it's massively beneficial to recommend the next steps because this will enhance their overall member experience.
It doesn't need to be complicated…
You could do something simple like adding a list of links to the end of the final lesson of a course or workbook…
Or maybe add a video suggestion from your archive to get people consuming more content.
Bottom line: It's not advisable to leave members to their own devices.
If you're not already on top of this, then rest assured it's a great way to put some focus on all your value-packed content and improve the overall member experience.
5. Repurpose older membership content into free content
You've put all this effort into creating this material, and now we're asking you to give it away for free?
Trust us when we say it's for a good cause…
After all, it could lead to new sign ups!
So, rather than leaving your old membership content to gather dust in your archives, it's not a bad idea to repurpose it into free content.
As a content marketing practice, this will whet your prospects' appetite by giving them a taste of what you have to offer inside your membership.
While your instinct is to protect your paid content at all costs, repurposing some content from your site for your wider audience doesn't diminish the value of your content in any way. 
You could turn snippets of your membership content into podcasts, blogs, and videos, then have a call to action that asks them to sign up to access more.
If you were eventually going to remove the content from your membership, first, strip it for parts – so to speak – and repurpose it into a new lead magnet to attract new people into your ecosystem.
That way, you get a few more members in the door before the content goes stale.
6. Use the content as the basis for a cohort-driven experience
It's no secret that the majority of membership content is typically DIY (Do It Yourself)…. 
Typically, you hand members some resources, exercises, and teachings, then allow them to take the next steps on their own.
However, you could shake things up a bit by creating a 'Done With You' experience based on your old content.
Introduce a series of workshops or courses with that cohort experience to add some new energy.
So, you're not just changing the entire learning experience…
You're putting a new face on the content you've probably had lying around for some time.
Even better, you could potentially tag this as a premium experience and charge a bit more since you will be more hands-on…
Or make it free for existing members and charge a little for non-members.
So if you've been wondering what to do with your ever expanding archive of content, then hopefully now you have some clarity on how to move forward…
If in doubt remember this…  
Breathing new life into older content can add more value to your membership…
And that's something every membership owner should be aiming to do.
Thank You For Listening
We really appreciate you chosing to listen to us and for supporting the podcast. If you enjoyed today's show, please share it using the social media buttons on this page.
We would also be eternally grateful if you would consider taking a minute or two to leave an honest review and rating for the show in iTunes. They're extremely helpful when it comes to reaching our audience and we read each and every one personally!
Finally, don't forget to subscribe to the podcast in iTunes to make sure that you never miss an episode