Creative Ways to Improve Your Member Experience with Andrew and Pete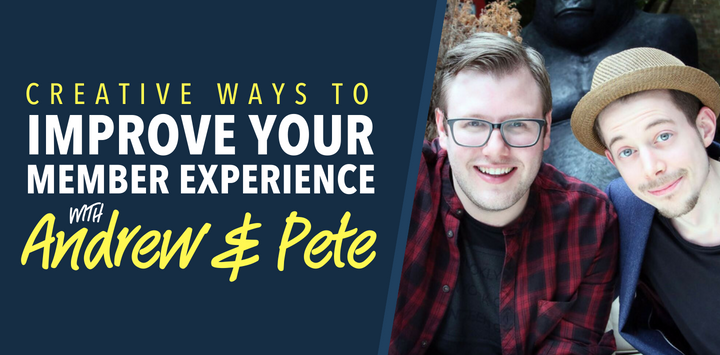 Subscribe to the Podcast Download Transcript
In today's online world you're increasingly competing with a lot of noise and distraction when it comes to your members time and attention.
How do you stand out?
What can you do to deliver a member experience that will make logging into your membership and spending time in your community preferable to watching hilarious cat videos on YouTube or chatting with friends on Facebook?
Andrew and Pete are two of the most creative content marketers in the world. And that creativity carries over to their own membership community too.
In this episode of The Membership Guys Podcast, we look at what they're doing to craft a truly unique and remarkable member experience, and they share their tips on how you can think outside the lines and start being more creative with your membership.
Episode Summary:
Why you shouldn't just do what everyone else does, and how to truly stand out from your competition.
The special touches Andrew and Pete add to their member experience that has turned their community into superfans
What to do if you're convinced your topic is too boring, or you're not sure how to find creative angles in your business
Andrew and Pete share some random ideas you can try today to put a little more personality into your marketing and your membership
Key Quotes:
"In this digital era it's not novel to have content anymore. This whole idea of content marketing, social media, email marketing – it's all been done before, thousands of times by loads of people. The problem is not 'what do I do?', it's the sheer amount of competition that you face."
"We want the experience to be fun and enjoyable. If you're not enjoying learning, it's going to be really tough for you to actually retain that information"
"This wasn't something we've done from the start. This was definitely learning from people who had not necessarily had a great experience as they joined our membership, and we've been constantly improving it and making sure it gets better and better, listening to members when they leave and plugging any holes that we might've missed."
More good stuff from Andrew and Pete:
Mentioned in this episode:
Enjoyed this interview? Check these out…
Thank You For Listening
We really appreciate you chosing to listen to us and for supporting the podcast. If you enjoyed today's show, please share it using the social media buttons on this page.
We would also be eternally grateful if you would consider taking a minute or two to leave an honest review and rating for the show in iTunes. They're extremely helpful when it comes to reaching our audience and we read each and every one personally!
Finally, don't forget to subscribe to the podcast in iTunes to make sure that you never miss an episode