A Member a Day Without Marketing with Nigel Moore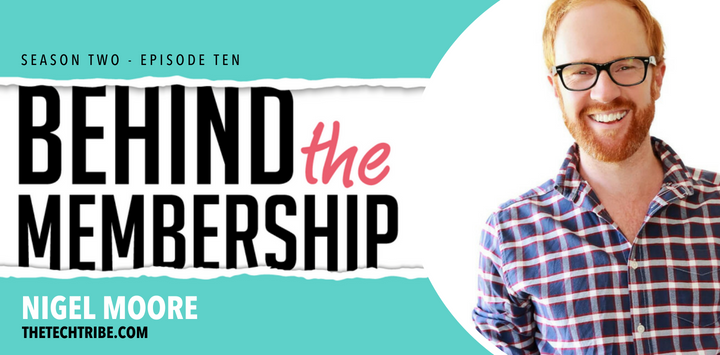 Subscribe to the Podcast Download Transcript
In this episode of Behind the Membership Callie is talking with Nigel Moore all about his membership site, The Tech Tribe.
Nigel places a high emphasis on providing excellent service for his members, including offering all members a personal coaching call when they join, a private coaching section in his community and creating most of his content based on member questions and needs. As a result he's really tuned into what his members, and his potential members, are looking for and what will help them to get results. This has enabled him to build a six-figure membership site with relative ease.
Here Nigel also talks about getting a member a day without marketing, and what happens when he actually turns his marketing funnel on. As well as the challenge of content creation, doing things that don't necessarily scale, introducing a higher membership tier into the mix, plus more.
"
Everybody that takes up the private coaching call, there's a really long retention with all of these guys. They hang around, they know that they're getting value there. They jump in and engage in the forums. Once they get to know me, they get a lot more engaged in the community."
Listen in to hear:
How Nigel turned his membership side gig into a full time business after selling his service company
Why Nigel gives every member a free coaching call even though it limits capacity, and how this has impacted his relationship with members
Why he only creates high quality content based on member requests, rather than a regular schedule
What his biggest challenge has been in running the membership site, and how he's overcoming it
How and why he recently launched a higher level programme offering additional accountability and coaching
Why every membership site owner should have a 'happy folder'!
The marketing funnel that he can turn on and off as needed in order to increase members and how he still averages a member a day without it
How he uses private coaching in his forum and monthly live calls to keep members engaged and coming back for more
Why the quality of member discussions is better away from Facebook
The process he uses for paused members and how he encourages them to resume their membership
Connect with Nigel:
Thank You For Listening
We really appreciate you chosing to listen to us and for supporting the podcast. If you enjoyed today's show, please share it using the social media buttons on this page.
We would also be eternally grateful if you would consider taking a minute or two to leave an honest review and rating for the show in iTunes. They're extremely helpful when it comes to reaching our audience and we read each and every one personally!
Finally, don't forget to subscribe to the podcast in iTunes to make sure that you never miss an episode