How to Identify Your Member Drop-Off Points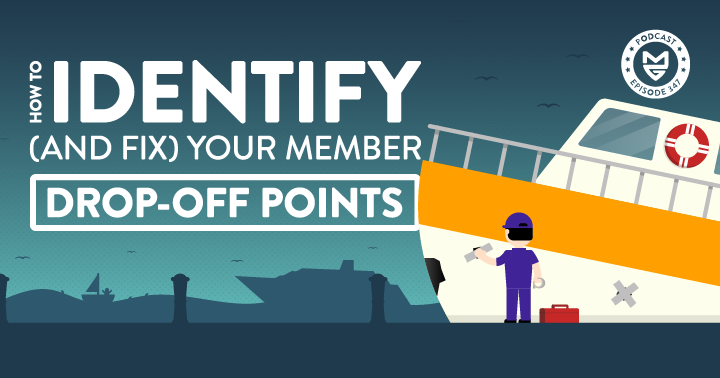 Play Podcast Episode Subscribe on iTunes
What do you fear most as a membership site owner?
Let us guess… Cancellations?!
We'll let you into a little secret…
You're not alone in this.
Cancellations are without doubt the big bad boogeyman of the membership world…
Even your friendly neighbourhood Membership Geeks face this fear with you!
No one likes them…
But the truth is, cancellations are inevitable…
They're part and parcel of running a membership business.
There are strategies you can implement to reduce the number of cancellations and bring your churn down…
Things like nurturing and engaging your member base, solid retention processes and so on… 
You can also put measures in place to slow your cancellation rate down…
But don't kid yourself.
Cancellations are going to happen.
As membership owners that's just something we have to accept….
And handle them gracefully so that we're not burning our bridges with people who could easily come back and re-join the site in the future.
Sometimes the reasons for cancellation are beyond your control…
And often, they're even beyond the control of your members…
After all, life happens!
But it's important to know that there are some predictable drop-off points in memberships that you can identify ahead of time.
Let's explore this in more detail… 
What do we mean when we say drop-off point?
A drop-off point is a point at which you have a higher number of people leaving your membership for the same reasons than you would typically have on a day-to-day basis. 
But please don't despair!
Let us shed some light on the types of drop-off points you may encounter and the ways in which you can mitigate this risk and minimize the number of cancellations.
We have grouped the drop-off points into 5 categories.
1) Initial exit opportunity
This is the point during the initial joining period when someone first signs up to your membership site…
When they login for the first time and spend the next 24 to 48 hours exploring the material and resources…
They're evaluating your site during that time, assessing things like:
Does it match their expectations?
Do they get value for their money they've spent?
Have they made the right decision in joining?
If the answer is no to these questions, then they may make the decision to leave your community.
If you have a trial period for new members, then obviously the end date of that trial is the trigger for this initial exit drop-off point.
The same applies to a refund period, a money-back guarantee period or the end of the billing cycle date.
So, within the first month when someone joins your site you'll see several different stages that can form a common drop-off point…
A time when you lose a lot more members than normal…
You need to ensure that you have a strong onboarding process in place and that you're creating a great first impression in order to make sure that you're minimizing the number of members who drop-off during this initial period.
You don't want people joining then turning around and looking for an exit.
The first 14 to 30 days a member is in your site is crucial in helping them decide whether to stay or go…
And that's why we always emphasize the importance of member onboarding and getting people off to the best possible start so they're far less likely to leave at this initial drop off point.
This largely applies mainly to monthly memberships in particular, when a person's first commit essentially ends…
It could be the first month payment done, or their trial and refund window comes to an end.
2) Renewal periods
Quarterly, 6 months or annual renewal periods are also big drop-off points.
If somebody joins for 12 months and this period is coming to an end, they have a big decision to make whether or not to renew…
As it's a bigger lump sum investment rather than a monthly payment.
You'll likely see more cancellations during renewal periods…
So you need to have a separate retention strategy in place to maximize the number of renewals, and thereby reducing the drop-offs.
3) End of drip-fed or scheduled series content
Let's say, you have one big signature course or series that is your star attraction and what you're known for…
And you're using a 12-week drip campaign to market the offering…
Naturally, once the 12 weeks are over, people who only joined for that specific content will have got everything they wanted…
And as a result will start dropping off at a higher rate than the number of members cancelling on a day-to-day basis.
Even if you have a thriving community and other great resources, training and courses in your membership site, there will always be those people who joined just for that flagship program.
They'll consume the material, then leave.
You need to ensure you have a retention strategy in place for this scenario too. 
Making use of your onboarding to get people invested in other parts of your site that they didn't join for is a good thing to implement at this point…
Doing this could make them stick around in the long-term and minimize drop offs.
4) Seasonal drop-offs
Christmas is a very common time to see loss of members purely for financial reasons…
Whether that's because they're spending more money on gifts or time with family over for the holidays.
In a similar way, New Years' can also have the same impact on your cancellation volume…
It's a common time for people to re-address their expenses and goals… 
And they may consider the membership to your site expendable.
During the summer months, more people are away on vacation or are spending more time outside…
This means they're not inclined to sit in front of their computer and consume your content.
This is another reason why people can drift away from your membership site.
It's important to identify these patterns and be proactive in preventing seasonal drop-offs in your own membership base, so that they're accounted for when you put the practices and tactics in place to improve your member retention.
And it may take the first year of running your membership to see what these patterns are for you…
You could have the perfect membership to take advantage of during the summer or the holidays and may notice a lull during other seasons.
What's important is that you find the patterns for seasonal drop-offs and take action or minimize them.
5) Topic based drop-offs
Depending on the topic or subject of your membership site, this can have an impact on cancellations as well.
Here are some examples of what we mean:
High school or college education sites that are aimed at helping people with their studies. Naturally, the end of the school year will be a drop-off period.
In the B2B market, where the end of tax year or budget periods can be a trigger for drop-offs.
Sports based memberships like skiing, for example, have a set season.
Age can also play a factor depending on your topic. If your site helps high school students decide on a university, then once they reach university, they no longer need your content.
It's a worthwhile exercise to monitor the performance of your membership site, identify patterns with sign-ups and drop-offs, and average member attendance.
But also, to try to monitor, predict and pre-empt seasonal drop-off periods or topic-based drop-off periods according to your audience profile.
By identifying your common, core drop-off periods, you can make sure that you're taking advantage of this information by tailoring your communications or releasing unexpected bonus content.
This will hopefully keep them engaged and invested for a little bit longer…
This will give you the time to reengage with them, reactivate them and prolong the member lifecycle.
Identifying patterns is the remedy to cancellations…
Pre-empting the drop-offs means knowing the drop-off patterns and knowing what is in the pipeline.
It could be part of an automated sequence to woo your existing members when renewal time is coming up…
Or it could mean scheduling a one-off campaign with extra bonus material that will entice your member to stay longer during the holiday season.
It's important to map this stuff out and to know where your points of weakness are in terms of holding on to your members.
If you do that, you'll find that your member retention improves, your community will grow, and it will naturally, organically prolong your member life cycle.
Hopefully this blog post has given you the nudge to take a look at your audience and site statistics to help you predict the common drop-off periods.
This will inform your engagement and retention strategies that will keep your members around longer.