Removing the Barriers to Membership Sales with Kim Bultsma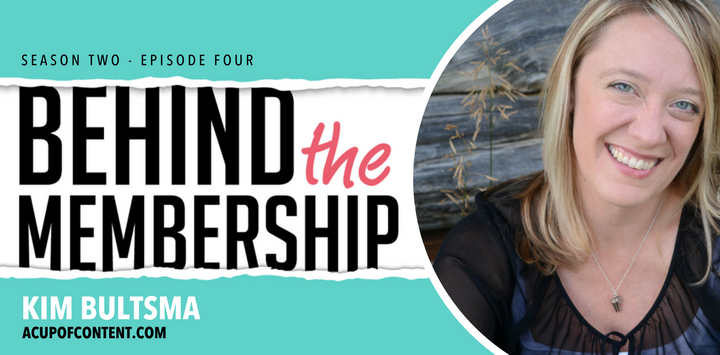 Subscribe to the Podcast Download Transcript
On Episode Four of Season Two, Callie is talking with SEO and content strategist Kim Bultsma about her membership site, A Cup of Content.
We're talking niching down, running completely free trials to attract new members, implementing member challenges to improve engagement and retention and the joy of watching your members make progress thanks to your content.
We also talk about how Kim came to start her own business in the first place after years of being a teacher, and the impact that this change had on her family life.
Plus, Kim shares some of the challenges that she's encountered along the way, particularly when it comes to balancing time between her service business and the membership site.
"I know that when I put myself out there and I get in front of people, that they can see the value of what I can offer. That's usually a great way to just say, "Hey, go try the trial. It's free. You get 100% free access to the membership." That trial has really been super beneficial for me."
Listen in to hear:
How her daughters serious health problems led to Kim leaving teaching to start her own business and how they are all happier as a result
Why a membership site was a natural addition to her service business and allows her to reach more people
The need to niche down rather than be everything to everybody when it comes to attracting members
Using bite-size 5 day challenges to provide member content and increase engagement
The challenge of juggling time with both a service business and a membership site
Why Kim changed from a $1 trial to a completely free, no credit card required, trial, and how that impacted sign-ups
The importance of making members feel valued and important for increasing retention
Why Kim spends an hour a day building relationships and engaging with other people's content
How the membership site is continually evolving and why listening to members is key
Let us know your biggest takeaways from this episode over in our free Membership Mastermind Facebook Group.
Connect with Kim:
Thank You For Listening
We really appreciate you chosing to listen to us and for supporting the podcast. If you enjoyed today's show, please share it using the social media buttons on this page.
We would also be eternally grateful if you would consider taking a minute or two to leave an honest review and rating for the show in iTunes. They're extremely helpful when it comes to reaching our audience and we read each and every one personally!
Finally, don't forget to subscribe to the podcast in iTunes to make sure that you never miss an episode