Adding a Membership to a Successful Manufacturing Business with Felicia Lo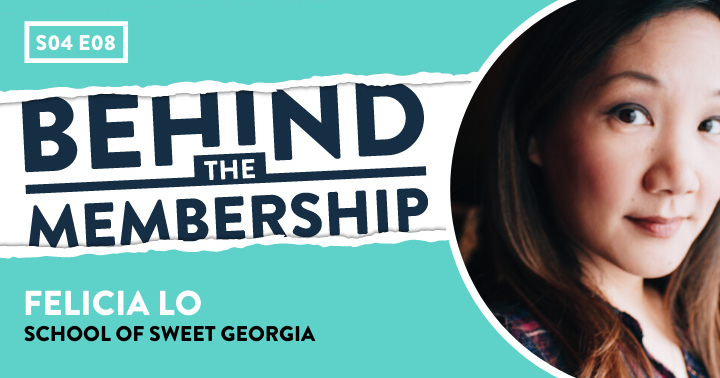 Subscribe to the Podcast Download Transcript
Felicia Lo from School of Sweet Georgia, a membership site for fibre artists, is this week's guest on Behind the Membership. 
Felicia first started her blog way back in 2004 and her physical business manufacturing beautiful hand dyed yarns, Sweet Georgia Yarns, in 2005. Over the years Felicia has also taught classes for companies like Craftsy, written a book, and run a yarn based subscription box, so by the time she started her membership School of SweetGeorgia in 2017 she already had a huge amount of experience in her market.
In this episode, we're talking all about how Felicia is able to run the membership site alongside her well established physical business, and how having the two overlapping, but still separate, sides of the business works well for her and gives her more flexibility and stability.
We also talk about how Felicia used Patreon for her initial idea validation, which gave her the incentive and accountability to create her full membership site. And we talk about the team she has helping her to keep both businesses thriving, plus how she focuses on YouTube for attracting new members, her plans for bringing guest teachers to her in-person studio to record courses, and much, much more besides.
"The fibre arts, the needle arts yarn, crafts, that whole industry is going through some transition right now. And I wanted to create a business that is more diverse. One that is not just tied to an old traditional model of making things and selling things…the school is not just a project or a side project of the business that we have. It's so core and central to what our future is going to be like."
Listen in to hear about:
How being invited to teach a course for Craftsy back in 2012 eventually lead Felicia to consider creating her own trainings and membership site

The benefits and challenges of running an online membership alongside a well established international yarn business and why Felicia plans to keep building both

How Felicia utilised Patreon to test her idea and build an initial founding member base as she created her first courses

Why Felicia moved her members from Patreon to Teachable to WordPress and what led to these platform changes

Why Felicia prefers her online membership to her previous subscription box

The team helping Felicia to keep both of her businesses running successfully

How her 'Taking Back Friday' weekly video on YouTube works to bring the right audience to her membership

The different ways Felicia keeps her members engaged including running regular 'make-alongs' and 'crafternoons'
Connect with Felicia:
Thank You For Listening
We really appreciate you chosing to listen to us and for supporting the podcast. If you enjoyed today's show, please share it using the social media buttons on this page.
We would also be eternally grateful if you would consider taking a minute or two to leave an honest review and rating for the show in iTunes. They're extremely helpful when it comes to reaching our audience and we read each and every one personally!
Finally, don't forget to subscribe to the podcast in iTunes to make sure that you never miss an episode