4 Things You Can Do Today to Drive Membership Revenue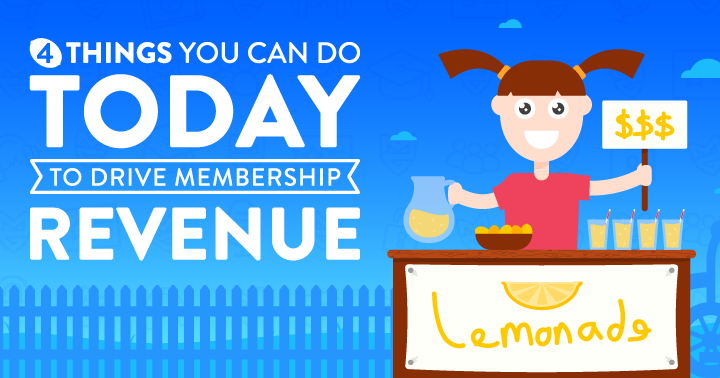 How would you like to make more money in your membership today?
It's a no brainer, right? Of course you do. 
As membership owners, we're naturally always looking at ways to increase revenue.
Most of the time this will include planning long-term sales and marketing strategies, but what about the here and now?
Good news!
There are tactics you can implement today to inject some additional revenue into your business…
And I'm here to share them with you.
Here are four things you can do today to drive membership revenue…
1. Run a flash sale
This is a short and extremely simple promotional campaign where you offer a discount or another incentive to entice members to join.
With a flash sale, you want it to be big and noisy…
You could tie it in to a specific date or time of the year like your membership anniversary, Black Friday or a holiday promotion.
Many businesses run a flash sale for either 24 or 48 hours, so there's not a long-winded promotional strategy.
Just a simple offer of a discount, something like:
"Join in the next 24/48 hours and get your first month free". 
Flash sales are great because they tap into that sense of urgency that can really prompt those people who are on the fence about joining to finally bite the bullet and click that 'Join Now' button.
When it comes to offering discounts I do have a word of warning
You need to be careful…
You don't want to offer something that would annoy your existing members…
Think about it like this… 
If you're a member who has been paying $50 a month for the past three years and you find out that new members joining only pay $25 a month, that's not going to sit well….
And could lead to cancellations.
An alternative approach to incentivise people to buy could be to offer free trials, a free or half-price first month, or a little bonus resource.
2. Email your non-buyers
Membership owners tend to believe that if someone hasn't signed up already, they're not interested.
Some people can sit for months on your email list without joining, but that doesn't mean they'll never join.
Sometimes they just need a little nudge or a reminder.
Timing is everything.
Emailing non-buyers with a reminder about your membership…
An email about a flash sale…
Or maybe even a question asking subscribers what's preventing them joining your membership…
Is a really simple way to give your membership a little boost.
It also starts a dialogue that can lead directly to sales.
Sometimes people are confused about what you're offering, or they're not totally sure whether your membership is right for them.
They may not be motivated enough to reach out to you to start that discussion…
But if you reach out to them, you start a conversation that might get extra sales.
So email those non-buyers today. 
3. Do a win-back campaign
So, we've talked about non-buyers, but another group of people you should target are ex-members.
Membership owners often live in fear of cancellations…
They tend to think the worst and assume that once a member leaves, they're gone forever…
But that's just not the case.
Over 25% of people who leave Membership Academy come back in a few months.
Cancellation is not condemnation…
People don't leave because they hate you…
The truth is that people cancel for all sorts of reasons.
It could be a money issue, a time issue, or maybe their circumstances have just changed.
Often, these things are temporary, and they might be open to re-joining a few months down the line.
But, if they've forgotten, who's going to remind them about your membership?
If you've not reached out to your ex-members already, consider an email or even a Facebook ads campaign targeting them.
You could even reach out personally to let them know you're running an offer at the moment.
If you're in Membership Academy, we have an email series that you can use and tweak to kickstart your own win-back campaign today.
4. Offer monthly members the chance to upgrade
If you have a monthly and annual subscription model, many members will pick the monthly payment option to start with…
It's the safer, more flexible option…
But if they've been around for a while, love your membership, and are still paying monthly, why not offer them the chance to upgrade?
This is worth doing because if someone's been a member for a while, they're in a totally different place from where they were when they first joined.
They now know your membership and the value it offers…
They know your community and may have had great results so far.
Members like these are much more likely to sign up for the annual plan, so it's definitely worth reminding them about it.
Typically, if you offer monthly and annual options, the annual option is discounted.
This is a great way to incentivize people to take that longer commitment to help them save money they're already spending.
If you have a tiered subscription model instead, you can use this same principle.
Reach out to existing members and offer them the chance to upgrade their membership.
It's such a simple way to get a quick boost in your revenue.
This kind of thing doesn't need to be a one-off either.
In fact, we recommend that you do this for all your members at some point.
You could automatically send an email once they've been a member for six months.
So, there you have it…
Four super simple ways you can get a nice boost in your membership revenue.
None of these are particularly difficult or costly to implement…
But are well worth adding to your membership…
And will help you drive membership revenue today.