So many membership owners live in fear of their members cancelling.
It kind of makes sense, because the goal of a membership site is to retain its members for as long as possible and so when someone leaves – whatever the reason – it's hard not to see that as a negative.
"What did I do? Why are they unhappy? Is this the beginning of the end?"
Of course, nobody wants their members to leave but, the fear of cancellations can often cause an overreaction to what is a very normal part of running a membership site.
We can end up acting vindictively, making the whole process a nightmare and punishing people who want to leave, burning bridges in the process.
This is something we are dead against – because cancellations don't have to be permanent!
Read on to find out why you should see cancellations as an opportunity and how you can turn goodbyes into hellos with win-back campaigns for lapsed and cancelled members.
Why it's never really goodbye
In an ideal world, no members would ever leave – and there are tactics you can deploy to pre-empt and prevent member cancellations – but it's going to happen and it's not always your fault.
People may leave your membership site for a variety of reasons – many of which will actually have nothing to do with your membership.
It could be because of financial difficulties, bad timing, or any number of other reasons.
Treating cancellations as a personal slight and a cause for offence often means you're missing the mark.
At Membership Academy, we find that about 25% of people who leave, ultimately come back.
A big part of the reason for that is how we handle cancellations and conduct targeted win-back campaigns.
The basics of win-back campaigns
Win-back campaigns are, generally, a sequence of 4-6 emails, all geared towards the target of getting someone to re-join your membership.
In fact, win-back campaigns are one of the 4 Essential Email Automations Every Membership Website Needs.
It's not always just an email sequence, you can also use retargeting to show specific messages to people who are on your win-back list, but for today let's focus on a simple email sequence.
Your campaign could be a one-off – one single push to try to get ex-members back through a set of emails and then, after that, you never contact them again – or you can look at running multiple campaigns.
Treating cancellations as a personal slight and a cause for offence often means you're missing the mark.
It's really important not to nag and harass your ex members with campaigns every few months, but you can certainly look at ways of taking a few different angles and approaches using staggered campaigns.
You're going to want to wait around 3-6 months before restarting the conversation with your ex-members.
For one thing, you need to give them enough time to realize what they're missing, to get past the issue that may have caused them to leave in the first place, and to let any personal circumstances change.
You also need to give yourself enough time to remedy the issues that may be causing people to leave.
If you want to know more about handling cancellations the right way, check out our post on What To Do (And What to Avoid) When Someone Cancels Their Membership.
How to structure your win-back campaign
As part of your win-back campaign, you should be asking outright – what would it take for you to return?
Find out what they need, what you can offer, what they need to know has changed, or what needs to be fixed for them to come back.
There are three vital notes you need to hit if you want to run a successful win-back campaign:
1) We miss you (offer emotion and connection)
Throughout your win-back sequence, you want to make sure you're letting your ex members know that first of all, they're missed.
People like to feel missed, to feel valued, appreciated.
Acknowledge the fact you miss having them as a member.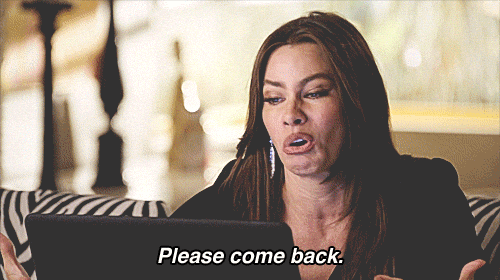 Without this emotional appeal and openness, you're not going to get very far.
2)   What you have missed (share what's changed)
Let your ex-members know what they've been missing since they left.
If someone's been gone for six months, a lot should have changed in that time.
You will have added new content, changed some features, redesigned some elements.
Let them know what has changed and why it's better than ever.
There are so many moving parts to a membership that it never holds one form for a long time.
What might have bugged someone six months ago might be long gone and replaced by something they will love.
3)   What you will miss (share what's coming up)
Tell them all about the awesome stuff they're missing out on already, but also what they stand to miss out on in the future.
Tap into the FOMO and tease what you've got coming up – big new releases, brand-new content, and irresistible features that take your membership to the next level.
Example of a win-back campaign sequence
Let's see how we can include those three notes in a basic, five-email win-back campaign.
Email 1
Reach out, say hello and check in, let them know that you miss them and that you really valued having them as a member.
Email 2
Tell them about what they've been missing, sharing some of the highlights of the last few months. Make it easy to consume, quick to get through, and engaging.
Email 3
Introduce a special offer – some sort of exclusive, time-limited deal that you are giving them as a valued ex-member who you know will benefit from your recent content.
Email 4
Dial it up a little and show them what else they'll miss. Tease your future content and show them why it's going to be even more worthwhile for them to become a member again. Use this sequence to really show them why it makes sense to come back.
Email 5
Close down the offer, letting your ex-members know that time is almost up for them to access your special offer. But do not close the door entirely. Burning bridges turns the chances they'll re-join your membership to 0%.
Create a loop, not a line
So, that was a very basic example of how you might structure your messaging in an email sequence to win back lapsed members.
The key to winning back lapsed members is recognising that the member journey is a"loop" and not a "line" – we refer to this as the Member Lifecycle.
Mastering the Member Lifecycle requires you to play the long game.
Treat your members well in the time they're with you, and avoid burning bridges with those who leave, and you stand a far better chance of winning them back in the long run.