Should I Include All My Products and Content Inside My Membership?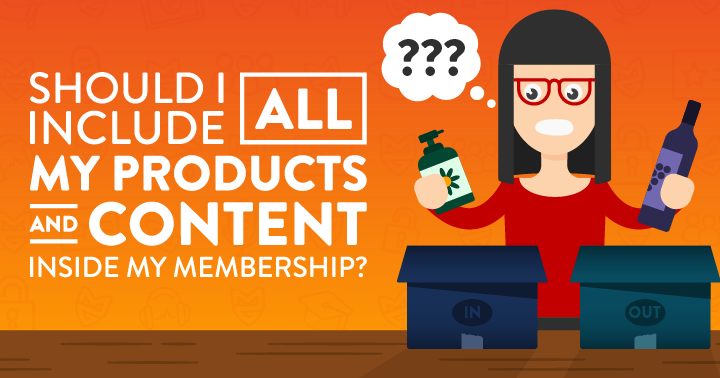 Does every piece of content you create need to go inside your membership?
You might be thinking "well yes of course it does, my business is all about my membership"…
But what if you want to sell it as a standalone product?
This is something that's come up a few times in Membership Academy and in our Facebook community…
And it's a strange one… 
Because for some the answer is obvious…
Just to go ahead and create a standalone product…
But for others it's a bit more complicated.
As creating separate products and content from your membership can sometimes cause a lot of confusion in your community…
And even result in some very disgruntled members.
So how can you navigate this? 
Let's take a look…
When might this scenario come up?
Memberships are, by nature, an all encompassing product.
Because you're not selling a one-off course or an eBook…
What you're selling is not set in stone…
There's no real end date for "fulfilment".
You're selling a big old box of stuff with all sorts of content in there…
Workshops, PDFs, courses, workbooks, community and live events… the list goes on!
This means the lines can be somewhat blurry in terms of what someone can expect to be in that "box".
And if someone only associates you with your membership…
It's not uncommon for them relate all of your output as a content creator, educator, and a community host to all be part of that membership…
This, plus the fact that most memberships involve you continuously adding fresh content, means that there's an expectation that everything will be included. 
We had a client a few years back who caused a stir in his membership…
Because at that point members got access to the library where a new course was released once a month….
However, the client decided one month that instead of releasing a course inside the membership, he would create a special course and sell it as a standalone product.
It was double the length of the typical courses he produced…
Covered a more advanced topic…
And contained more content, included group coaching and one-on-one support.
So it was so much more than the usual course content provided within the membership.
But he faced a lot of pushback from his community members on this because they'd come to expect all courses to be included in the membership…
And the communication around why this was released as a standalone product wasn't managed in a way to avoid confusion.
Should you include the content in your membership?
The simplest approach to all of this is to just put everything in the membership.
Problem solved!
But that doesn't mean it's the best approach in all situations…
The more stuff you put in the box, the more content there is, the more people have to navigate…
And the more potential there is for overwhelm…
The truth this, there's a lot of value in limiting what you're giving people inside your membership.
Especially if it's aimed at a different audience.
And if the content you've produced doesn't quite fit into your membership in terms of context or audience, then it makes sense to keep it separate.
In fact, it'll be much easier to promote a product like a course without having to sell the entire membership along with it. 
Going back to the example above…
The guy who produced a separate course outside of his membership was selling something very similar to what the membership already offered…
There was no clear distinction… 
And that's why members felt confused.
So if your membership offers mainly courses and training…
You might want to consider something totally different when it comes to creating standalone products if you want avoid any confusion.
What have you promised members?
What it all comes down to is setting and managing expectations.. 
First, you need to consider what you've promised to your members.
If, on your sales page, you promise that all courses you create will be included…
And then you sell one separately…
Then of course, it's going to make your members feel like you broke that promise. 
In this case, you can either include it in your membership, or you can reconsider what it is you're promising.
If your promises put you in a corner when you want to try something new, it might be worth establishing new expectations. 
Think about what patterns have been established
Either deliberate or not…
Even if you've not outright stated on your sales page that members will receive all of your training material…
Sometimes, if you have established certain patterns, they can lead to expectation that you'll continue to deliver as you always have.
Say that members come to expect you to release one new workshop per month…
But then, one month, you add nothing to the membership and instead decide you're going to host a standalone paid workshop.
That's a "pattern interrupt" that can cause members to be disappointed. 
So, ask yourself, what do your members expect?
How will this new separate material meet or go against those expectations?
That being said… you don't always need to cave
If you're desperate to keep your members happy, you might decide to cave and include it in the membership.
But as a business owner, you need to resist the inclination to always over deliver. 
Someone joining a membership doesn't necessarily get an automatic right to everything you create and sell in the future. 
In some cases, members themselves may have unrealistic expectations.
You might have never told them they'd get every new course you create…
But they think they're entitled anyway.
If you think you've been clear enough, you don't need to cave to those expectations.
You can still stand firm and reiterate what was actually promised in your membership.
Highlight the reasons why this is separate...
And if they sulk, they sulk.
It's important to look at it from both sides…
While also setting boundaries with your members.
You don't want to do yourself a disservice…
And shutting the door to any opportunities to diversify your income and add multiple revenue streams to your membership could hold you back.
Get clear on your messaging
A lot of this can be addressed in your messaging and how you position your membership.
And all the products and services you might sell around it.  
The clearer it is what your membership does, who it's for and what it consists of…
And similar for other products…
The less chance there is of confusion or disappointment from members thinking they're going to get every single thing that you put out.
Finding a happy medium
The good news is there's a happy medium.
You don't have to choose between upsetting members or avoiding more revenue-generating products. 
There is a way to capitalize on this and present it as a positive for your members.
To do this, you need to give members one of three things:
1. Give them priority
Your members should get first dibs…
If you're running a live event they're the first ones who are offered tickets…
If you're running a course they're the ones who are offered the chance to buy tickets before you go public…
This way, your members do get an additional benefit of being part of your membership.
2. Give preferential treatment 
If you're hosting a live event, you could hold a private breakfast before the event for any members… 
If you're selling a course, you could do an extra seminar or a private Q&A session for members…
You can give a premium version of your additional product or service to your members.
This way, they get that little bit extra from being a member without it impacting too much on your revenue for your other product.
3. Offer a discount
The third way you can keep members happy is to offer them a discount.
It doesn't have to be huge.
You could do $10 off an event ticket or 10% off on your extra product. 
The great thing about these three methods is that you're ADDING a benefit to their membership by providing them with extra things…
And you're adding value to being a member of your site at the same…
And that's a positive for them rather than a negative.
If you've been holding back from release standalone products…
Or going in a certain direction with your business…
I hope you now have some clarity in how to move forward creating products and content outside of your membership…
In a way that benefits your business…
And isn't seen in a negative light by your members.