How to Add Multiple Revenue Streams to an Existing Membership Business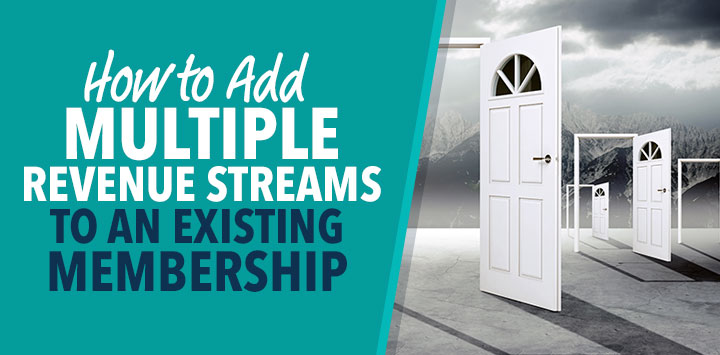 A membership site is a great launchpad for creating multiple streams of revenue.
Supplementing your membership site with additional tiers of content, tools, and resources, places you in a position where you can better serve your members, while increasing the profitability of your membership.
Want to find out how you can generate additional revenue streams to an existing membership site?
Here's my top tips for monetizing your membership site by adding multiple revenue streams:
1. Add multiple membership levels
If your existing membership site only has one single tier to it, the best way to boost revenue is by adding different membership levels.
Think of your membership as a tower with different floors.
When each member joins, they decide what level they want access to.
Each level offers something different and usually increases in value the further up the tower they travel.
I suggest using the "Good, Better, Best" model to help you split up your membership into multiple tiers.
Each one includes different degrees of content, features, and facilities. As you rise through the tiers of your membership, the higher the monthly fee will be to join.
The 'good' level is the most basic version of your membership.
It's an introductory tier.
It might include some core fundamental courses but doesn't grant access to your monthly live training mastermind calls or perhaps it lacks the one-to-one treatment the higher levels enjoy.
The 'better' and 'best' levels offer more content and features than the entry-level tier. It might be a good idea to reserve one-on-one training sessions for your top tier members.
Having personal access to your expertise and advice will be enough of an incentive to encourage members to join the 'best' level of your membership.
Having multiple tiers rather than just a single membership level boosts the profitability of your membership.
Another reason to offer different levels is that it allows you to cater to a wider audience because you'll have something to offer people whose needs range from basic to more advanced.
Plus, it speaks to a broader spectrum of budgets too and if the higher tiers are out of someone's price range, they can always opt for the more affordable options and still have access to your membership.
Having three tiers also allows you to take full advantage of price anchoring.
This is a common sales strategy that is so popular because it actually works.
It relies on the concept that when you give customers three options next to each other, it changes their perception of what's on the table.
Let's say that one tier costs £50 per month and the next costs £100.
Most people will probably think the £100 is too much and go for the £50 instead. But, if you add a third tier that costs £300 per month, that £100 in the middle starts looking pretty sweet.
The pricing here is intentional.
The £300 acts as the anchor price so that the £100 offer looks like the better deal. And, since humans have a tendency to choose what appears to be the best reward for the least money, this pricing strategy continues to work.
2. Offer upsells to your existing members
Have you ever thought about adding upsells to your existing member base?
Upselling is when you promote and sell additional products or services to your existing members. It has obvious benefits to you as the membership owner and it offers something a little extra for your members too.
It's important to be open and honest with your members though.
You don't want to offer upsells too soon.
If a member has already joined and they've gained real value from your membership already, they're far more likely to want to purchase more from you to get even better results.
A great upsell for your membership could be an extra course, coaching program or even a product that makes sense.
Don't offer a product for the sake of it.
Actively listen to your members' needs and desires to help you determine whether a product would be of interest to them or not.
If not, you're better sticking to things like online courses, one-on-one training sessions and so on.
Typically, an upsell item or service will be offered with a discount or it'll be offered exclusively to your members only.
For example, perhaps a course is usually £1,000 to everyone else, but when you present it as an upsell option to your members, the price is cut to £800.
That discount becomes a benefit of being part of your membership.
Plus, it acts as an incentive of actually buying the product or service on offer.
You might notice some memberships offer upsells during the signing up process.
This is a risky move because although it offers new members the option to add upsell products to their purchase, if overdone, it can actually make people second guess their decision to join your membership at all.
The last thing you want to do is present too many options and dissuade someone from joining your membership.
3. Run a mastermind group
An effective way to further monetize your membership site is by running a mastermind group.
Usually, mastermind groups have a smaller, more intimate feel to them, which is great because members can have a more one-on-one experience with you without it actually being a one-on-one session.
Members will have to pay to join your mastermind group, which is where that extra profitability comes from.
But they'll definitely get their 'bank for their buck' as they'll receive increased access to you and your expertise, direct support, and accountability.
Your mastermind groups will consist of around six to eight people.
Any more than that and you might find it more difficult to juggle.
Each member will have regular calls and have their chance to "sit in the hot seat."
This is when they tell the group their problems and you and the other mastermind members offer tips, advice, and strategies to help them solve their problems.
Of course, it's up to you what you want to include in your mastermind group.
You can incorporate anything from one-on-one calls to exclusive content that focuses on helping members achieve their goals faster.
4. Run mastermind sessions as live events
You can take your masterminds a step further by running mastermind sessions as live events.
This will appeal to a lot of people, many of which will be active members in your existing membership site.
Adding different forms of live events to your masterminds such as retreats, workshops, and conferences can take the monetization of your membership to an entirely new level.
Plus, it gives your members something different and exciting to look forward to.
Live events bring people together and provide a more personal experience for everyone involved.
You'll get to meet some of your members in person and they'll get to pick your brains and feel that they've received so much value in the process.
If you are going to host a live event, the tickets will typically be available for the public to purchase.
So, this means that anybody can come along whether they're a member or not.
You could make it more special for your members by offering them first access to tickets, a discount, a VIP seat at the event or a different perk for attending your event as a member of your membership.
Live events are an excellent way to create a new stream of revenue and you might even find that people who come along who aren't members of your site will be ready to join by the end of the event.
5. Offer additional "done for you" services
Most people who start a membership site look forward to leveraging their time better and sharing their skills, knowledge, experience, and expertise on a one-to-many basis.
However, if you want to maintain a one-on-one element to your membership, there's no reason why you can't.
You can continue to offer additional services around your membership if you like.
One that tends to work really well is a fully done-for-you type of service where members can pay to have something done for them.
This could be a teaching that you share in your membership and instead of going out and implementing those things themselves, they can pay to have it done for them.
This type of service has high potential because it is a huge time-saver for your members.
After all, who doesn't want someone else to swoop in and do all of the hard work for them?
You could even productize your service.
Instead of having services where people tell you what they want and you give them a quote for it, you can have a fixed price "off the shelf" service in place that you sell to your members.
A productized service creates a profitable cycle whereby people who buy the service are more likely to end up joining your membership.
Plus, many of your existing members will probably be interested in your 'off the shelf' service too and go on to buy it from you.
If you do decide to go down this route, make sure that you get the balance right between offering additional services and maintaining your membership successfully.
You need to be careful that you don't bite off more than you can chew!
6. Create and sell physical products
Selling physical products might not be something that makes sense for your membership and that's fine.
You don't need to sell physical products to create multiple revenue streams for your membership.
There are plenty of other ways you can make your membership more profitable.
However, if you have a really strong brand and your members are super engaged and even coined a nickname for themselves, physical products like slogan t-shirts, mugs, pens, and notebooks featuring your logo could fly off the metaphorical shelves.
Selling products like this is a fun and effective way to increase brand awareness and build a sense of belonging within your membership community.
In many ways, this is worth far more than the revenue it creates.
Selling t-shirts and so on won't make you a millionaire overnight, but it does create an extra source of revenue which is a nice bonus.
If you can create and sell a product that's actually functional and truly valuable for your members, you're onto a winner.
7. Earn affiliate commissions
Earning affiliate commissions is a smart way to create an extra revenue stream from your membership site.
You can do this by promoting products or services within your membership or via a joint venture with another business or influencer, etc.
However, it's very easy to get carried away with affiliate commissions and joint ventures.
Your members don't want to feel like you're taking advantage of them. So, always remember that your members come first.
Before accepting an affiliate promotion, decide whether or not this is really the best thing for your members.
Is the product or service you're promoting actually relevant and valuable to them?
Or, is it just a means for you to make some extra pocket money at your members' expense?
Never compromise your relationship with your members in the name of getting a short-term cash injection that comes from running a joint venture promotion.
Think carefully about who and what you want to be seen publicly supporting.
I'm not saying that you shouldn't do it, but if you do decide to run a joint venture, make sure that it's something that your members will appreciate.
Are you ready to further monetize your membership?
I hope that these tips help you add additional revenue streams to your existing membership. But, before we finish up, I'm going to leave you with these three top tips to help make sure that this all goes as smoothly as possible for you:
1. Make sure your products have complete clarity
If you offer lots of different products, courses and so on, make sure that people know exactly what they'll get if they decide to purchase a product from you. Leave no room for confusion and make sure that there is clarity in every product offering both inside and outside your membership.
2. Your members should always come first
Never compromise the needs of your members to make a quick buck. The last thing you want to do is unintentionally make your members feel exploited. Doing so could make them doubt your intentions and the true value of your membership.
3. Offer existing members a preferential rate on your products
Whether you're offering upsells, new products, courses, masterminds or live events, your existing members should be given a special rate. Knowing that members receive discounts and extra benefits will also act as a powerful incentive and might convince other people to join your membership site.