Selling a Membership Alongside An Existing Online Course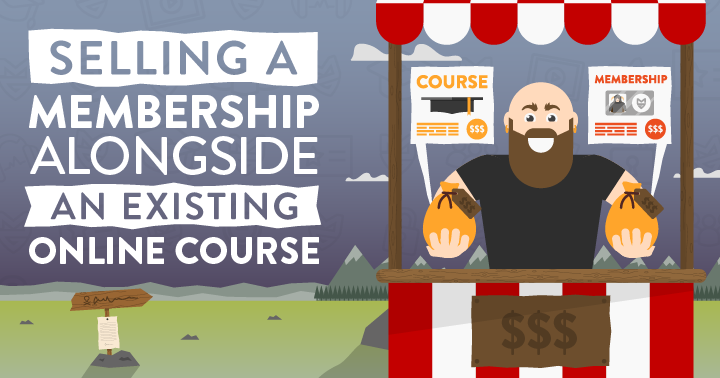 Play Podcast Episode Subscribe on iTunes
When it comes to monetizing your knowledge and expertise by creating online products, many people find themselves torn between two options:
Should I create and sell online courses, or should I start a membership website?
However it doesn't have to be one or the other.
The combination of courses and memberships can work extremely well together…
But only IF you get the strategy right.
Here's exactly how to do that…
Your main options for selling a membership alongside an online course
The first thing to emphasize is when we're talking about combining a membership and signature course, we mean that they should intertwined…
So your strategy for selling your membership is firmly rooted in your strategy for how you sell and deliver your course…
And there are a few routes you can take to do this…
You can:
Keep the course and membership entirely separate
Sell each as a standalone product (with some cross-promotion)
Use the 'splinter' strategy
Use the simultaneous model, or
Use a back-end membership model
Now that's cleared up, let's talk about the different options in more detail…
Keeping your course and membership as standalone products
Of course you can sell both a membership and a course without the need for them to be connected…
In fact, some people prefer to keep their course and membership completely separate…
Either to offer a different option or to cover completely different topics…
And that's fine!
Even if you keep them as standalone products, you can still use some cross-promotion (if appropriate) to upsell one or the other…
Without the need for the two products to cross over…
You could even offer a discount.
For example, anyone who buys the course gets the first two months of the membership free.
Splinter strategy
To go one step further, you could use something called the splinter strategy...
This ties into selling the two products as standalone, but is essentially a fancier way of doing it…
It's something we cover in Membership Academy.
The splinter strategy is where you take some elements of your membership content…
For example, a mini-course…
And you sell that as a standalone product.
You can do this to create a new revenue stream…
or use it to sell more places in your membership.
The benefit of this is that you create the content for your membership and repurpose it for your wider audience as a splinter product…
It gives them a taster of the type of content available inside your membership…
And gives people more options to buy from you…
As some may prefer to pay a one-off fee for a course rather than a monthly or annual subscription for a membership…
Others won't.
Another great thing you can do is use the standalone course to promote the membership.
For example, you can sell one course for $97 but say something like…
"Get this and all our other courses for just $50 a month if you join our membership."
If they're eyeing up more than one mini-course, it's almost a no-brainer to just join your membership instead.
But what if you want your course and membership to be linked?
After all that's what we're here to talk about, right? 
That's where the following two models will come in extremely useful…
Simultaneous model
This is where you sell your course as you usually would…
But you include the option to purchase a 'premium experience,' which gives students access to your membership…
So your signature course becomes a two tier offering. 
This gives your potential buyers two choices…
The first is that they can purchase your course and get access to all the training and resources that you currently offer…
With some limited hands on support throughout the duration of the course…
But essentially once they complete it, they're left to their own devices to implement what they've learned.
This is the standard option… 
The second option is to allow buyers to enrol in your course and join your membership…
This is where they get access to extra resources, learning materials and bonuses, your community, support, live Q&As and so on…
And not just for the duration of the course, but beyond that… 
If you adopt this approach you'll typically offer buyers access to your membership for a fixed period…
Either six or 12 months…
And they'll pay for this with their initial purchase of the premium version of your course.
Another thing you could do is include the first six to eight weeks of your membership in the price of the course, which could be a great selling point.
It also gives your students a good feel for what your membership has to offer to see if they like it and want to continue…
And helps them get the best results possible with them having access to all of the additional training and resources that your membership has to offer!
There's a lot of flexibility with this type of membership/course hybrid model.
Back-end membership model 
The back-end strategy is a natural follow-on for someone who's completed your course…
Once they get to the end, you give them the option to join your membership...
With the added incentive of giving them a set period of time for free after they've finished the course…
Yes I said free…
This gives them a taste of what your membership is like…
And inspires them to take action fast! 
With this model, the membership is for course alumni only, so it becomes a very exclusive community.
The good part of this is that everyone who joins will be starting off on the same foot…
As they've learned the core curriculum and have reached the same point…
And this gives you the opportunity to be better aligned with your members and hit the ground running in helping them reach their goals.
There are a few different ways you can offer a back-end membership…
You can either offer a course that teaches the fundamentals then include more advanced content inside your membership…
Or you can simply turn the membership into a community of alumni…
No extra materials or resources… 
Just a place for them to hangout once they've completed the course.
This would be offered a lower price point, but can still be of huge value to your students.
Typically this approach works best if you're delivering your course in real time…
Or if you have a tech set up whereby you can trigger the offer to join your membership to be sent once a student has completed your course.
These are two things to keep in mind if you adopt this strategy. 
A key benefit of selling a membership alongside a course…
You can play around with enrolment models!
We've talked extensively about open and closed door enrolment…
The pros and cons of each model…
Switching from open to closed...
With this approach, if you've got courses and a membership intertwined, you can actually have some of your cake and eat it too…
Yes, it's true!
You could make it that your signature course is open all of the time…
But the premium experience – if you go for the simultaneous model – is only open a few times a year…
Or maybe they could both be closed-door.
Your back-end membership could always be open to alumni…
But your course could be limited to a number of students with intakes at certain points of the year…
It's up to you!
How to decide what strategy to use
When deciding which model is best for you – simultaneous or bank end model – ask yourself one important question…
Where does my membership fit into my audience's journey?
We always say people don't join memberships to stand still so think about how your course and membership will help them move forward…
To do this, you'll need to zoom out a little, look at the bigger picture and figure out what your audience needs…
What is their ultimate goal?
What do they need help with?
At what point in their journey is your course relevant to them? 
Does your course help them reach their final destination or is it a step in the process to get them to where they want to be?
What do they need after they complete their course? 
This will help you determine the purpose and focus of both your course and membership…
For example, if you're selling an advanced-level course that covers everything you need to know, your members may not have a use for an ongoing membership…
In fact, they may feel a bit ripped off by an upsell…
And this is something you need to be mindful of…
Managing the expectations of your potential buyers and how you communicate the connection between your course and your membership.
But if your course fits in well as part of their journey, then a membership could be a great follow-on to help them continually work on their goals.
At its core, a course and membership combination really needs to benefit your audience…
Don't just create one or the other to make more money…
Do it because you're addressing a need that your course hasn't met yet…
And you know adding a membership into the mix alongside your course help your audience reach their ultimate goal…
After all, that's what us membership owners are here to do, right?