How Membership Owners Can Be More Productive with Mike Vardy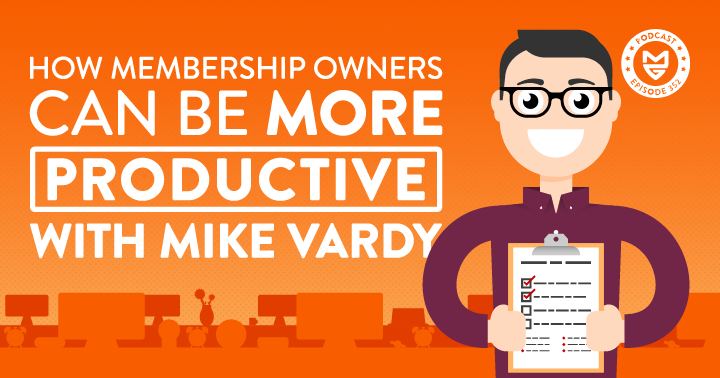 Do you ever feel like there just aren't enough hours in the day to get everything done in your membership?
Like you have a never ending to-do list and get to the end of the day feeling like you haven't achieved anything?
We all have those days…  
Staying organized, being productive and keeping on top of the day-to-day tasks involved with running a membership can be a challenge…
And let's face it when it comes to memberships there is a lot to do day-to-day!
So how can you be as productive as possible?
Well, quite often it depends on how you approach productivity…
Is it about getting everything done in the shortest possible time, nailing all your processes down to a T, or simply getting to the end of the day with at least one thing done?
The truth is most people have their own idea of what productivity should be.
But even when you think you've got your routines and systems in place, your membership evolves…
And that means your approach to productivity needs to evolve too.
While we know a thing or two about productivity ourselves, for this episode we decided to speak to Mike Vardy of Productivityist, the go-to guy on this topic.
Not only is he a membership owner himself, but he's a highly acclaimed productivity strategist and the creator of the productivity philosophy known as 'time crafting'. So it's fair to say he has a few pointers that will change the way you approach productivity.
He's also got plenty of tips to share about how to manage your tasks, manage your mind and get things done!
So, let's dive right in…
What's does productivity look like?
For most people, it means getting as much done as effectively and efficiently as possible.
But, that definition leads to a downward spiral of unfinished tasks, low energy, and disappointment.
What actually lies at the core of productivity is your intention and how you link it to your attention…
Because if you're giving your attention to things that you didn't intend to do, then that's not productive…
Your intentions end up powerless.
If you give your attention to activities you never intended to do in the first place, that's when you get to the end of your day wondering why you've got nothing done.
So, we need to redefine productivity because there's always going to be pushback.
And we need to start asking ourselves if we're doing what we need to do versus doing things for the sake of it.
Don't confuse activity with productivity
If you're busy, then you're productive, right?
No, not quite… 
It's not about getting as much done as possible in as little time as possible…
The truth is, it's incredibly easy to do a whole lot and end up not achieving any goals by the end of the day.
For example, if you're a customer service representative who's managed to get the customer inquiries in their inbox down to zero that's a productive day.
But, for a membership site owner with content to create or member inquiries to handle, an empty inbox may not hit the same spot.
In fact, focusing on your emails instead of creating content could be a sign of procrastination…
However, if your intention was to answer emails so you could take a few days off, productivity accomplished!
Bottom line, productivity is subjective day-to-day.
There are no rigid set of rules to guide you…
Instead, we have to get comfortable with that subjectivity and look at productivity in terms of meeting intentions, not just time spent.
How to align your intentions and attention
There are so many plates to spin when running a membership...
Especially for membership owners managing things alone or with a small team… 
So where you do you even start?
Manage the things that get you overwhelmed
Generally, there are three reasons that cause people being overwhelmed:
Overcommitting: To tackle this, you need to prioritize and learn how to say no when it's necessary. You can't do it all, and you shouldn't try to.
Too much choice: This can be a bad thing at times, so it's important to learn how to filter things out. That way, you can look at everything through a clearer
Overload: The world is becoming so fast-paced that it's easy to feel that there aren't enough hours in the day. However, breaking things down to seem more manageable can make your packed schedule seem a little less daunting.
Bonus tip: Try not to overestimate or underestimate what you can do in a given time period. Be honest with yourself, and you'll end with a more effective approach to productivity.
Approach productivity from a more humane standpoint
It's easy to fall into the trap of thinking that productivity is this rigid, systematic concept…
Even the notion of aligning your intentions with your attention can seem a bit overwhelming.
That's to be expected if you're overhauling your productivity system…
But trying different methods of working to find the best solution for you is key…
If you're a to-list driven person you might prefer like mode-based working, where you narrow down the scope of tasks to complete based on your energy levels, the time you available in-between meetings or your general mindset, either by using an app or tags to segment your to-do list…
Or if you're a calendar driven person you could theme your days…
Monday is for focusing marketing tasks, Tuesday is member content and so on… 
And stick to that schedule as much as possible…
You can choose the tasks you work on during those days and anything that doesn't get done can wait until the next week.
Working like this gives your brain an anchor point and lowers decision fatigue in a way that enables you to push forward with different tasks.
This, in turn will help you heighten your attention to the tasks you're working on…
And will redefine your day to make it as productive as possible.
Developing productive habits
If you're thinking about theming a day of the week, approach it like a puzzle…
Think about what you need to make sure your chosen day is set up perfectly…
For example, if you're putting a day aside every week to focus on your content creation, don't take any meetings, limit your time in your community, make sure you have no disruptions from family if you work from home, avoid holidays and so on… 
Then focus on making this day a consistent activity every week…
You don't need to theme seven days of your week, begin with one day and take it from there.
And don't fret if your week doesn't go to plan, theming your days means you can catch up next week, or deal with tasks when working in you're next working in that particular mode.
Project versus tasks
People often get confused between a project and a task and this can have a huge impact on productivity…
So when looking at your list and planning your time, ask yourself…
Is this a project disguised as a task on my to-do list or is it actually a task?
For example, 'build membership website' is not a task that should be on your list as a task as it breaks down into many different elements.
Break your projects down into steps and add those to your to-do list as tasks…
Using the 'build membership website' example, a task would be to install membership plugin…
That's a small element of a much larger project!
And once you've broken the project down into tasks you can add modes to it.
Working like this may not feel natural from the beginning…
So, don't be hard on yourself if something doesn't "click" right away…
But once you get into a routine, you'll see the benefits to you, your working day…
And your membership as a whole!
If you're unsure how to approach productivity, this is where time crafting comes into play.
No matter what you're doing, carefully crafting your time is always important if you want to boost your productivity.
Just take it one step at a time and find what works for you.
If you need some more in-depth advice on how to be more productive in your membership, check out The Starting Six by Mike Vardy.