Facilitating Change Through Difficult Conversations with Carole Copeland Thomas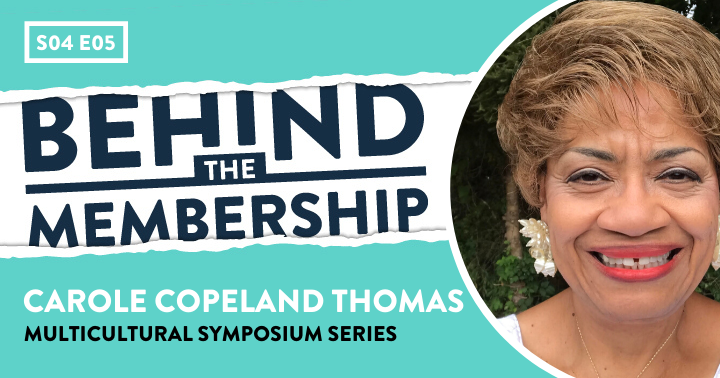 Subscribe to the Podcast Download Transcript
Carole Copeland Thomas, a diversity and inclusion expert, is talking all about her membership site the Multicultural Symposium Series in today's episode of Behind the Membership.
Carole's online membership actually evolved from her long running annual conference with the aim of providing somewhere business owners could have a year round conversation around important topics that relate to becoming a more diverse and inclusive business. 
In this episode we're talking about the importance of Carole's work and the impact it's having, how she's able to keep her membership very low cost and affordable because of corporate sponsors, and how her current focus is on scaling the membership even further.
We also talk about how she combines her offline events and online membership and the monthly webinars that she runs as both a retention and marketing tactic. 
Plus of course much more! 
"The work that I do is pioneer work. Many times it's thankless work…The membership platform provides more of an in depth opportunity for people to feel safe about exploring this topic and also looking at ways that they can navigate the tough choppy waters within their organisations."
Listen in to hear about:
How Carole's online membership evolved from her well established annual conference in order to provide somewhere to have important inclusivity discussions year round 

Why having corporate sponsors allows Carole to keep her membership very low cost and accessible

Mixing offline events and online membership, and how the current pandemic has affected this balance

How Carole makes her member webinars free to attend live and then only available within the membership

How being forced to turn her annual membership conference virtual is actually helping Carole to scale the membership further

Why current racial tensions across the U.S. have made the membership more important than ever and how this has changed Carole's approach

The challenge of being a pioneer and focusing on a topic where the results and impact of your work may not be fully seen in your lifetime.
Connect with Carole:
Thank You For Listening
We really appreciate you chosing to listen to us and for supporting the podcast. If you enjoyed today's show, please share it using the social media buttons on this page.
We would also be eternally grateful if you would consider taking a minute or two to leave an honest review and rating for the show in iTunes. They're extremely helpful when it comes to reaching our audience and we read each and every one personally!
Finally, don't forget to subscribe to the podcast in iTunes to make sure that you never miss an episode