5 Toughest Membership Tech Decisions you Need to Make When Starting Out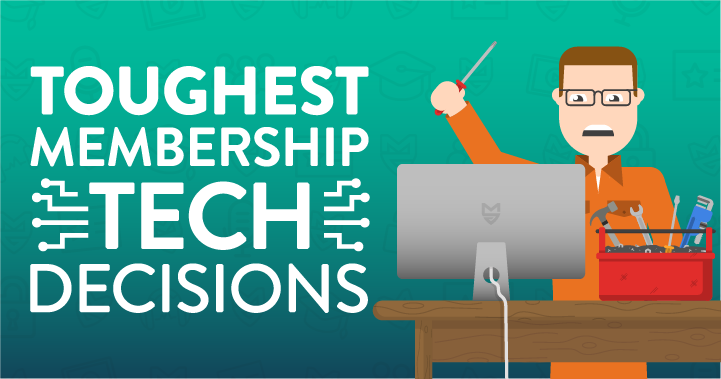 Ready to start building your membership website?
That's great news! 
Now there are some tough membership tech decisions you need to make.
With so many different systems, plugins and tools out there to choose from…
And a lot of questions for you to mull over…
WordPress or hosted platform? 
What should your domain name be? 
Should you build your website yourself or hire a developer? 
It can all get a bit overwhelming…
Which is not surprising when there are so many moving parts to manage!
This is why it's important to do your due diligence to make sure you build a site that's right for you and your prospective members… 
And we're here to help you do just that…
So if you're ready to build your membership website…
Or are currently fleshing out your idea for your membership…
Then this blog is a must read for you.  
Here are some tips on how to tackle five of the toughest membership tech decisions you need to make when starting out:
1. Will your membership website be self-hosted or an online platform?
When it comes to building your membership, there are two routes you can take.
The first is building a self-hosted website.
This is one that you set up, build and install everything yourself through your own web hosting account.
A content management system, plugins, themes, and so on.
You can either do this yourself or hire a developer to do it for you.
The second option is using a third-party hosted platform.
This is where someone manages everything for you…
No need to worry about domains, installation or choosing your software…
You simply pay a fee for access to the tech, sign up and customize the site with your own content…
And you don't need to dive into the more technical side of setting up a website at all.
If you go down the self-hosted route, you'll usually have to choose a content management system (CMS)
This is software that you install onto your web hosting system to control and manage your site…
It's essentially the engine to your membership site.
WordPress is the most popular content management system in the world…
And a big part of that is because it's so easy to customize and install add-ons.
These add-ons will increase the functionality on your website so it can work efficiently as a membership…
You can then download a membership plugin, a contact form plugin, social media buttons, a course plugin, email signup options, and more.
If that sounds complicated, don't worry!
These tools are already built. There's no need for you to do any coding…
You can just install them and customize them to your brand.
If you're new to websites, you may feel a bit intimidated by the thought of setting up a self-hosted site, but it does offer more customization and flexibility.
If you sign up for a platform like Kajabi or Simplero, you'll be limited by the features that they provide.
Ultimately the decision comes down to convenience vs. control…
There are pros and cons to both methods of building your site…
And it's for you to weigh up the two options and decide which one is best.
2. Should you build the website yourself?
This decision rests on whether you go the self-hosted route or use a platform…
If you self-host, should you build your website yourself or hire help?
This decision nine times out of ten comes down to money.
Do you have the budget to hire someone?
Do you have the time or inclination to build your own website?
If you're cash-rich but time-poor, hiring someone might be best.
If you're the opposite, you might need to build it yourself.
The good news is that with WordPress, you don't need web development experience.
There's so much information online to help you out…
And if you're in Membership Academy, there are tons of tutorials to help you build your knowledge.
That's how most  of our members end up building their own websites…
So don't worry if you're not a tech whizz, it's entirely possible to do it yourself.
But if this is not your area of expertise then you're probably not going to enjoy this part of the process…
And might want to hire someone to take care of the membership tech for you.
3. What should your domain name be?
This is probably the most common question that comes up in our free Facebook group and membership community.
What should your domain name/URL/website address be?
There's never an easy answer to this.
It all comes down to personal choice and whether you can find a good domain name available.
A lot of the best ones are already taken!
If you already have a website, you also need to decide whether you should host your membership on a separate domain or not.
For example, with The Membership Guys, our site is used for our blog, podcast, and free resources, but our membership site is Membership Academy.
For us, that was a decision based on branding…
But there are many different reasons to separate them.
Sometimes it's a bit too messy to try and cram everything onto one website.
4. What plugins and themes and other membership tech will you use?
Now it's time to really dig into the details.
Once you've decided whether to go for the self-hosted or platform route, you need to pick what sort of membership tech will go under that.
This comes down to the plugin or theme combination you will use to deliver your membership.
It's another spot where people get stuck, especially with WordPress, because there are so many different options to choose from.
Your choice will come down to requirements, features, functionality, and cost.
It's a good idea to think about the mechanics of your membership model first.
That way, you can find something that fits your needs.
So, ask yourself…
What can my membership not do without?
Do I need different payment processors?
Do I need a built-in community hub?
Is this tool compatible with my email marketing software?
If you're stuck, we've got a comparison chart to help you figure out which plugins are best for you.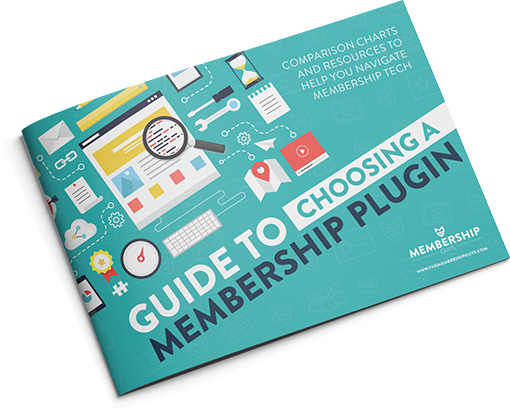 In that, we stack the best WordPress membership plugins side by side and break down all the features they have and don't have.
We also have loads of reviews for these plugins as part of our membership toolkit which is a great resource to help you narrow down your choices.
The one thing I'd say when picking your plugin is…
There is no one size fits all plugin or platform that will be the best for everyone…
It's all down to individual requirements and the functionality you want on your site.
So make sure you pick the right one for you. 
5. Where will your community hub be?
Most online memberships have a community hub where members can ask questions, post messages and comment on discussions.
In the past, this decision has essentially boiled down to two options…
An online forum or a Facebook group…
But these days there are a few more options to add into the mix with other hosted platforms available like Mighty Networks, Circle or Tribe.
You could even use a Slack group or Discord if you want to…
And those are just the external options not hosted via your website. 
Another option for your community is an onsite forum…
This is a section of your website powered by software like BuddyBoss or Buddypress.
There are a lot of different options for you to choose from!
When it comes to adding your community using external software, you don't have to worry about setting it up or maintaining it…
And there's the argument that people may be more likely to join things like a Facebook group or a Slack channel if they already have an account.
On the other hand an internal "on-site" community solution gives you a lot more control…
And engagement will likely be higher because people aren't distracted by cat memes or ads on Facebook!
And them logging in is more intentional. 
The downside is the setup and maintenance…
You'll also need to get a separate set of logins for your members, which can make things a bit more awkward than simply sending someone a Slack or Facebook invite.
There's a lot to weigh up here…
But hopefully the points I've made will make your membership tech decisions a bit easier…
And help you avoid some headaches.
These are some tough issues to navigate pre-launch…
That's because they're about much more than how your site looks and it's functionality…
They directly impact so many different elements of your membership…
From your member experience, to how you manage it… and grow it!
While you can always change your plugins or website after you've started a membership…
It's a lot easier to do your research first and make a more informed decision beforehand.
Good luck!