10 Things to Consider When Choosing Your Membership Plugin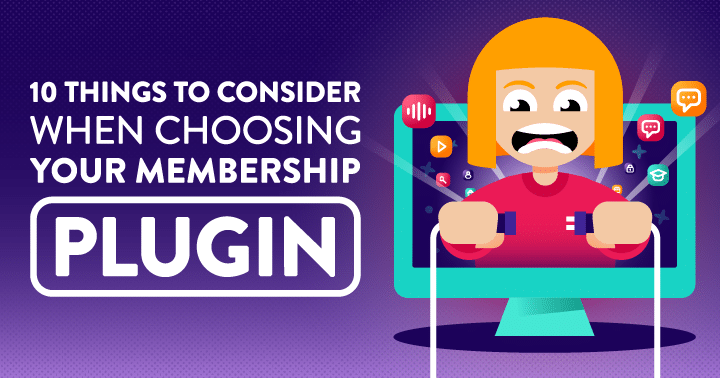 When you first start thinking about creating a membership site, thoughts naturally turn to which membership plugin to use.
There are a lot of choices out there and it's easy to become overwhelmed looking at all the different options and trying to decide which is right for you.
Which often leads to questions like 'which membership plugin should I use?' being asked in public forums like Facebook groups.
The problem with this however, is that most people only have experience of the plugin that they're using. And what works well for someone else may be a terrible choice for you.
So, whilst it certainly doesn't hurt to ask for other people's opinions, any recommendations need to be taken with a pinch of salt and investigated fully.
But that leads to another issue. How do you actually decide whether a membership plugin is right for you? What should your choice be based on?
To help answer that question, here are the 10 features that we think you should consider when choosing your membership plugin.
Membership Levels
There are two different types of membership level:
Tiered – each membership level builds upon the next. So your gold membership automatically has access to all the content of your silver membership level for example.
Distinct – each membership level is completely separate and distinct from one another. So membership B has no automatic access to content from membership A.
So, when it comes to your membership plugin, the first thing to know is if you need your membership levels to be distinct or tiered.
Some plugins can do both, whilst others, like s2Member, will only do one type.
As well as deciding whether your membership levels need to be distinct or tiered, you also need to consider whether you want people to be able to have access to more than one membership level at a time.
If you're selling several different membership products then this is an important consideration as not all membership plugins allow people to have multiple memberships.
Content Dripping
When it comes to your content, will it be available to members straight away, will you be manually adding it during their membership, or do you want to make use of content dripping to automatically time when content is released to members?
Content dripping can be a great way of setting up your content so that it is delivered at specific times to members, which can be useful for both retention and for avoiding content overwhelm.
Most membership plugins offer content dripping but the way they do this varies.
With some options like MemberPress you set the content dripping when you create the content protection, with options like s2Member you use a shortcode, whilst with Wishlist Member you have to create a new membership level for each time you want to drip new content out.
One thing to bear in mind is HOW you want your content to be dripped, with the standard option being for content to be dripped from the date that someone is registered to your site.
However, if you have multiple memberships which each have content dripping and someone joins up to them at different times then this can be a bit problematic.
So some options like MemberPress allow you to set content dripping based on the date that someone registers to a particular membership level instead.
The other option that you might need, particularly if you're looking for a membership plugin to protect a course, is the option to drip content on a specific date, rather than from the time of registration. Only a few membership plugins have this feature currently, including Wishlist Member, Digital Access Pass and MemberPress.
Payment Options
Pretty much all membership plugins will integrate with PayPal, and these days most will also integrate with Stripe, although this might require an additional add-on for some.
The other payment options available though can really vary from plugin to plugin, so if you're looking to use an alternative option then this can be a deciding factor in which plugin you choose.
And, if you'd like to connect with a shopping cart or ecommerce software (such as WooCommerce or SamCart), rather than a simple payment processor then your options can be even more limited.
This is actually an area where Wishlist Member shines, offering far more payment integration options than other plugins. So if you're looking to use a less common payment option then Wishlist is a good place to start.
Email Service Options
Similar to payment options, the email marketing service that you use can impact on your choice of membership plugin.
If you're using one of the old stalwarts like Aweber or Mailchimp then you shouldn't have any problems.
However newer options like ActiveCampaign and ConvertKit still aren't common integrations with all membership plugins, so if you're using a newer option check that it's supported by your chosen plugin.
Also check that the integration with your email service is to the level that you need, for example some plugins will add people to a list but not remove them when they cancel.
With email services it's not the end of the world if there isn't a direct integration, it may be that you can use Zapier or a similar service to add people to your list in a different way instead.  So, if the only fault with a plugin is that it doesn't use your email service, consider if there is an alternative.
Ideally though you are going to find a membership plugin that works in conjunction with your service, as whilst it's not essential it is definitely preferable and will make your life much easier.
Self Service Accounts
We're big fans of members being able to manage their own accounts in order to do things like change their billing details or even cancel their membership.
Not only does this provide a much more user friendly experience for the member, but it also cuts down on your customer service needs massively as well.
Not all membership plugins have the ability for members to 'self-service' their accounts like this however, and with some you don't get much more than the ability to change your password.
Whilst this doesn't need to be a dealbreaker, if you narrow things down to two plugin choices and one has the ability for self-service and the other doesn't, I'd suggest picking the option that does.
Integrations
Think about your membership site as a whole. Do you want any features such as an onsite forum, an affiliate program, a shop or even full course features?
If you do then ensure that you find a membership plugin that will work with any other tools that you want to use, whether it's directly or via an add-on.
Most membership plugins will mention any direct integrations on their sales page, but it's always worth googling your possible membership plugin plus the additional tool and seeing if there are other integration options or workarounds available too.
Having tools that all work together smoothly will definitely make your life much easier and save you from a lot of tech frustration!
Trials, Discounts & Coupons
Do you want to offer a free or low cost trial for your membership? How about the ability to run promotional discounts or give out coupon codes?
Whilst most membership plugins have the option to offer a trial these days, it's worth making sure that you can run the kind of trial you're thinking of as some are limited, for example only allowing free for 30 days.
With coupons or discounts then again, most membership plugins have some capacity for this, although with some it may require an add-on or a particular payment processor.
So, make sure that your chosen plugin will enable you to run any trials and promotions that you plan to use in your membership marketing.
And if you want to offer upsells, particularly one-click upsells, then your options are a lot more limited, and MemberMouse is the first choice for this.
Email Notifications
Whilst you'll typically do most of your member communications through your email marketing service, there are certain emails that it's helpful for your membership plugin to send.
These include:
Welcome email (including account details)

Failed payment email

Cancelled account email

Account renewal email

Credit card expiring email
All membership plugins should send an initial email on sign-up but many don't have anything in place for other kinds of notifications.
Whilst this isn't hugely important compared to some of the other items on this list, it will make your life a lot easier. If you're running a monthly membership in particular then being able to notify people of failed payments or a credit card that's about to expire automatically can really save you a lot of time and help to avoid unintentional cancellations due to payment issues.
So, consider this a nice to have rather than an essential, but as with self-service accounts, if you have two options and one has this, it can be used a deciding factor.
Member Stats & Reports
When you're running a membership site there are certain numbers that you want to track to ensure that everything is going smoothly.
This includes thing like:
New members

Cancellations

Churn rate

Growth rate

Money made

Lifetime member value
Unfortunately this is an area where most membership plugins are currently lacking, but some options that do include some degree of reporting are Digital Access Pass, MemberPress, MemberMouse and Paid Memberships Pro.
If you can choose a membership plugin that gives you even a basic idea of the health of your membership site, you'll find this a great help.
Ease of Use
How easy a plugin is to set up can be pretty subjective depending on your level of tech experience, but there are definitely options which have much more of a learning curve than others, or that are more suited to people with development experience.
This is especially the case if you're looking to add features that aren't available 'out of the box' or if you're looking to integrate a lot of other tools as well.
The good news though is that most membership plugins are fairly simple to maintain once they are actually up and running.
So, if the tech side worries you, or the perfect membership plugin for your needs is on the more complicated side, then rather than write it off, it may be worth hiring someone to set things up for you instead and then taking on the management from there.
What about cost?
So, there's the 10 features we think you should consider when deciding on your membership plugin, although there may be other factors that are important to you as well.
You may have noticed that cost is not one of the considerations on the list though, and that's because we don't believe that cost should be a deciding factor in your membership plugin choice.
Whilst cost does vary widely, with everything from free to $200 or more a year available, price doesn't necessarily indicate quality. And at the same time if you're creating a site that is going to be bringing in money, it's worth investing in the best tools for the job.
Deciding on price can often lead to a false start or the frustration of not having the best tech for your needs, or even worse, having to move to another system later on.
So, cost shouldn't be one of the main features that you look for in your membership plugin. Consider the above features first and then, if needed, use price to narrow your options.
Now that you know the features to consider, it's time to go and find your perfect membership plugin!