Our Takeaways from Social Media Marketing World 2016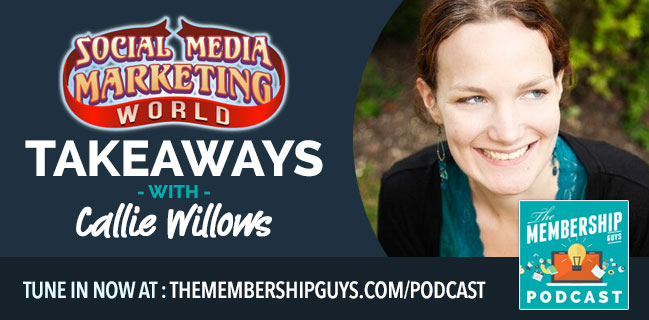 Fresh on the back of attending Social Media Marketing World 2016, we're sharing our top takeaways from the event for creating content and promoting your membership site through social channels.
PLUS – you guys asked for it… after 8 months, the elusive Callie Willows finally joins me on The Membership Guys Podcast!
Listen to the latest episode to hear us discuss our 4 biggest lessons from the event…
In this episode:
2016 is the year of ____ _____
Organic reach is dead?
You need to be more ________ with your content
Stop focusing on _________ and _____
If you're part of the Membership Academy we'll be running an in-depth live training session in early May where we deep-dive into some of the specifics from individual sessions and workshops we attended at Social Media Marketing World.
If you're not an Academy member, click here to find out more and to join before the next live training session.
Want to know more about marketing your membership? Check these out…
Thank You For Listening
We really appreciate you chosing to listen to us and for supporting the podcast. If you enjoyed today's show, please share it using the social media buttons on this page.
We would also be eternally grateful if you would consider taking a minute or two to leave an honest review and rating for the show in iTunes. They're extremely helpful when it comes to reaching our audience and we read each and every one personally!
Finally, don't forget to subscribe to the podcast in iTunes to make sure that you never miss an episode