5 Options For Starting a Membership BEFORE You've Grown Your Audience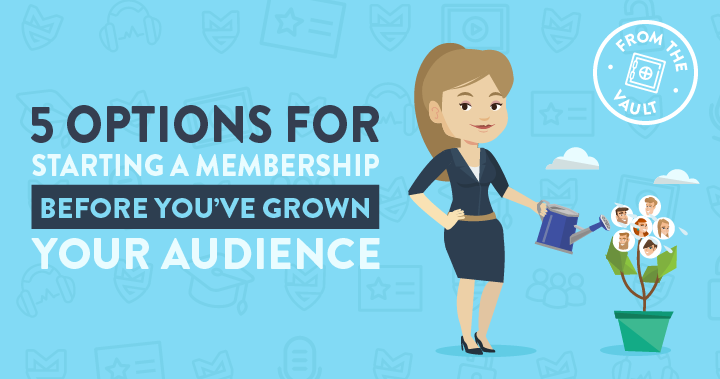 Play Podcast Episode Subscribe on iTunes
"Build it and they will come" is one of the best-sounding and worst-performing pieces of advice you will ever receive.
Successful memberships don't just happen because they deserve it, they happen because you've executed your plan properly.
So, if you have that golden idea – the one that you just know is a winner – and you want to start a membership, but haven't yet got the audience quite yet, here are five tactics to help you plan your way to success.
1. Validate that your audience exists
Before you get ahead of yourself, your great idea may not be quite as great as you think.
Or, it might be great, but there just might not be a market for it.
Sorry to start on such a downer.
What's important is to be sure that you're not creating a solution to a problem that doesn't exist.
Take some time to analyze your idea – did it just came into your head or did you see that people were asking for that solution?
Have you spoken to other people about it?
And no, your mum and your partner aren't to be trusted in this instance!
You need to reach out to the people who will actually use your membership, not just the people who want you to be happy and follow your dreams.
It's time for some honesty. How confident are you that there are people out there who are going to pay for what you're offering?
You don't need your own audience to work this out, so don't worry if you don't have an email list or a Facebook following.
You do, however, need to find proof that your market exists.
That could mean finding people offering something similar to you, tapping into the conversations your target market is having on Twitter and forums, or finding examples of people asking for your solution to their problem.
Not building your audience because you're early in your journey is one thing – you can work around that; but not being able to build your audience because a market simply doesn't exist is a totally different kettle of fish!
2. Focus on audience growth before business growth
You may find that, when you reflect on it, it's smarter to pump the brakes and invest time in growing your audience before you push forward with plans to build your membership business.
That doesn't mean you should bin all your plans and stop trying, it just means stepping back and marketing the content you would be sharing through your membership platform in a slightly different way. And if you don't know what kind of content you should be sharing with your members, we've got you covered.
Rather than locking your content away for members that don't exist yet, use it to grow your audience.
Now, there are three different approaches you can take to grow an audience from scratch, each with their merits and drawbacks:
Build your audience
Pros: Low cost, reliable results
Cons: Time-consuming, slow-moving
How: Turn your expert knowledge – which is ultimately the base of your membership – into different types of content that will help you build your audience.
Answer questions through your content and then offer a lead magnet – something that helps dig a bit deeper into what they've already enjoyed. For example, an eBook that explains an article in more detail or an extended episode of a podcast or video.
Make these extras exclusively available to people who sign up to your email list, and before you know it you should create a steady stream of people who are saying "I want more of this".
"Event marketing" can be particularly effective for accelerating audience growth and email list building. For example, running a free online challenge, a webinar or an online summit – something people can only engage with at a specific time. Something that's super specific but super valuable, which solves your audiences problems and potentially leads into what you'll offer in your membership.
By using content marketing to build your audience organically, you're proving to that audience that you can be trusted to provide value and solve their problems, so that when you launch it's a no brainer for them to take the next steps with you.
Borrow your audience
Pros: Potentially high exposure
Cons: Takes some time, and commissions will eat into your profit
How: Partnering up with established names in your market is a great way to get exposure to the shared audience you're trying to reach.
And it doesn't just have to be the "big guns" – micro-influencers are prime candidates for this approach. They may not be the biggest names around, but they've got the one thing you haven't – an audience! Reach out to these people and propose a joint venture that's mutually beneficial and enables you to promote your membership to their audience.
We've also talked before about building affiliate relationships, but it's so effective at the early stages. It's important to make sure and joint venture partners and affiliates are in it for the right reasons, though. You want the members they refer to be around for the long run and have a genuine interest.
If you can tap into other people's audiences with meaningful, genuine content, you can unlock a huge audience of your own.
Buy your audience
Pros: Quick
Cons: High cost, hard-to-estimate results
How: Now I'm not talking about buying email lists or subscribers here, I just don't believe that kind of system works effectively for memberships. And we can leave the ethical question for an evening in the pub! I'm talking about paid digital advertising.
Advertising on Google and Facebook will help you reach more people than even the best content strategy sprinkled with fairy dust could. But numbers aren't everything – people who are served your ads will be less receptive and more skeptical than a Twitter follower who sees you sharing amazing content over and over.
Nevertheless, paid digital advertising will get you in front of a lot of people quickly – and it can be customized. You can use the Facebook Pixel to track who's previously visited your website from ads and then serve them different content.
That means you can show conversion-focused content to people who spent five minutes on your sales page and something softer to people who have never heard of you before.
3. Aim higher with a big-ticket product
It sounds a bit contradictory, but you can find success by offering something even bigger and even shinier than your membership.
Online memberships are a numbers game. They're all about "one to many" – and in order to reach that "many", you need a decent sized audience.
However if you offer something that's small by design, then you don't need as big an audience to work with.
By offering a tighter, more exclusive, higher-value product – such as a coaching program – you give people a greater amount of support and time than they would get from your membership. It's exclusive, high-value (for them), and creates concrete social proof (for you).
If you have a dozen people who are interested in what you're offering, you can dedicate yourself to giving them a great experience to eventually reach other people.
If you're doing it right, they should be happy customers. And happy customers mean compelling case studies and testimonials!
This approach also makes it easier to hit your financial goals or even just break even without the need to attract large numbers of people.
Again, it moves things away from playing the numbers game.
That takes the pressure off and that gives you additional flexibility to take the time that you need to take to grow your audience and to actually develop your fully fledged membership.
The great thing about this is that you can run it side by side with your membership further down the road. One can be an upsell to the other.
You also benefit by gaining genuine, meaningful insight into what you do and how you do it.
It's a win-win-win – your product, your members' experience, and your future members' experience will all be improved.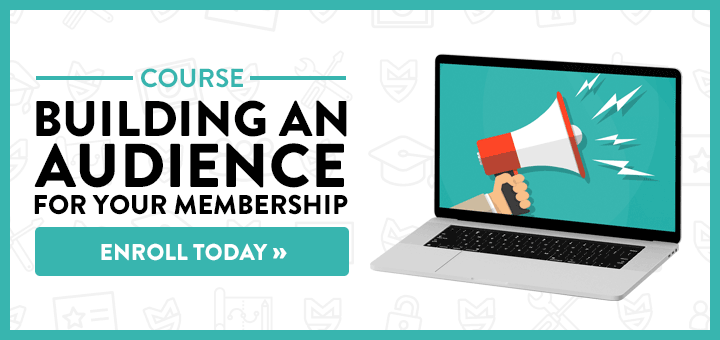 4. A soft launch is still a launch
There's nothing wrong with creating a stripped-back version of your membership and releasing it quietly into the world.
In fact, we've talked about launching a Minimum Value Product (MVP) before.
This option is perfect if you have a small audience already established, rather than if you're starting completely from scratch. It's an opportunity to tap into your network – previous colleagues, industry connections, past clients – to create a small starter membership.
Your soft launch membership can feature reduced content and, as a result, run at a reduced cost to members. You'll still be bringing some money in until your full launch, but the real value you'll get is in taking your idea out of your head and putting it to the test. You can refine your product in a safer environment in real-time.
You can be more hands-on with your members and – similarly to our last idea – you can work harder and more closely with them to produce good results.
This can then translate into great social proof in the form of case studies and testimonials.
When you do have a full launch, your soft launch will have made your membership better.
If you've already had people involved, looking under the engine and challenging you, you'll have fewer surprises when you launch properly.
5. Consider running a free membership
I know, I know. The only advice worse than "build it and they will come" is "work for free when you start out" – but this is slightly different.
This is about giving people a preview of what your membership is really like. To get them on your mailing list, signed up with accounts, participating in the community, and developing their connection with you and your membership.
This is essentially taking the "build an audience" advice from earlier but making people sign up for it.
This is perfect if you're partway to building an established audience and have more content to share.
There's a strange psychological effect that makes free things feel more valuable or premium if you have to sign up for it. Anyone can just read your Facebook posts and click a link, but if you're receiving that link because you're a member – you're getting something exclusive.
A word of warning – don't make the free version so valuable that people don't need to convert to a paid membership!
Give them enough to show how good your membership is but leave enough out to encourage them to become full members.
Once you develop your membership offering more fully, you can upsell your free members. It should be one of the easiest sales you make.
Find the right way for you
As you can see from those five tips for starting a membership before you've grown your audience, there are lots of different ways you can approach this.
Some you can do from scratch – when not a single soul knows you or what you do – and others require you to be a little way down the line.
The beauty of this, and the beauty of memberships in general, is that there it isn't a one-size-fits-all process. You can take bits from each approach and make it work for your membership, your audience, and your market.
Which approach are you going to take to start your membership before you've grown your audience? Come and join the conversation inside our Free Facebook group and let us know what you're planning.