12 Types of Content To Include In Your Membership Site
Membership websites are a value exchange.
As long as you keep delivering value to your members – in the form of content, resources and ongoing investment in your product – they'll keep giving value to you in the form of their continued subscription payments.
So what content can you actually include in your membership in order to ensure you keep up your side of the bargain?
Courses
Online courses are among the most common type of content you'll find inside a membership site.
If you're teaching one or more topics with a specific start and end point, as well as defined outcomes and learning objectives then structuring this as a course will serve your members well.
Whether they're short courses around 30 minutes or so in length; or epic beasts spanning multiple hours; providing a selection of courses to help them to achieve their goals is what's going to draw new members in.
Live Webinars
If you don't want to create your content upfront, or yours is a topic not best suited to creating courses; then running regular live training calls or webinars can be a great way of delivering value to your members.
The webinar format is also a great way of encouraging discussion among attendees; and it's also well suited to bringing in guest experts too – exposing members to a wider variety of expertise while lightening your content-creation workload.
Member Calls
Another live format that can work extremely well is a member Q&A call, or "mastermind" call.
The actual structure and format can vary according to the type of topic or community you have – but essentially these calls are primarily about your members, giving them the opportunity to ask questions, highlighting and sharing their successes and so on.
There is a variety of software solutions to make your member calls highly interactive, including GoToWebinar, Google Hangouts and Blab, all of which allow your members to actually speak to you live and in some cases appear on camera too.
Content Archives
Of course the downside of the live content is that it's real-time; you need to attend live to get the most from it.
To counteract this you should be recording these live sessions and adding them to some sort of "archive" inside your membership.
Not only does this ensure that people who miss the live session don't lose out, but it also means that as time goes on you're building an extremely valuable back catalogue of material which becomes accessible to any new member who joins – increasing the value of your membership offering.
Community Forum
We regularly talk about the importance of community.
It's what keeps members subscribed for months and years on end – long past the point which they'll need your course or training content.
Every membership website should have some form of community element – whether it's a full blown forum or just a discussion section for your training material.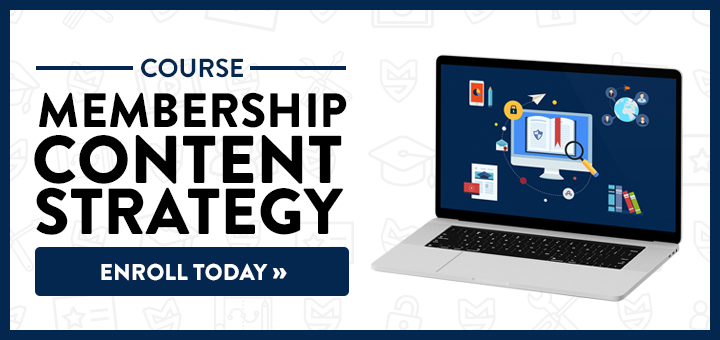 Downloads
Offering exclusive downloads for your members – particularly if it's software, resources or tools that they either would not be able to access elsewhere or would need to pay a premium for.
In some cases the convenience factor of simply packaging up resources that people would have to spend a lot of time gathering themselves is enough to add extra value.
Within the Membership Academy we've developed WordPress plugins for certain features that are only available for download to members. We also make all of the "lead magnets" that the public need to opt-in to our email list for into our resources section too, to save our members time and hassle.
Member Perks
With the best courses, training material and community in the world, a lot of the actual member value is down to perception.
Even when you're teaching people to get a specific tangible result, you're still relying on them doing the actual work in order to see a return.
However by offering member exclusive discounts, perks and offers you can directly put an indisputable dollar value on what's inside your membership.
If someone can save more on the software, services and products they need in their business or for their hobbies than they actually have to spend to be part of your membership then the decision to join becomes a no-brainer.
Standalone content
Not every piece of membership content needs to be a full blown course or a live session.
Standalone articles, tutorial, how-to's or "mini-courses" have a lot of value too. Particularly for solving very specific problems, or for a topic such as keeping fit or cookery where individual content pieces make more sense (i.e. recipes, workout routines etc)
Depending on your market or topic; a library of standalone content can have massive value to members – or in some cases you can use it to supplement broader courses with more in-depth supporting material.
Cheat-sheets
Sometimes people want to read the whole book, but sometimes they just want the cliff-notes.
Providing quick reference material such as "cheat-sheets", checklists and the like can help people to quickly take action and easily refer back to key information at any time.
These are especially useful when it comes to teaching or instilling a process or a system, where your members just want to pattern or model their own activity on an established approach.
Workbooks & Action Plans
There's a great quote by Herbert Spencer that says "The great aim of education is not knowledge, but action" – and this is something which applies to your membership.
People will join your site in order to achieve or accomplish something. Rarely is the aim to simply increase their knowledge for the sake of it – they want to get something, achieve a goal or get a result. In order to do that, they need to put what they learn into practice.
Providing worksheets, action plans and exercises as key content within your membership is a great way of helping them to do that.
Interviews
Arranging interviews with key figures in your industry, or experts in subjects that will help your members is a great way of setting your product apart from the competition.
Especially if these interviews are in-depth and cover specific strategies, techniques and insight, rather than merely fluff pieces or promotional opportunities.
Interviews can be leveraged for both your member content and your public content marketing too – you can easily take a segment of an interview and release it on your blog or podcast; reserving the full version as a member-only exclusive.
Member News
Membership content doesn't all have to be courses and community – day to day "filler" content is an important and often overlooked area.
Regularly reporting the latest news from your membership – keeping people up to date on new content additions and development to your membership, rounding up the hottest community discussions, letting members know what's on the horizon and shining the spotlight on member successes are all worth doing.
This could be as simple as a weekly email digest, or you can go a step further and release a weekly or monthly member news video. You could even publish this publicly to show non-members what they're missing.
The most successful membership sites have a mix of the sort of content we discuss above.
It's important to get the balance right between offering enough variety, and overwhelming people with too much content.
The key is to focus on the problem you're solving and identify they best way to deliver the solution – everything stems from there.
Thank You For Listening
We really appreciate you chosing to listen to us and for supporting the podcast. If you enjoyed today's show, please share it using the social media buttons on this page.
We would also be eternally grateful if you would consider taking a minute or two to leave an honest review and rating for the show in iTunes. They're extremely helpful when it comes to reaching our audience and we read each and every one personally!
Finally, don't forget to subscribe to the podcast in iTunes to make sure that you never miss an episode