6 Areas to Focus on When Scaling Your Membership Business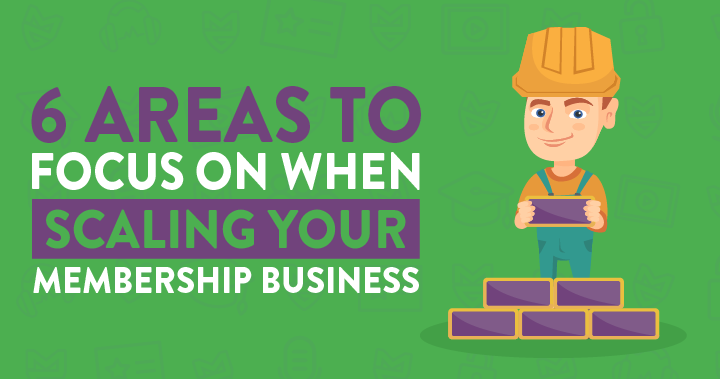 In the early days of running your membership, you'll find yourself preoccupied with the day to day, short-term stuff.
How many new members did we get this week?
Have we had any cancellations?
Do I have enough time to get this new piece of content out to members?
However once things have settled and stabilised then it's time to think bigger in terms of how you're going to scale and grow your membership over the long term.
When that time inevitably arrives, here are the 6 key areas you'll need to focus on:
Getting to grips with your numbers
Knowing your numbers is key to running and scaling a successful membership website.
If you don't have a way of tracking your key performance indicators (KPIs)  – or worse, if you don't know what they are – then you have no way of knowing what's working, what's not, and which areas of your business require attention.
Implement systems and processes that enable you to drill down into things like your growth rate, churn, member lifetime value and more in order to enable you to address problem areas, predict future growth and make better decisions as you scale your membership.
Streamlining your membership content production
If you're planning on adding new content to your membership on an ongoing basis, you'll discover that this quickly becomes one of the most time-consuming parts of your business.
As you're scaling your membership, you need to become more organized and streamlined when it comes to content production; batching the creation of new content, implementing robust processes and outsourcing certain tasks to specialists.
Growing your team
If you want your membership to grow, you have to accept that there's only so far you can go when carrying everything on your own back and trying to do every task in your business.
At some point you'll need to expand your team, either by outsourcing specialist tasks or employing part time or full time staff to fill key roles.
As you scale, your time needs to be spent focusing on the bigger picture stuff, as well as the aspects of your membership that only you can do; so it serves nobody if you're spending hours uploading content, or trying to figure out how to redesign your dashboard when you could pay others to do those jobs.
Handling the growth of your community
In the early days of running your membership, chances are that you will have known every member in your community and engaged with them on a daily basis.
As things start scaling this becomes less realistic, and with more members you'll find yourself facing a number of new challenges that come when you have a wider range of personalities and characters to deal with.
Figuring out how to handle your community, how to set boundaries while staying involved and engaged, and appointing roles such as community managers and moderators will be key.
Adding additional revenue channels
While a well-run membership will cater to the needs of a broad segment of your audience, there will always be people who want or need more from you in terms of access, support or additional products and services.
A big part of your strategy to scale your membership business will be exploring the opportunities to further or better serve your audience in ways that open up additional revenue channels.
This could be the provision of a done-for-you service, running live events, offering additional membership levels or a range of other solutions.
Solidifying your marketing strategy
For your business to scale effective, you can't be continuously chopping and changing your marketing activity.
You need to settle on the proven tactics that work for you, shore up your sales funnels, content marketing strategy and so on rather than constantly throwing everything at the wall and seeing what sticks.
While it's important to never rest on your laurels, you'll get a lot further if you're able to spend your time fine tuning the things that you know will move the needle rather than jumping on every new marketing idea that comes along.
It's never too early to start thinking about these core areas of your business, so even if you're early in your membership journey then you can start to build a foundation for scaling things up in the future.
Thank You For Listening
We really appreciate you chosing to listen to us and for supporting the podcast. If you enjoyed today's show, please share it using the social media buttons on this page.
We would also be eternally grateful if you would consider taking a minute or two to leave an honest review and rating for the show in iTunes. They're extremely helpful when it comes to reaching our audience and we read each and every one personally!
Finally, don't forget to subscribe to the podcast in iTunes to make sure that you never miss an episode