8 Simple Ways to Add a Personal Touch to your Membership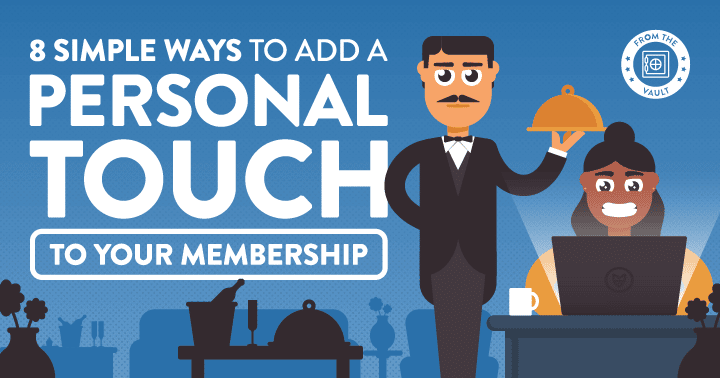 Subscribe to the Podcast Download Transcript
One of the best things about a membership is that it's a one-to-many model…
Being able to serve your audience on a larger scale is what attracts many people to this type of business – however it does come at a cost!
The bigger your membership grows, the more difficult it is to create a personal connection with individual members.
Forming deeper relationships makes it more likely for members to stick around in the long-term…
Plus, it helps your membership to stand out from the competition!
So, how can you do this when you have hundreds or thousands of people to serve?…
Here, we share 8 simple ways you can add a personal touch to your membership.
1. Send short personal videos to your members
Sending simple recorded videos to your members is a great way to deliver a personal touch.
One of the main reasons it works so well is because it's unexpected…
Let's say you go and buy a Tesla – you don't expect to get a private video from Elon Musk!
Well, it's the same thing with a membership…
Even a 30-second, well-rehearsed message can deliver maximum value!
You can send a short video to welcome new members and when someone:
Celebrates a birthday
Has a big achievement
Is coming up for a yearly renewal
Has renewed their membership
Has been inactive in your community for a while (particularly if they've previously been an active member)
This is something we've done in our own membership using tools like Bonjoro and BombBomb…
It's so effortless to do but the response you receive is HUGE!
2. Have a questionnaire for new members
Ask every new member joining your site to complete a questionnaire…
This is a good opportunity to get some key information about what their needs are.
You can then personally email people back and answer any questions that they have…
And direct people to appropriate content depending on their questionnaire answers!
When people join your membership, they're likely to be looking around your site trying to figure out where the best place to start is…
By directing them to the content that's going to help them the most, you're giving them a better chance of getting results….
The sooner that somebody starts getting results, the more likely it is that they're going to stick around for months or years to come!
To add a questionnaire, you can embed a free Google form to your site, or you can use a paid plug-in called Gravity Forms…
This is a tool we recommend as you can easily direct people to different pages on your website, depending on their survey responses.
If you're an Academy member, we have a tutorial for this plug-in inside the training library.
But whichever tool you decide to use, adding a new member questionnaire is a useful part of the onboarding process to add a personal touch!
3. Use an in-app messaging system
An in-app messaging system like Intercom or Drift can be pre-programmed to send messages based on member activity within your site.
There's a degree of personalization in that because it's reactive to individual activity and engagement…
But where you really get that personal touch is through the features these apps have!
You can use Intercom or Drift as a messenger tool within your membership site, so members can contact you and reply to the messages you send them…
These tools also have controls for out of hours messages too, so there's no need to worry about not being responsive when you're not working…
It's an excellent way to communicate with your members outside of email!
4. Have an introduction section in your forum
If you're using forum software like Invision Community, consider having a dedicated section where new members can introduce themselves to the community.
Point all new members to that section and encourage them to introduce themselves as part of your onboarding strategy…
If people are struggling to write their introduction post, you could give them a template featuring a set of questions to answer…
Have this pinned to the top of your introduction section so it's easy to see!
This allows you to participate in personal conversation with them, and you'll get other members of your community coming into these introduction threads and saying hello too – that's an amazing feeling for somebody new!
Remember, members come for the content, and they stay for the community, so this is a great way to engage them with that early on.
5. Create a private coaching section
Software like Invision Community also enables you to create a private coaching section within your forum…
This is a section where members can only view a thread that they have started whereas you as an admin can see every thread…
It's going to bring people out of the woodwork who don't feel comfortable participating in an open forum environment…
That's going to result in more transparency…
And of course, a much greater personal connection!
Your experience is still the same as answering questions posted in the open areas of your membership…
But the potential value of privacy and personal attention you provide is HUGE for members.
The only downside for you, is that it creates a little more work – you don't need to answer all open forum posts as your members are going to weigh in – with a private coaching section, it's all on you!
Obviously, if you're spending hours just on coaching, then it's not going to work…
But if you can do it without dramatically changing your day-to-day routine…
The payoff is going to be massive for both you and your members!
6. Have regular live coaching calls
Live coaching calls, where you're one-on-one with members of your community, are a fantastic way of giving individual attention in a highly leveraged way..
That's because your community is going to be in the audience – they get value from observing somebody else being coached!
A lot of what you discuss during these calls will be relatable to many of your members…
And it's an opportunity for them to ask questions or make suggestions, enhancing the coaching you've done.
The way in which this works is that you'll do live coaching calls with one member per week (or month) for 30-minutes to an hour at a time.
When you're doing these kinds of calls, you can open the floor up to input from members who are watching the call live…
So, you get to combine that highly personal experience while including your wider member base.
Now, these calls are a time constraint – and you may have an audience which restricts the type of issues that are going to be brought to the table…
But they can work very well as a way of adding a personal touch to your membership!
7. Have a regular member spotlight
Having a member spotlight can be inspirational to others within your community…
You can do this in several ways, such as:
A monthly blog post or video
A forum post inside your membership
Sending out a special prize or gift card
One way we do this is by highlighting member wins on our podcast and blog for Behind The Membership.
You can give your members recognition for doing good things, their achievements, their contributions etc…
It's easy to do but it adds such a feel-good vibe within your community – and you're adding a simple personal touch!
8. Get on camera more
Getting on camera is the easiest way to establish more of a personal presence.
There are plenty of ways in which you can do this…
To build that personal connection right away, be on camera for your welcome videos…
That means the first thing someone sees when they're joining your membership is you!
If you're doing live Q&A calls, do them on camera instead of using a PowerPoint presentation where it's just going to be words on a screen…
If you're doing webinars, go on camera for the first few minutes – and when you open the floor to questions at the end, get back on camera!
If you need to explain complex stuff so having text on screen is the best way of doing it, consider recording yourself on introductions and maybe some lessons within your courses.
Being more visible by putting yourself into membership content – not just educational content but the content you use for onboarding, when communicating with members, welcome videos, tour videos etc – increases the chance of people forming that connection to you!
When people feel like they know you, it deepens the relationship that a person has with your membership and your brand…
So, it's not just another membership they're part of, it's a community they feel connected to!
To conclude…
Making a shift to include some of these strategies can easily deepen the personal touch you have with your members…
Some methods require more time than others, but we guarantee that the payoff you have from it will be worth the effort!
Thank You For Listening
We really appreciate you chosing to listen to us and for supporting the podcast. If you enjoyed today's show, please share it using the social media buttons on this page.
We would also be eternally grateful if you would consider taking a minute or two to leave an honest review and rating for the show in iTunes. They're extremely helpful when it comes to reaching our audience and we read each and every one personally!
Finally, don't forget to subscribe to the podcast in iTunes to make sure that you never miss an episode