How to Create an Extraordinary Member Experience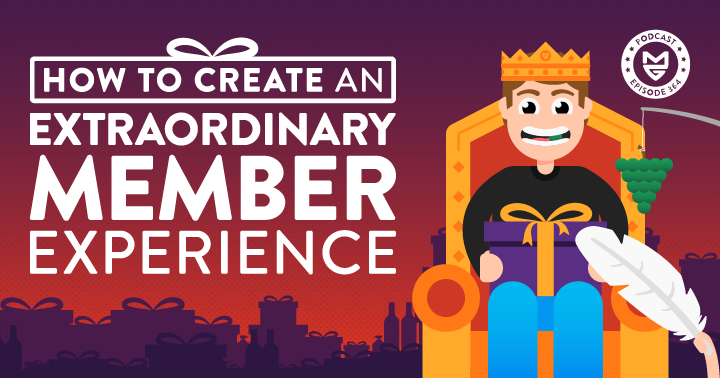 Imagine this. Your members are fully engaged with your content in your membership site, attending your live calls, talking to one another in your forum…
And most importantly reaping the rewards of being part of your community by achieving awesome results…
That's the dream, right? 
Believe it or not, this dream can become a reality….
And it all starts with you delivering an extraordinary member experience.
Doing so will not only create loyal and engaged members, it will also turn those members into advocates…
And as we always say, happy members are your absolute best marketing asset!
So what can you do to achieve this? Let's find out… 
Member experience begins with the first four weeks
This is a critical period for most memberships, because how your members behave during this time dictates their future with you and your site.
So right from day one, you need to encourage your members to develop good habits…
You want them to login regularly, know how to navigate your site, consume your content, get involved in conversations in your forum and start making progress towards achieving their goals. 
In other words, you want them to get value from your site from the outset.
The trick is to never assume that your members know how to get value from what you're delivering.
It's entirely up to you to show them how to get the most from your membership.
So in the first four weeks there are five things you need to do to help members develop these habits…
1. Make your members feel reassured
It's a whole new experience for your members.
So you need them to feel reassured that your membership is the right place for them to be, that it's going to help them make a transformation and meet their goals.
You can do this through your thank you page, welcome email, and the initial impressions people get when they log in to your site or dashboard.
This all helps someone to feel reassured that joining your membership site was a good decision…
And more importantly, it makes them want to learn more about you and what your membership has to offer.
2. Give your members value for their money
This is about your membership offering…
Whether the content, community, resources and deliverables meets member expectations and delivers on what was promised before the sale.
You want your members to feel like they're not only receiving value now, but that they're going to continue receiving it in the future…
And this is the time to set the scene for that positive experience that offers value for money.
3. Link your deliverables to tangible results
You also want members to feel like your membership will help them get the results they desire…
After all, if they don't feel like this is achievable, then there's no reason for them to stick around.
A great way to do this from the start is to provide something like a roadmap or pathway through your site.
This is a clear way to show them how they'll get from point A to Z.
You could also throw in a quick win that gets them off to a good start and gives them that momentum to keep going. 
4. Promote the end result
Take a second to think about what your members actually signed up for…
Then, periodically remind them of the goals they'll reach and how your membership will help them reach them.
Go as far as to point out the content that's going to help them get the results they want.
You might even want to showcase member wins and achievements to everyone to remind them of what's possible.
5. Make your members feel acknowledged
A member who feels seen is more likely to stick around for the long run.
They want to feel a connection with you and other members and like they're a valued part of your community.
So, this is where your community approach comes in.
Your community is where you first get them engaged and connected with others.
This could be through things like personalized welcome videos or even messages that invite them to get in touch with you or post in a forum.
Also, be sure to encourage new members to connect with others through things like a welcome board. 
Different approaches to enriching the member experience
If you've done the five actions outlined above, your members are less likely to cancel their subscriptions and will get a better overall experience. 
But how do you expand on this to enrich their experience even further?
You could take the bare minimum approach, which involves:
A thank you page, which provides a warm welcome

 

A tool that shows members around the site and shows them how to use everything on offer
Some first steps to help give them get that quick win and get that momentum going
Follow all this up with an email sequence that highlights your core features
This is good…
BUT good isn't really good enough anymore, especially when it comes to creating an extraordinary member experience.   
In this day and age, where the member onboarding experience relies heavily on email- which can have lower than 50% open rates – there's a good chance some of your members don't actually see your emails…
And that's why we, as membership owners, need to up our game to keep members engaged… 
Here are some ideas to help you do that:
Adopt a multi-channel approach, so you're not just relying on email. Think apps, chatbots, videos and calls.
Tailor your recommendations and provide guidance, especially if there's tons of content at your members' disposal. Segmentation and a recommendation engine are the best ways to do this.

 

Have fun with it and add elements of surprise to the process because this is what will make the experience stick.
Deliver your onboarding as a course. While this isn't particularly tailored or personalized, it arms new members with all the information they need to get started.
Have a bit of a "pattern interrupt." Perhaps you could send them something in the post like welcome packs, or offer stickers and badges to give them a sense of achievement. Something that shakes things up and is a little different.
Also, look at Facebook retargeting for things that you really want your members to see i.e. new content, news and announcements and key onboarding messages.
This may not seem like it'll make much difference on paper…
But it has a huge impact on the effectiveness of your onboarding and the new member experience that you're providing.
Remember to think long-term about the member experience…
Your hard work doesn't end once a member has stayed in your site for four weeks…
In fact, it's just the beginning! 
You need to deliver an extraordinary experience longer term if you want your members to stick around.
And staying top of mind is key.
You can do this by:
Sending members regular updates via email, video, audio or even chatbot
Providing ongoing guidance via pathways or a roadmap
Add some gamification into your site to keep members engaged and coming back for more
Provide members with the means to record their progress
Help your members create meaningful connections beyond your forum or Facebook group
Celebrate your member and their wins. Showcase them and reward them
Take your membership offline if you can by hosting member meet ups.
These are all things that'll keep them coming back month after month, year after year.
If there's one piece of advice we'd give you on this, it's this – don't overdo it.
It's not an all-or-nothing situation…
You don't want to overwhelm your members.
Pick some elements that you know will work best for your membership.
Think about the core focus of your site, where your member journey begins and ends and create an engaging experience around that. 
If in doubt, ask yourself this question, "What can I do to help members get the most value out of my membership?"
If you strive to answer this question in the best possible way i.e. by continuously delivering value, then you'll create an experience that makes members stay with you for months and years to come.