Connecting One to One with Potential Members with Louise Brogan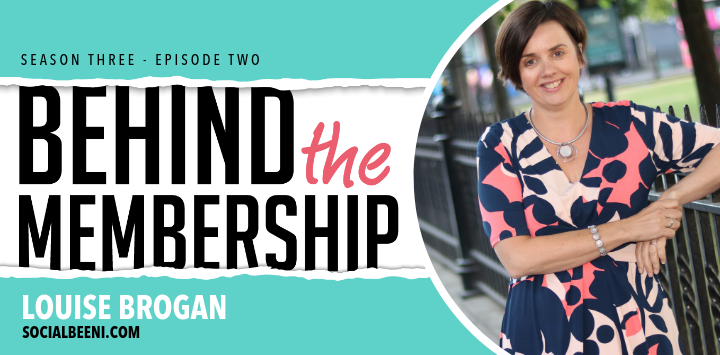 Subscribe to the Podcast Download Transcript
Louise Brogan from Social Bee Academy joins Callie for this episode of Behind the Membership.
Louise has run the Social Bee Academy alongside her business Social Bee NI for around 18 months now and in this episode Louise shares what's been working for her when it comes to attracting new members, including how connecting one to one with people via in person workshops as well as online via Facebook and LinkedIn messenger have been great ways to grow her site.
Louise also talks about the challenges and highlights of her membership journey so far, including why she has moved from a closed model to always being open, and how seeing the results from her members makes everything worthwhile. And you'll also hear why Louise plans to focus even more on her membership this year and really make the membership a priority in her business!
"If you're thinking about starting your own membership, you've got to understand that it does take time and effort. You have got to show up every month. You can't just think, "Well, I'm going to produce 50 webinars, stick them in a membership and charge people a fee and then not really do anything with them after that," and having the community is really important. So, it's not for everybody."
Listen in to hear:
Why Louise has changed from a closed model to always being open
How Louise has used in person networking events and workshops to attract new members
How she has added a VIP membership level to further serve her members and how this improves results
Why Louise choose a membership model to allow her to be home for her children in the holidays
The challenge of having too many different revenue streams and why Louise is looking to prioritise the membership
Using webinars consistently to gain new members
How connecting with people via LinkedIn and Facebook Messenger has converted to sales
The benefits of running online summits for providing membership leads and content
How Louise uses member questions and latest news as a focus point for her content creation
And more!
Connect with Louise:
And you can also meet and chat with Louise in person at our upcoming Retain conference in September! Tickets are on sale here.
Thank You For Listening
We really appreciate you chosing to listen to us and for supporting the podcast. If you enjoyed today's show, please share it using the social media buttons on this page.
We would also be eternally grateful if you would consider taking a minute or two to leave an honest review and rating for the show in iTunes. They're extremely helpful when it comes to reaching our audience and we read each and every one personally!
Finally, don't forget to subscribe to the podcast in iTunes to make sure that you never miss an episode