How to Choose a Membership Plugin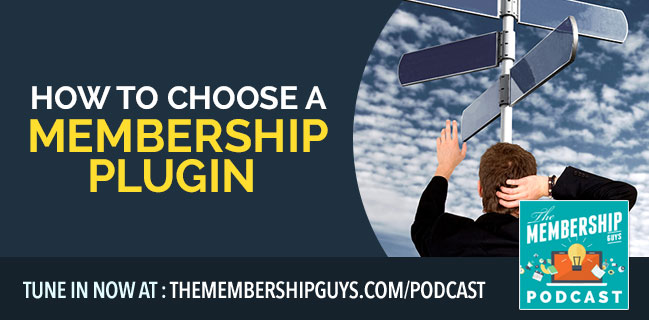 Without question we're asked more about choosing a membership plugin than anything else.
So, how do you figure out which one of the seemingly endless selection of plugins, software and services is right for you and your new membership website?
Discover the process we recommend in this episode…
Choosing a membership plugin can be a total minefield, and it's important to get it right from the start as changing plugins further down the line could create all sorts of problems.
Follow the steps given in this episode of the podcast to ensure you're making a smart, informed decision on which plugin to use.
Probably the biggest tip we could give you is to prepare to compromise.
There's no such thing as the "perfect membership plugin" – something that fits every minute detail of our exacting specifications.
So stop spending time looking for 100%, when 95% will do! Be prepared to cut some of the "nice to have" features in favour of making progress with project.
Need more help choosing a membership plugin? Here's some articles that may be useful to you…
Thank You For Listening
We really appreciate you chosing to listen to us and for supporting the podcast. If you enjoyed today's show, please share it using the social media buttons on this page.
We would also be eternally grateful if you would consider taking a minute or two to leave an honest review and rating for the show in iTunes. They're extremely helpful when it comes to reaching our audience and we read each and every one personally!
Finally, don't forget to subscribe to the podcast in iTunes to make sure that you never miss an episode