Membership Toolkit: Rev, Captivate, FacetWP and VideoAsk [July 2020]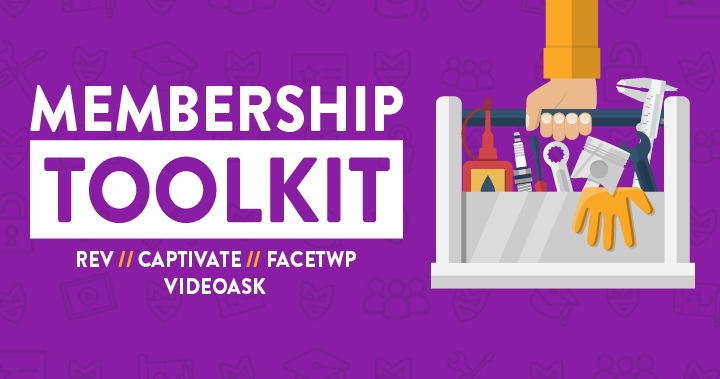 Welcome to the second 'edition' of the Membership Toolkit – a monthly round-up of our favourite tools, tech and teachings for online membership owners.
Every month we're highlighting everything from plugins and platforms to software and services, books and blogs to courses and conferences; giving you our top recommendations for what will help you and your membership business.
So, let's dive in with the Membership Toolkit recommendations for July 2020:

If you're looking to provide transcripts for your memberships video and audio content, then Rev are – hands down – the best service to use.
They're fast, reliable and affordable – which is why we've used them in our own business for almost 8 years now.
And while the number of automated transcription services has been on the rise in the past few years – indeed Rev offer an automated option too – you still can't beat the accuracy that comes from having an actual human being transcribing your content.
Providing a written transcription to accompany your video courses or audio content inside your membership is one of the simplest ways to add extra value for your members.
And setting that aside – having a transcription ensures you're catering to those in your member base who may have hearing difficulties.
A need which is sadly overlooked far too often.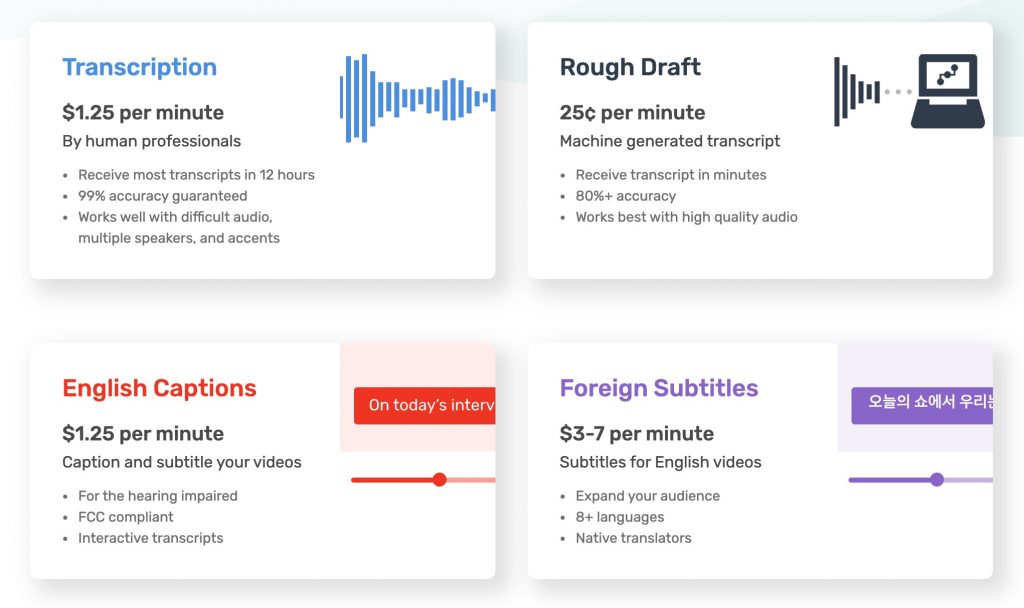 As well as transcripts – you can use Rev to create captions for your videos, and even have them translated into multiple languages too.
PLUS they recently added the ability to have live captions on Zoom calls – so if you're using Zoom to conduct member Q&As or hotseat calls, this makes those sessions far more accessible for your members.

Captivate are seriously changing the game for podcast hosting.
Having admired their continuous innovation from the sidelines, this week I finally bit the bullet and decided to move our podcasts from our previous hosts to Captivate.
I set aside a full afternoon and braced myself for the headache of switching over.
20 minutes later, the process was complete – all thanks to their simple migration tool and extremely helpful documentation.
And honestly… it was like that moment in Wizard of Oz, when Dorothy left the sepia dreariness of Kansas and work up in a technicolor world of wonder.
After 5 years of using Libsyn, I'd always considered podcast hosting to be little more than a "utility".
Boring. Bland. Does what it needs to do.
Captivate changes that entirely, due to their growth-oriented approach and almost relentless innovation in the field.
Setting aside the incredible user-friendliness of the platform and the top-notch customer experience; Captivate pack one hell of a punch in terms of the features they offer to podcasters big or small.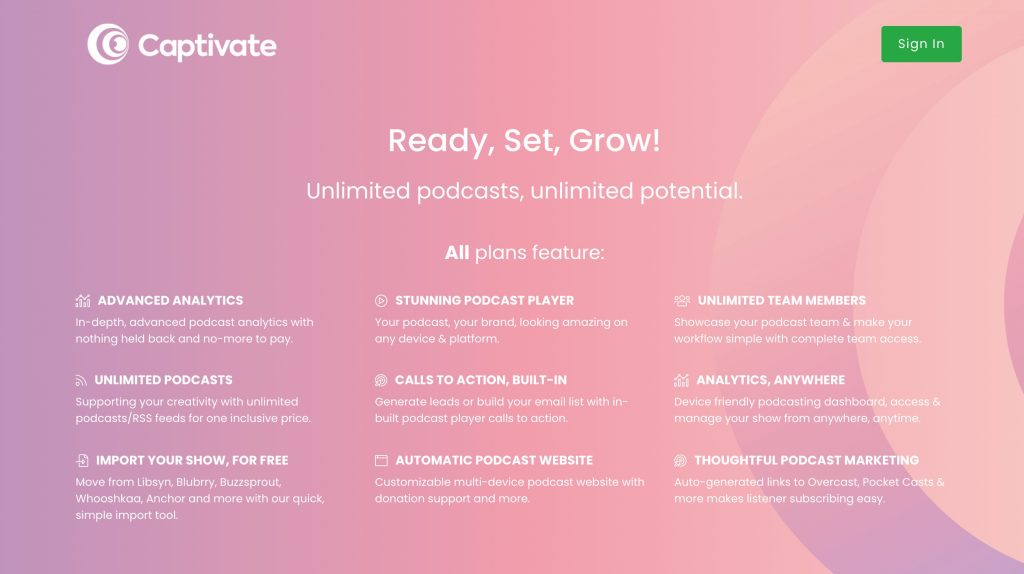 Their service provide some seriously nifty bells and whistles, including:
In-depth analytics: Captivate have, without question, the best podcast analytics of any host on the market. Just as easy to get a high-level overview as it is to dig deep into download numbers and listener demographics (plus they're one of the few IAB certified hosts – so you know they're not fudging the numbers)
All-in-one subscription link: an auto-generated link that lists all the platforms your podcast is available on, with links to subscribe accordingly. Check out this example: https://behind-the-membership.captivate.fm/listen
Collections: the ability to create playlists of hand-picked episodes from your show, and make them available in a dedicated players PLUS have a separate feed URL that people can subscribe too (giving you an easy way to create mini-series or even "courses" from your larger library of podcast episodes)
Sponsor Kits: which let you generate a PDF report for use in approaching sponsors in just one-click; that includes key info about your podcast, download numbers, latest episodes etc all pulled in automatically
Team Management: the ability to invite multiple team members and give them different roles and permissions – avoiding the need to share login information as is necessary with other podcast hosts.
I could go on and on – but by far my favourite thing about Captivate is their podcast player.
It's a thing of beauty…
The player is fully customisable AND it gives you the ability to:
Embed shownotes in the player itself
Include "calls to actions" in the player, linking to lead magnets, sales pages etc
Enable sharing and subscribe links within the player
Create multiple versions to either show one specific episode, playlists of multiple episodes, or even a version that will always show your most recent episode
Honestly if the only thing Captivate offered above and beyond the other podcast hosts our there was their player, it'd be enough to put them at the top of my list.
As it is, they blow all other podcast hosts away on every other front too.
I'm not sure if you can tell, but I'm very excited about Captivate.
Excited. About podcast hosting.
That should tell you everything you need to know!

VideoAsk is a very cool new tool from the folks behind Typeform that enables you to have multimedia interactions with your audience.
Essentially it lets you create a short video that you audience can then reply to with a video of their own (or alternatively with an audio clip or text) from directly within the browser.
You can also incorporate multi-choice questions alongside your videos – and then create multi-step series of clips that change according to the answers people select.
It effectively works a bit like a chatbot – but feels way more personal.
Like a combination of ManyChat and Bonjoro.
It's basically as close as you can get to having a face to face conversation without needing to be there.
Take a look at it in action:
Videoask is fantastic for collecting feedback and testimonials – enabling you to add a personal touch in a way that's scalable.
And as you can embed your Videoask "player" directly into your website, you could incorporate it into your new member onboarding or even your cancellation process in order to gain valuable feedback from your members.
It also has Zapier integration, which means you can implement it into your workflow to add responses to the likes of Google Sheets and Airtable, or to automatically tweet the video responses you receive, or even to add respondents to your mailing list.
And on top of that, it directly integrates with Calendly and Acuity Scheduling, enabling you to take bookings from directly within your Videoask widget.
There are so many cool ways membership owners can make use of Videoask – so if you're looking to add more of a personal touch and get better at collecting feedback, it's definitely worth a look.

FacetWP is a nifty WordPress plugin that enables you to add advanced filtering to any list of content you have on your site.
So that could be:
An archive page displaying blog posts
Product listing on an ecommerce site
A course library inside a membership
You can use let people filter and search your content according to WordPress categories and tags – or you can use a plugin like Advanced Custom Fields to add additional attributes (length, size, difficulty etc) to your content that can then be used for filtering purposes.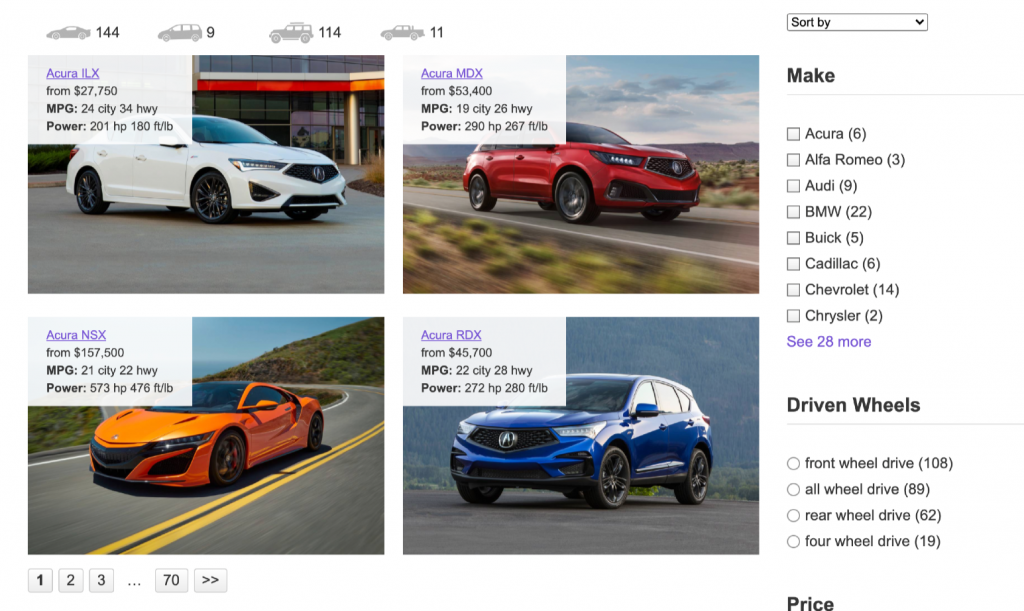 FacetWP integrates with popular page-builders such as Beaver Builder and Elementor, as well as popular plugins like WooCommerce.
It even has its own 'layout builder' for customising how your content list will be displayed. While it's pretty basic, it does give you extra control and customisation options if you're not using a page builder and your theme has pretty bland content list layouts.
If your membership library is growing in size and you want to better enable your members to quickly get to the right content, then having easy to use search and filtering options is key, and for WordPress there's nothing better for adding this functionality to your site than FacetWP.
And that's a wrap!
I hope you've enjoyed this edition of the Membership Toolkit! Keep your eyes peeled next month for another round-up of the top tools, tech and teachings for online membership owners.
Disclaimer: Some of the links above are affiliate links. If you purchase through them, we may earn a small commission which in no way alters the price they you will pay for these products. However, please note that these are resources that we've either tested extensively or used personally; and come from companies or individuals that we know and trust. We are not paid to recommend products and our opinions are in no way influenced by compensation.