4 Plugins for Creating an Awesome Online Course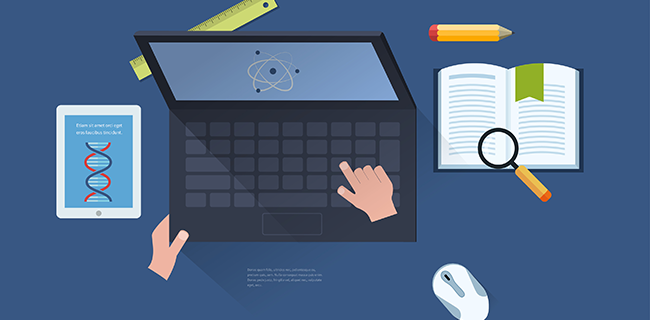 If you're looking to add an online course to your WordPress website, or incorporate one as part of your membership site, then you're in luck.
Previously doing this used to be a laborious process that either cost a lot of money to set up or meant spending hours banging your head against a wall. However, 2013 and on saw a big surge in LMS (Learning Management System) plugins designed to help you turn your WordPress website into an online course environment quickly and (relatively) easily.
Perhaps unsurprisingly, the results are pretty good and today I'm going to discuss the 4 main contenders for the course plugin crown:
All four are good choices with similar feature sets and methods of course delivery, plus a couple of unique features for each.
(Spoiler alert: there is no winner. Your choice will most likely come down to personal preference, features needed and budget).
For a quick overview of the main features of these 4 plugins and more:
An indepth look at the options:
WP Courseware
WP Courseware has what it describes as a drag and drop interface which makes it really easy to add your course units to modules and to move them around if you need to. It does look a little dated, but you can customize the look with some CSS to have it matching your site.
You can have an unlimited number of courses and course units (or lessons) so you can create to your hearts content. It's also easy to add video or audio – units can be created using the regular WordPress page or posts editor and simply converted to course units (by ticking a little box), meaning that you can do anything that you would with a normal page.
There are a range of different quiz types available and these quizzes can be marked as optional or compulsory, meaning that a fail on a quiz halts progression to the next unit until the quiz is retaken and passed.  You can even create custom certificates for members to receive when they complete a module or course.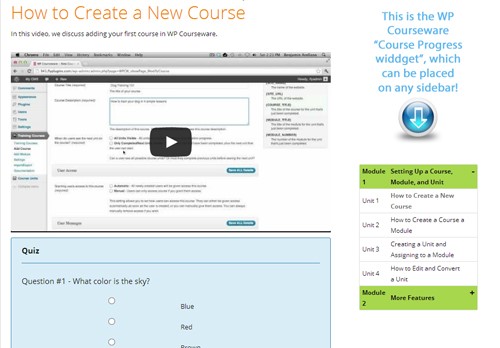 An example of a course unit containing a video and a quiz
The plugin works with any theme and without needing to make any style changes, however you can simply change styles and colours with some customized css. I particularly like that they have a course description shortcode that enables you to display all the modules and units in a course, as well as which units have already been taken: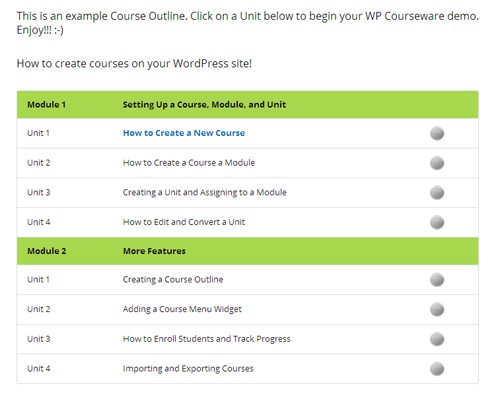 You will need to integrate a separate membership plugin or ecommerce software in order to secure your content, however WP Courseware makes this really easy by providing integrations with a number of options including WooCommerce, iThemes Exchange, Easy Digital Downloads, s2 Member, Wishlist, MemberPress, Memberium, Membermouse, DAP and more!
Other features? Well you can also drip feed content, assign certain people as instructors who can create and edit their own courses, view or export gradebooks so that you can keep track of each students progress, automatically or manually enroll students for each course, set course pre-requisites and set up email notifications.
The thing I love the most about this plugin? You can have your course up and running in 5-10 minutes if you already have your content. You can't really ask for better than that!
Cost:  $99 2 Sites, $125 10 Sites, $175 25 Sites. 1 year of updates and support included.
Website: http://wpcourseware.com/
Sensei
Sensei from WooCommerce is overall a great LMS plugin, and as you might expect is created to work seamlessly with the WooCommerce ecommerce plugin and their Memberships and Subscriptions plugins. It can also be used outside of the Woo family however.
Like WP Courseware you can integrate quizzes into your courses – Sensei allows for multiple choice, true/false, fill the gap, essay, multi and single line quizzes. You can also create a Question Bank  to display random questions.
Test results can be generated automatically (only for certain types of quizzes such as multiple choice and true/false) or manually, with the course instructor logging in and marking the quiz in order to provide a grade.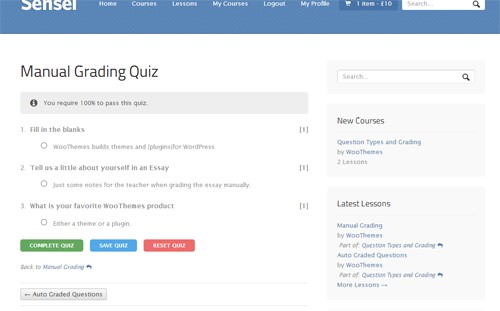 An example quiz using Sensei
Sensei works with any theme and has a template system to enable layout customisation. However, whilst it should work with any theme there can be clashes/conflicts with your theme CSS and so some custom styling might be needed. If in doubt use a theme designed specifically for Sensei for best results.
With Sensei you can set up pre-requisites courses – for example a 'Cooking 101' course can be set as a pre-requisite to 'Cooking 201', meaning people that haven't taken the 101 course can't take the 201 course.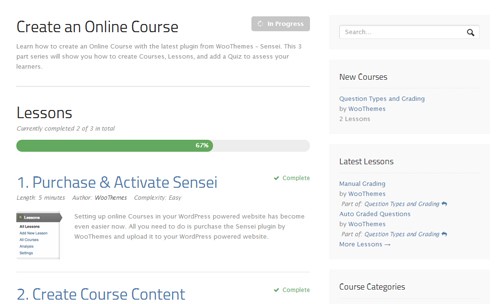 An example of a course dashboard
You don't necessarily need a membership plugin to use Sensei, and registration for courses is quick and easy. However, you need to install the WooCommerce plugin (free) as well as Sensei in order to set up payments and access to your products. Once your product is created you can then link this with the appropriate course in Sensei and on your list of courses there will be a payment link next to the course description, enabling people to pay and receive access.
There are now a lot of extensions available to expand the feature set of Sensei, including options for certificates, content dripping, displaying course progress, adding media attachments and linking with BadgeOS for increase gamification. Some of the extensions are free whilst others have a small cost involved. You can view all extensions here.
Sensei can seem a little unwieldy to configure at first, but it's a slick set up once completed. However if you're just using WooCommerce + Sensei you're likely to need additional plugins for integrating an email list, certain payment processors, or even the Woo Memberships & Subscriptions plugins if you're using the plugin as part of a membership. The cost can therefore quickly add-up with this option.
Cost:   $129 single license, $179 for 5 sites and $299 for 25 sites. 1 year of support and updates included.
Website: http://www.woocommerce.com
LearnDash
Unlike the other options LearnDash is an LMS first and a WordPress plugin second, which is highlighted by their sales page "Responsive support with experience setting up learning programs for Fortune 500 companies – we got your back." The creators are actually from the e-learning space, rather than plugin or WordPress experts.
Like the other plugins LearnDash allows the creation of an unlimited number of courses, lessons and topics. You also have the usual quiz options too, and can use these to block progress on the course based on pass scores and you can create completion certificates too.
You can also create pre-requisite courses and have the extra feature that you can require students to upload assignments that you then need to approve before they can progress further. LearnDash also has inbuilt drip feeding options.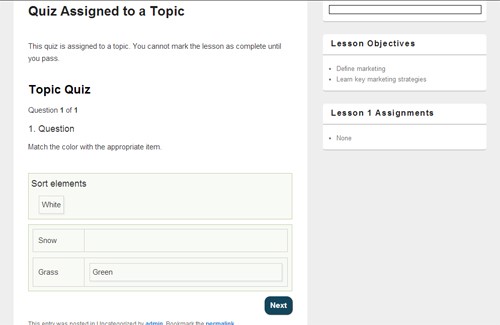 An example topic quiz
You don't need a separate membership plugin to use LearnDash, so you could just hook it up to your payment system (it currently integrates with PayPal, 2CheckOut, JigoShop, Woocommerce, Easy Digital Downloads,  iThemes Exchange). You can sell courses either for a one-off price or as subscriptions.
However, if you're wanting to use LearnDash as part of a membership site, then it does integrate with several membership plugins and we recommend combining with a membership plugin for better content protection and payment and access options. Current membership plugins supported include Paid Memberships Pro and Memberium, but it also works with other plugins such as MemberPress without needing an extension.
Like Sensei and WP Courseware, LearnDash works with any WordPress theme and you can customise the look and feel to match your site. Personally I find it to be a bit 'plain' out of the box so you probably will want to customise it to some degree. You could even purchase the Visual Customizer add-on to make customising even simpler.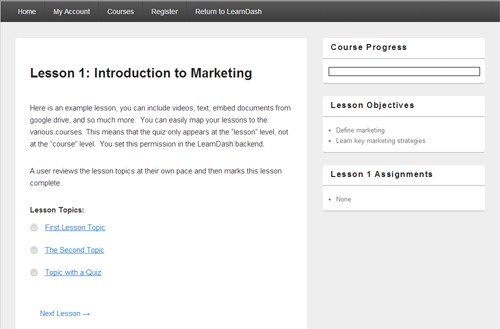 An example of the out of the box styling of LearnDash
LearnDash has a few other functions that aren't offered with Sensei or Wp Courseware: you can set up groups and assign different group leaders, allowing for multiple tutors; have specific forums for each course; users can provide real-time feedback on courses and lessons, providing more interaction; it has an email feature you can use to communicate with your users; you can even set a timer for lessons so that users can't mark a lesson complete until the timer reaches zero – great for stopping people just flicking through rather than learning!  Most importantly for people who are serious about e-learning, LearnDash has the powerful Tin-Can API integration (it's a bit technical, but if you want to know what this is, read the full info.)
There are also a host of free and paid extensions for LearnDash, including a course grid extension, visual customizer, and one of my favourites – a notes feature that allows students to take private notes on your content. You can view all extensions here.
As you can see, LearnDash is the heavyweight of the group. But that's only beneficial if you can make use of those additional features.
Cost: Updated Pricing: $129 for 1 site, $159 for 10 sites, $299 for unlimited sites. Includes 1 year of updates and support.
Website: http://www.learndash.com
LifterLMS
LifterLMS is the new kid on the block when it comes to LMS plugins, but that definitely doesn't mean that it should be overlooked as it has some interesting features that aren't necessarily included in the other options.
LifterLMS is also the most all-in-one option available, including its own membership setup which makes it almost the WordPress equivalent of a course platform like Teachable.
Whilst it doesn't have the full feature set of an option like LearnDash, it does have features that meet the needs of most online course creators. It obviously includes the ability to create multiple courses, quizzes, student analytics and grading that are now pretty much standard in LMS plugins.
You can accept payments right out of the box, with extensions available for options like PayPal, Stripe and WooCommerce (these are now paid extensions).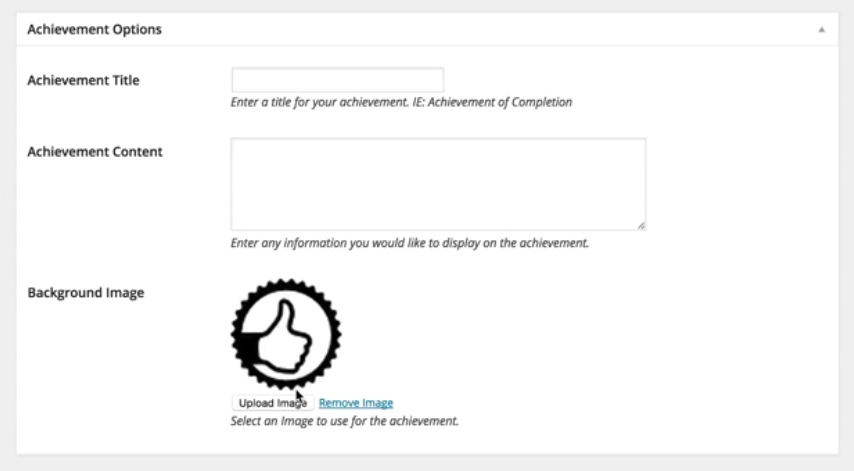 An example of the LifterLMS Badges Option
One of the features that I like the most about LifterLMS is its 'Engagements' feature. This provides inbuilt gamification with the ability to quickly and easily create and reward badges based on different actions. It also enables certificates to be given, and it has an email feature that allows you to send reminders to students if they haven't checked in for a while, as well as congratulate them on their progress. This Engagements section is a standout amongst the other LMS plugins.
As mentioned already LifterLMS does include its own membership functionality, allowing you to create multiple membership levels and protect content outside of Lifter, such as normal WordPress pages, as well as its own content. As such it also offers a variety of different pricing options. More so than the other options which either offer no charging options at all, or basic one-off or subscription options.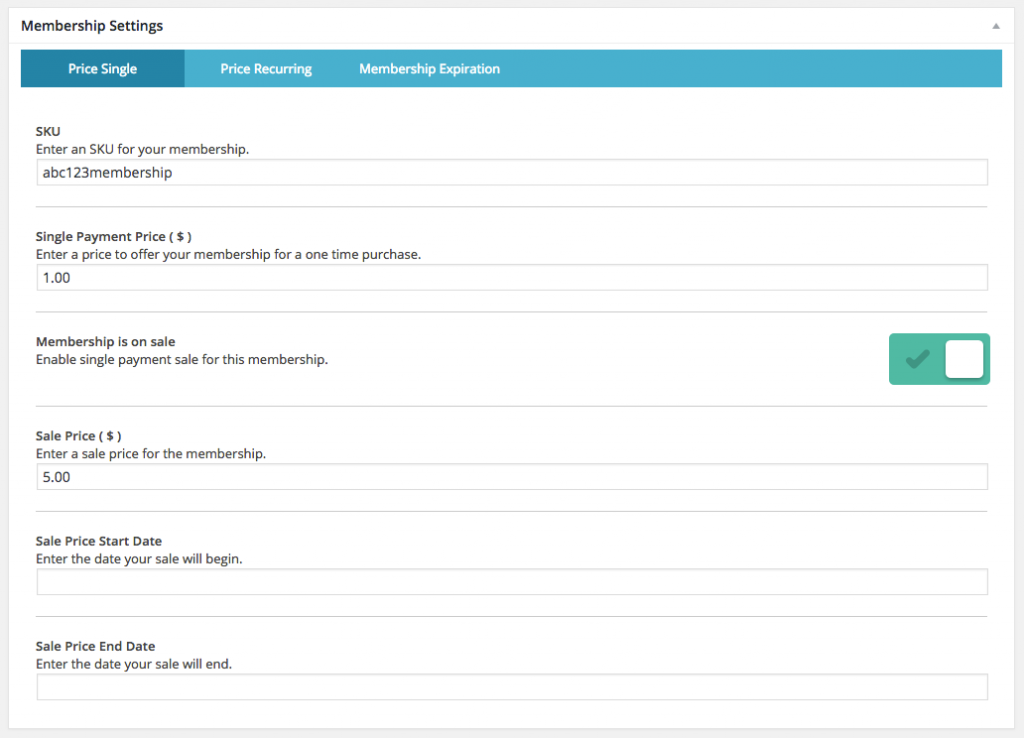 LifterLMS membership payment setup options
 You can also drip content, set sale pricing and membership expirations, offer coupons and provide students with a comprehensive dashboard for tracking progress. You can also limit the number of seats on a course and set when the course becomes available for purchase.
Unlike the other options LifterLMS does have a theme (LaunchPad) which you can purchase if you want to keep things simple. The current theme is quite basic but I believe other themes are also in the works.
The overall surprise with LifterLMS is how simple it is to set up. Whilst there are several different features, it's probably the easiest of the 4 to get up and running with if you're not particularly tech savvy.
Cost: The core LifterLMS plugin is free, however you will need a paid extension for your chosen payment processor which you can find here.
A brief summary:
There's a lot of information here, so if you made it this far, well done! (go and get yourself a cookie as a reward please).
Whilst I think all 4 are good LMS options and you won't go wrong with using any of them, this would be my recommendation for when to use each:
If you've had experience of any of these plugins or have a question then I'd love to hear from you, let me know in the Membership Mastermind Facebook group.
This post was originally posted in July 2013 and was last updated in December 2016 to include LifterLMS.