Using Social Learner for your Online Course Site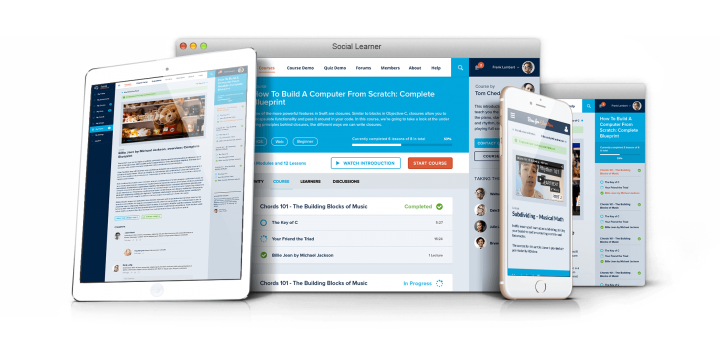 If you're looking for a way to neatly integrate BuddyPress with either LearnDash or Woo Sensei for a more interactive course site, then you're in luck. BuddyBoss, the team behind many popular BuddyPress plugins including the BuddyBoss Wall, have recently introduced Social Learner – 'a powerful Social Learning Platform built on BuddyPress'.
I decided to give it a try to see whether it's something that you should consider using for your online course site.
What exactly is Social Learner?
The first thing I need to point out is that Social Learner is a bit of a hybrid. It's neither a plugin or a theme, but instead a bundle of themes and plugins that are designed to help you utilise the power of either LearnDash or Sensei combined with BuddyPress.
The main theme included is the popular Boss theme, and it comes with the Social Learner child theme as well, which is specifically designed for course sites. This theme will control the whole look of your site, and as it's specially made for both BuddyPress and courses then it has inbuilt elements and styling for these features that other themes won't provide you with.
The plugins included are Boss for Sensei/LearnDash and BuddyPress for Sensei/LearnDash. The first styles your course and lesson pages so that they match the theme and the second allows you to add BuddyPress features such as groups, activity feeds and forums to your courses.
At its heart this theme and plugin combination is designed to give you a good looking online course and social networking platform in one, whilst other options tend to be designed just for online courses or just for forums/social networking.
(It's worth noting that there are two versions of Social Learner – one for LearnDash and one for Sensei so be sure to purchase the right one! You will need to purchase the actual Sensei or LearnDash plugins separately.)

What does Social Learner do?
At its core, Social Learner helps to style and integrate all the moving parts that you might want to make use of if you want to create an awesome online course site that has a strong social networking component as well.
This includes:
Styling for courses created in Sensei or LearnDash
Styling for forums created with bbPress
Styling for groups, activity streams and profile pages created with BuddyPress
Easily integrating BuddyPress and Sensei (or LearnDash) so that you can add things like groups to courses for individual course discussion and course specific member lists
Enabling achievement badges to be added to member profiles for increased gamification (when combined with the free BadgeOS plugin)
Integrating with WooCommerce or Paid Memberships Pro for payment and content protection
Adding real time notifications for the site so members get instantly updated on any activity
And more! Check out their site for full details.
Now, you might have noticed that most of it's features are based on the use of other plugins, and it's true, the core functionality for your site will still be provided by well known existing WordPress plugins. What Social Learner does though is makes the process of getting all those tools to work together simple, and makes sure that everything looks good in the process too. This can make your life a lot easier, and your setup process a lot quicker!
How does it look?
The Social Learner child theme (and the Boss theme on which it's based) have a very distinctive look and style. Which is great if you like it, but if you don't then it's probably not going to be a good option for you (yes you could change things with code if you wanted to, but that kind of defeats the point of using this kind of system).
You can see a few screenshots below of the out-the-box theme styling of various different elements.
Group Page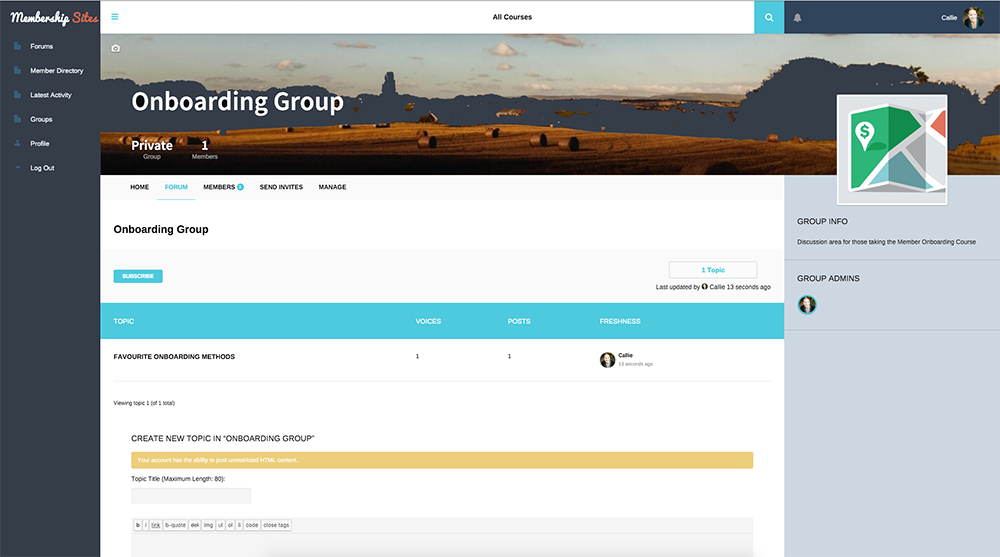 Forum Page

Profile Page

I actually quite like how it looks in general, although it can appear a tad too wide and blocky on larger screens. It's certainly a little different to many of the other themes out there. My favourite part of the design is the course pages themselves where it brings together a number of different elements (Sensei, BuddyPress, bbPress) in a cohesive style. There's progress tracking, module and lesson lists, videos, links to the course specific forum and a list of members taking the course. There's even an easy option for contacting the course teacher directly – especially useful if you're running a site with multiple different course tutors. It's slick and it works well.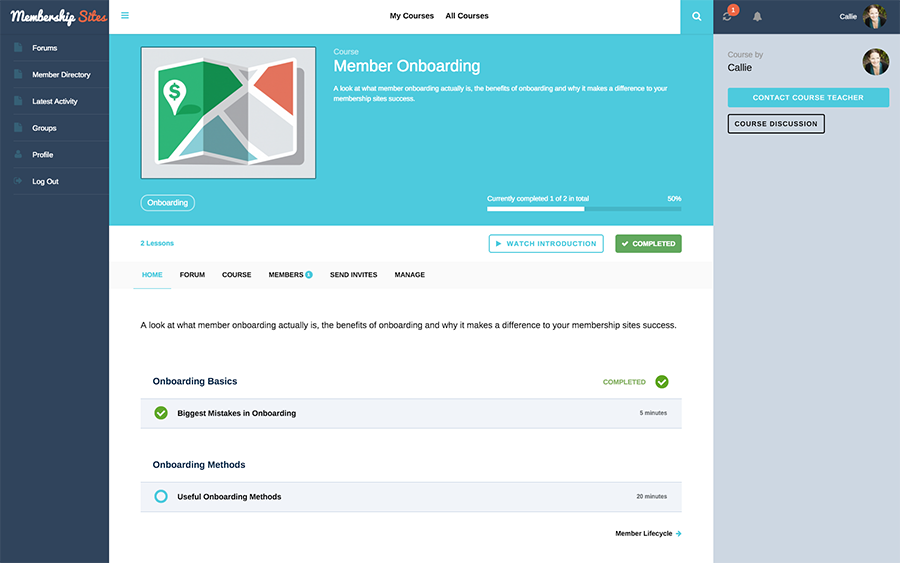 I think the design is what will ultimately decide whether this is the right option for your course site, and as such it's the one thing that lets Social Learner down. Not because it's not nice, but because it's so very specific. If the Social Learner package was available with other theme designs as well then I think it would appeal to a much wider audience.
How easy is it to use?
Considering there's quite a few moving parts involved in setting up a site with Social Learner, I was really impressed with how easy the process was. And they do have videos and a knowledge base if you run into any difficulties.
The theme itself (whether you use the Social Learner child theme or stick with the main Boss theme) makes it easy for you to customise things like your colour scheme (there are 9 pre-defined colour schemes that you can choose from), your fonts and font colours and all the basics of the theme like uploading your logo. It also has specific options you can choice for mobile devices.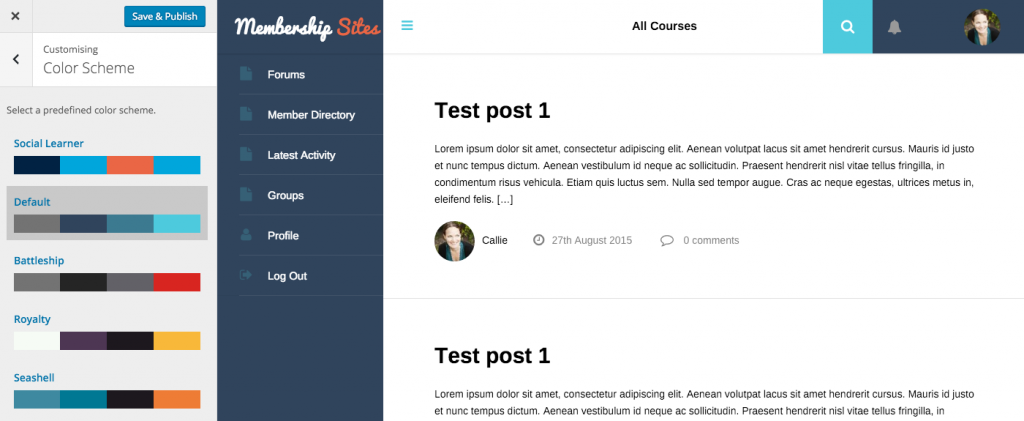 Overall, I'd say it's pretty quick and easy to get the theme up and running. And there's space for you to add your own custom code too if you'd like to.
The BuddyPress for Sensei/LearnDash and Boss for Sensei/LearnDash plugins don't really require any additional set up which surprised me. You have 3 options to select with BuddyPress for Sensei:
Do you want to display a members courses publicly on their profile
Do you want to convert subscribers to a student user role
Do you want to convert teachers to a teacher user role
Once you've made those selections that's it! The rest works 'under the hood' so to speak. What you will see though is that when creating your course in Sensei or LearnDash you now have the option of selecting a BuddyPress Group for that specific course as well.
The bulk of your time when setting up your site will therefore be spent setting up your courses in Sensei or LearnDash, and with setting up BuddyPress and bbPress (if you'd like forums), which you'd be doing whether you were using Social Learner or not- the actual integration of these options to get them all working together though will be greatly simplified.
How much does it cost?
The complete Social Learner package is $179 for a single site license (if you already own the Boss theme it's just $49) or there are 5 site licenses ($229) and 20 site licences ($279) available as well.
You'll also need to factor in the cost of either Sensei or LearnDash as well.  However other plugins needed, such as BuddyPress and bbPress, are free.
Final Thoughts
If you want to create an online course with a focus on social engagement then Social Learner is definitely worth a look. It's certainly one of the most comprehensive offerings I've seen for tying course and social offerings together. 
There are quite a few different elements involved in setting up your site with Social Learner, and, whilst you'll need to be careful not to miss anything, it makes what could be a complicated process quite simple. You shouldn't really need any tech skills – other than familiarity with WordPress – to get up and running.
That said though the design won't be to everyone's taste. But that's really the only bad thing I actually have to say about Social Learner from my time spent testing it.